Summer 2014
---
On the Pulse

Congratulations Class of 2014!

Students have been gathering on campus all week with family and friends in celebration of an academic milestone. On June 10, donned in pink (Music) and gold (Combined program) stoles and tasseled caps, students from the School of Music proudly received the degrees they've been working—and in many cases, practicing—for over the past few years. In total, fifty students were admitted to the Degree of Bachelor of Music, nine to the Degree of Bachelor of Science in the Combined Music and Computer Science program, and eight students to the Degree of Master of Music. Additional degrees awarded included Bachelor of Education (Music), Diploma in Secondary Teacher Education (Music) and Master of Arts in Musicology.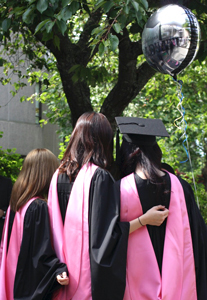 Student awards were also presented at the ceremony, and violist Sarah Tradewell was awarded the Victoria Medal in Fine Arts, presented annually to the top student in the Faculty of Fine Arts.

Musical accompaniment for the occasion was provided by some of our very own: School of Music alumni, Nicholas Fairbank (MMus) on pipe organ, Jason Corbett (MMus) on guitar, and Nalini Bissoon, who received her Bachelor of Music degree that day, led the singing of O Canada, bringing the ceremony to a noteworthy close.

The School of Music congratulates the graduating class of 2014 and wishes them the best in all their future endeavors!
For more photos from convocation day, visit us on Facebook and Instagram (New!).


---
Quartet Fest West Celebrates the Strings
Quartet Fest West, the popular summer string quartet intensive, returns to the School of Music from June 9 – 20. Attracting participants from across Canada, the US and Italy, the festival of concerts, workshops and coachings is hosted by UVic's beloved quartet-in-residence, the Lafayette String Quartet.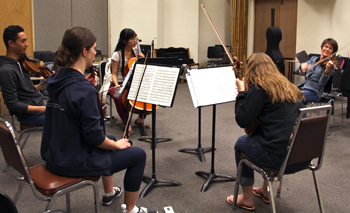 Anchored by the chamber music workshop, Quartet Fest West is an in-depth study of the string quartet literature that also features a series of public concerts (see below) and masterclasses (open to the public by donation). Another highlight is an open discussion with Andrew Dawes, first violinist of the Orford String Quartet and the Tokyo String Quartet.
"It's really intensive," says LSQ violinist Ann Elliott-Goldschmid of the Quartet Fest West experience. "The students learn how to communicate very effectively, they have to learn the music quickly and come to agreements quickly—they don't have a semester to work on something, they only have 10 days."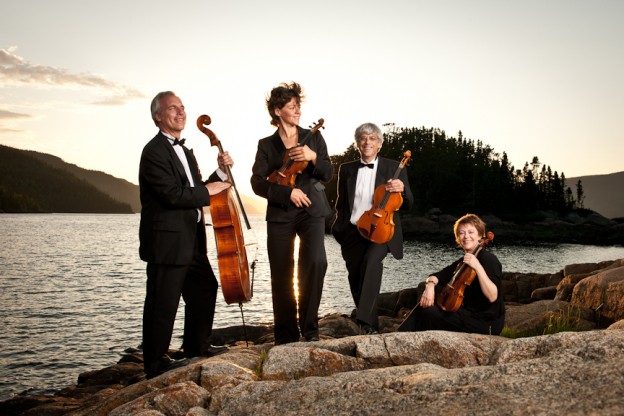 Participants and the public alike will have the opportunity to soak in the host quartet's prowess in a concert on June 18. Performing works by Boccherini, Shostakovich and Mendelssohn, the Lafayette String Quartet will share the stage with David Ellis, cellist of the Alcan String Quartet—this year's guest coaches from Chicoutimi, Québec. One of Canada's most celebrated chamber music ensembles, the Alcan String Quartet is celebrating its 25th anniversary this year.
The festival culminates in a student concert on June 20 featuring chamber groups made up of Quartet Fest participants.

Festival Highlights:
Open Discussion with Andrew Dawes
Join a chat with teacher and soloist Andrew Dawes, founding member and first violinist of the Orford String Quartet and first violinist of the Tokyo String Quartet. During his career he performed over 3,000 concerts on six continents and made 60 recordings.
7:30pm – 9:00pm Friday, June 13 • MacLaurin Building Room B037
Admission by donation

Concert: Lafayette String Quartet with David Ellis, cello
Don't miss this concert featuring Boccherini's Cello Quintet, Shostakovich's Quartet No. 10, Op. 118 and Mendelssohn's Quartet in E minor, Op. 44, No. 2
8pm Wednesday, June 18 • Phillip T. Young Recital Hall (UVic MacLaurin Building, B-Wing) • Tickets: $12 (students) / $25 (general) from the UVic Ticket Centre (250-721-8480).

Concert: Participating Quartets Concert
Featuring participating quartets of Quartet Fest West 2014, the program for this concert is yet to be announced.
8pm Friday, June 20 • Phillip T. Young Recital Hall (UVic MacLaurin Building, B-Wing)
Admission by donation


Be sure to check our online calendar for more Quartet Fest West workshops and events.
---
Beyond UVic

Alumni: We want to hear from you!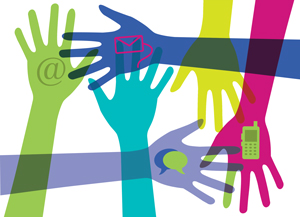 The School of Music is working on reconnecting with our many graduates. We'd also like to do a better job of maintaining communication with you and sharing all of your success stories on our website, no matter what direction life has taken you.
Please help us by taking a few minutes to complete this short online survey.
There are prizes! Submit the survey by 4 p.m. on June 15 to be entered in a draw to win one of two $50 iTunes gift cards.
We look forward to hearing from you!

---
e-Pulse is a regular e-newsletter for those interested in the University of Victoria School of Music events. Do you know someone who would like to know more about us? Please feel free to forward this message to a friend!
Follow us on Facebook (University of Victoria, School of Music) and Twitter (UVicMusic).
For a complete list of School of Music events, visit our online Events Calendar.