September – October 2015
---
On the Pulse


EVENT NOTICES:

**DATE CHANGE**
Orion Series in Fine Arts guest artist and elite guitarist, Jorge Caballero, will visit the School of Music on September 20–21 (formerly Sept. 27–28).
Concert: Sunday, September 20, 8 p.m.
Guitar Masterclass: Monday, September 21, 4–7 p.m.
---
Husband-and-wife fiddler duo, Hale & Hearty, featuring Rachel Capon (B.Mus '07) and Eli Bender, will replace Brasstastic in the Emerging Artists Alumni Series concert on October 14. More info

Remembering Gene Dowling
The School of Music mourns the passing of an inspirational teacher, invaluable colleague and dear friend: professor Eugene Dowling. Following a 2013 diagnosis of prostate cancer, Dowling passed away at his home on June 30 with his family and close friends at hand.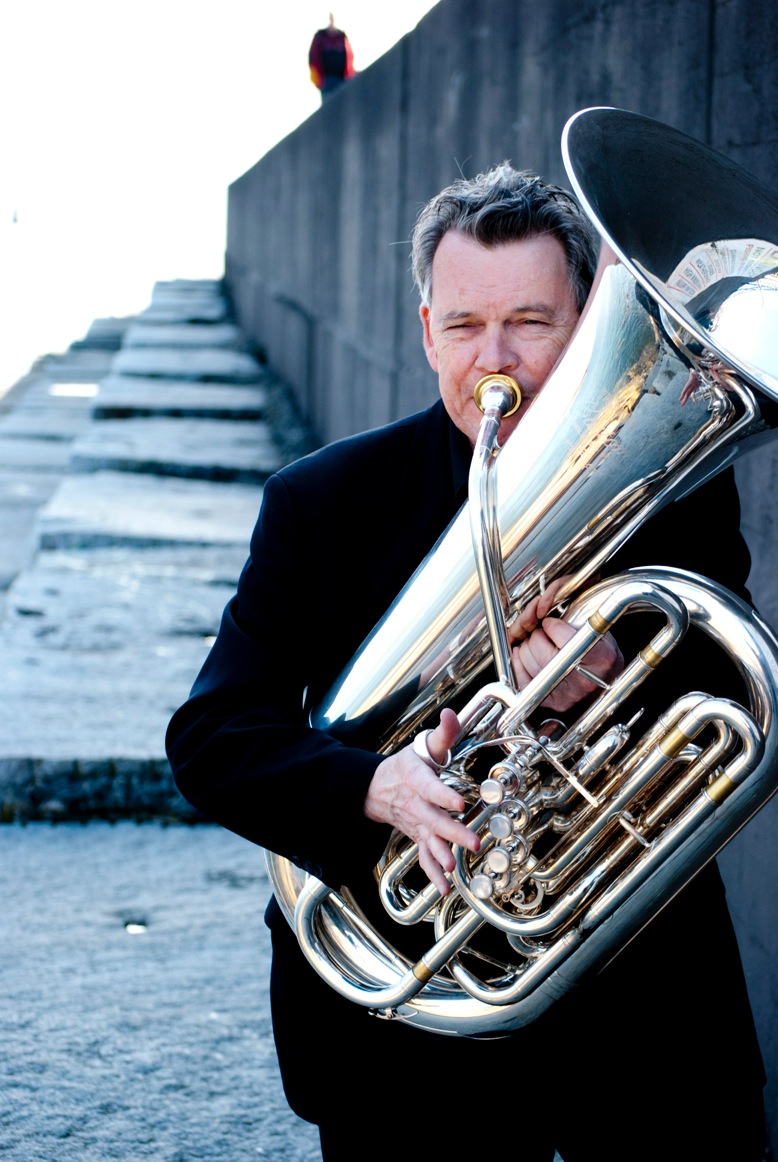 An inspirational mentor to more than one generation of students, Gene Dowling worked in the School of Music for 39 years before retiring as a Teaching Professor in 2014. He was well known locally for his 35 years leading the annual Tuba Christmas ensemble which raised thousands of dollars for local charities. "He was a devoted and insightful instructor, often offering extra hours of teaching and mentoring to his students," recalls fellow professor and School of Music Acting Director Harald Krebs. "The many successes of his students worldwide honour his legacy. He will be sorely missed by the many in whose lives he made a difference."
Dowling's professional career began in Chicago, where he was a student of the legendary pedagogue Arnold Jacobs, tubist with the Chicago Symphony Orchestra. He joined the School of Music faculty in 1976, where he taught low brass and aural skills, conducted the Wind Symphony (in 2010 and 2013-14) and made significant contributions as both the School's graduate advisor and Music Education advisor.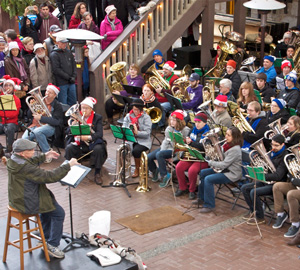 In addition to his teaching duties, Dowling was also a very active performer: for 25 of his 39 years at UVic, he was Principal Tubist with the Victoria Symphony, as well as an internationally known soloist. He was also nominated for a Juno Award for his first recording, The English Tuba (Fanfare/Pro Arte), featuring Ralph Vaughan Williams's "Tuba Concerto" with the London Symphony Orchestra, which received favourable reviews and radio play throughout North America and was recently re-released. "His recitals, always featuring a wide spectrum of music, were a joy to attend," says Krebs.
Always concerned with the future and well-being of students, Dowling recently established a scholarship for the benefit of low brass students at the School of Music. A donation to this scholarship would be an appropriate way for anyone to remember him.
A public memorial for Eugene Dowling is scheduled for 1 p.m. Saturday, September 26, at St. John the Divine Anglican Church (1611 Quadra St.). All are welcome.
(From the Artsy Type blog)


---

Joseph Salem Joins School of Music
The School of Music is pleased to announce the appointment of its latest faculty member, Dr. Joseph Salem.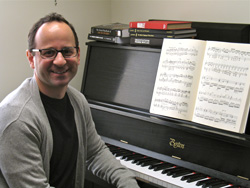 "Dr. Salem comes to us from Yale University, where he completed a doctoral degree with a dissertation on Pierre Boulez," says Susan Lewis, Director of the School of Music. "A scholar with expertise in music after 1950, he brings a strong analytical focus to his approach to music. He is a passionate teacher who will ignite the classroom and instil a love for music in our students."
Originally from Cincinnati, Ohio, Salem studied piano at the University of Cincinnati College-Conservatory of Music, and holds a BM in Piano from the University of Texas at Austin and an MA in Music Theory from the University of Wisconsin-Madison. As a lover of new and old traditions, Dr. Salem pursues topics at the boundaries of the musicological discourse: musical/intellectual history, analytical studies of post-Wagnerian music and writings, semiotics, music aesthetics, and hermeneutic trends in the arts.
Read more about Joseph Salem on the Artsy Type blog.


---
10th Annual Forum Dedicated to the Power of Music
Health and music have a remarkable relationship. Numerous studies have shown that music has the ability to affect our mental and physical well-being due to the way our autonomic nervous system responds to the sounds and rhythms we hear or play. To mark a decade of the Lafayette String Quartet's Health Awareness Forum, the group has aptly devoted this year's event to "The Power of Music on Emotion and Health," a topic the Quartet holds close.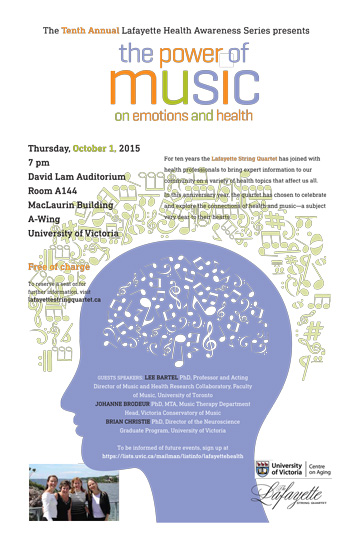 Guest speakers at this year's forum on October 1 include Dr. Lee Bartel, Professor of Music, University of Toronto and Acting Director of the Music and Health Research Collaboratory; Dr. Johanne Brodeur, Head of Music Therapy at the Victoria Conservatory of Music; and Dr. Brian Christie, Director of the Neuroscience Graduate Program at UVic.
Music and well-being are integral in the daily lives of the Quartet—from their own practice to the students they teach at the University of Victoria and the audience members who they share their music with. "Music has affected me in every way," explains Pamela Highbaugh Aloni, cellist with the Lafayette String Quartet. While musicians need to constantly be aware of their bodies and keep themselves "in shape," for Pamela, music has a strong effect on her mental health: "There would be times when playing the cello was the only way to connect to a deeper part of myself. I would tell people 'I'm going to meditate now,' which meant I was going to practice."
The Quartet quickly became aware of how the health of one person can directly impact the lives of others when Pamela was diagnosed and treated for breast cancer in 2001. "I played and played [the cello] during my treatment," said Pamela, who believes that music was an aid in her recovery.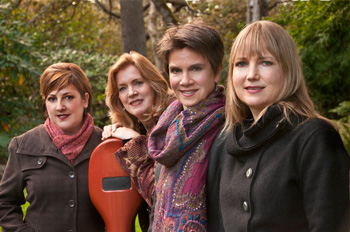 The group was so inspired by the great care that she received during her treatment and wanted to give something back to the community. The seed for the forum was planted as they approached their 20th anniversary as a group. The first forum in 2006, a "Dialogue on Breast Cancer," served as a fundraiser for cancer research. Since then, topics have ranged from menopause and aging, to mental health and happiness, and many of their guest speakers have been experts from the Victoria area. "I feel so enriched by having an arm into that community and the chance to connect with really amazing people," says Highbaugh Aloni. "We are so grateful to all of our presenters, committee members, sponsors, volunteers, and to all those who attend the forum each year."
Be sure to RSVP in advance if you would like to attend this year's free session, as it is expected to fill up quickly. More details are available on the Lafayette String Quartet's website.


---
On Stage

Retirement Concert Celebrates Research and Friendships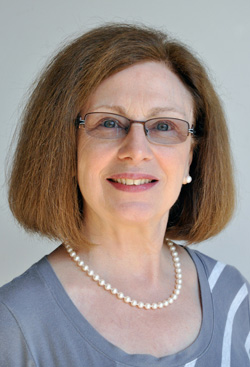 On October 24, the School of Music will pay tribute to Professor of Musicology, Dr. Michelle Fillion, on the occasion of her retirement with a special Faculty Chamber Music Series concert. Dr. Fillion has personally selected the music on the program both to reflect areas of her research and teaching and to hear music close to her heart as played by many of her friends and colleagues in the School of Music.
Dr. Fillion came to the University of Victoria in 2002 from Mills College in Oakland, California, where she was Professor of Music and head of the Music Department. "Since Michelle joined our faculty she has added such depth to the curriculum that we offer to our students and has been a wonderful support and resource to many of us," says Pamela Highbaugh Aloni, Head of Performance at the School of Music. "She faithfully attends performances of both the faculty and students, inspiring us all with her research and course offerings."
The concert program will include Schubert's Quartettsatz D. 703 performed by the Lafayette String Quartet; Beethoven's song cycle, An die ferne Geliebte, Op. 98 with tenor Benjamin Butterfield and pianist Michelle Mares, as well as his "Archduke Trio," Op. 97 in B-flat major; and Gordon Mumma's Faisandage et Galimafrée suite, chosen by Michelle to celebrate her husband, who turned 80 this year, and to mark this month's release of his book Cybersonic Arts, published by the University of Illinois Press and edited by Michelle Fillion. "It's a lot of musical fun," she says of the piece.
Beethoven has been an enduring subject for Dr. Fillion as scholar and pianist — and the topic of her graduate musicology seminar this term. "His Archduke piano trio is a sublime conversation among friends, while his song cycle, To the distant beloved, celebrates the power of music to connect loved ones separated by time and space," describes Fillion. Schubert's Quartettsatz is a single movement from an unfinished string quartet that Fillion says "stands alone as a tribute to Beethoven and an expression of Schubert's unique genius."
Michelle Fillion will share more of her insights and thoughts on these works in a pre-concert talk on the eve of the concert.
Please join the School for what promises to be a memorable evening of music. "This concert is a wonderful way for the faculty to celebrate Michelle's friendship and contribution in one last collaborative project together," concludes Highbaugh Aloni.
Concert and ticket information available here.


---
20 Questions with Aliayta Foon-Dancoes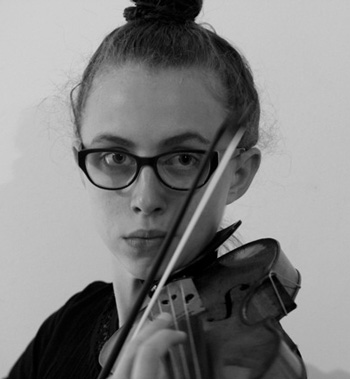 Third-year School of Music student, Aliayta Foon-Dancoes, already has an impressive number of awards under her violin bow: first prize in UVic's 2014 Bach Competition, two-time winner of the Vancouver Youth Symphony's Concerto Competition, and recipient of the 2011 Shields Scholarship in the Vancouver Academy of Music's Senior Secondary Competition. In addition, she has been awarded scholarships to attend the Orford, Tafelmusik, Astona Music Academies and Morningside Music Bridge.
Aliayta is also a winner of the School of Music's 2015 Concerto Competition and will perform Sibelius's Violin Concerto with the UVic Orchestra on October 30.
Get to know a bit about this talented violinist in twenty questions:
Where's your hometown? Vancouver, BC

Places you've lived? Vancouver and Victoria!

Three words to describe yourself? I find myself suddenly inarticulate at the prospect of answering this question.

At what age did you start learning the violin? 4 ½

Do you play any other instruments? Yes, badly.

What's your non-music related, hidden talent? Ultimate Frisbee

Your personal motto? Aim for mediocrity and you'll get slop.

Favourite spot on campus? Finnerty Gardens

What's the most powerful thing you've learned at UVic? Sleep, food and exercise are the glue that hold me together.

Favourite music to listen to? It's always changing!

Favourite music to play? It is also always changing!

Guilty musical pleasure? Michael Jackson

Who's your biggest role model? I have many and for different reasons! Maxim Vengerov, Augustin Hadelich, Isabelle Faust and Aisslinn Nosky. Also Damien Hirst (generally, members of the Young British Artists) and John Berger.

If you could invite one composer for dinner (living or not), who would it be? Beethoven. "Why Beethoven Threw the Stew" was a childhood favourite.

What's your dream performance? On a mountain or in a canoe.

Do you have any pre-performance rituals? Consuming mildly concerning amounts of kale.

Best way to unwind? Miso soup

Best advice you've ever received? "If you keep playing (addressing certain technical problems) the way you do, you'll be the one who serves me coffee at the drive through on my way to rehearsal"

Did you follow it? Time will tell. Wish me a drive-through-less future!

Where do you see yourself in 5 years from now? Many different places. Maybe in a canoe or on a mountain.


---
Fall Calendar Bursts with Guest Concerts
The School of Music is host to an exceptional line-up of guest artists this fall. We heartily welcome several alumni back to the Phillip T. Young Recital Hall stage, as well as leading performers from near and far. Here's a glimpse of what's coming up in September and October:


Orion Series in Fine Arts presents
Gordon Wolfe, trombone
School of Music alumnus, Gordon Wolfe (B.Mus '93) is Principal Trombonist with the Toronto Symphony Orchestra and teaches some of the best young brass players in Canada at the Glenn Gould School.
Trombone Masterclass: Friday, September 18, 12:30–2:30 p.m.
Concert: Saturday, September 19, 8 p.m.
With Vanessa May-lok Lee, piano
Performing selections from their latest CD, Reflections, featuring music by Kulesha, Castérède, Hindemith and McDougall.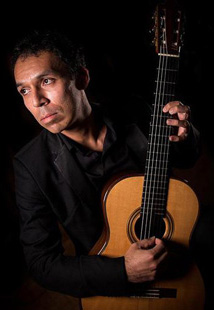 Orion Series in Fine Arts presents
Jorge Caballero, guitar
Peruvian-born virtuoso, Jorge Caballero, is regarded as one of the true elite in the guitar world.
Concert: Sunday, September 20, 8 p.m.
Guitar Masterclass: Monday, September 21, 4–7 p.m.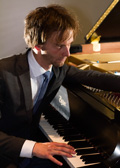 Emerging Artists Alumni Series presents
Justin Boechler (M.Mus '13)
Concert: Saturday, October 3, 8 p.m.
Featuring compositions by Boechler performed by School of Music alumni Brad Justason (saxophone), Alexei Paish (percussion), Kimberley Shepherd (piano), and Anna Shill (soprano) as well as the Proteus Saxophone Quartet.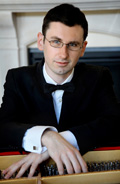 Orion Series in Fine Arts presents
Ilya Poletaev, piano
Ilya Poletaev, Assistant Professor at McGill's Schulich School of Music, is quickly becoming recognized as one of today's most original and compelling artists.
Concert: Monday, October 5, 8 p.m.
Performing music by Bach, J.K. Fischer, Carl Nielsen, Yevgeniy Sharlat and Franz Liszt.
Piano Masterclass: Tuesday, October 6, 3:30–5:30 p.m.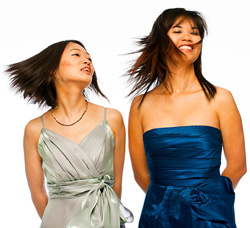 Alumni Concert Series presents
duo526: Violinist Kerry DuWors (B.Mus '01) & pianist Futaba Niekawa
Concert: Wednesday, October 7, 8 p.m.
String Masterclass: Tuesday, October 6 at 1:30 p.m.
duo526 is dedicated to creative thought and the art of listening through the performance of a vast repertoire from standard Classical to contemporary music.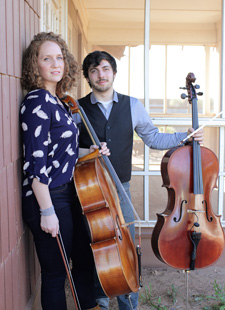 Emerging Artists Alumni Series presents
Hale & Hearty
Concert: Wednesday, October 14, 8 p.m.
Hale & Hearty is husband-and-wife fiddler duo, Rachel Capon (B.Mus '07) and Eli Bender, performing North American and European fiddle focused repertoire on cellos, fiddle and voice.
---
Beyond UVic


News on School of Music Alumni



Violinist Shima Takeda (B.Mus '11) and pianist Matthew Poon (B.Mus '08) will open the third season of the Oak Bay Music concert series on Sunday, September 20. Takeda and Poon both have active performing careers in and around Victoria. They will be performing works by Mozart, Beethoven and Brahms—some of the most appreciated repertoire for violin and piano.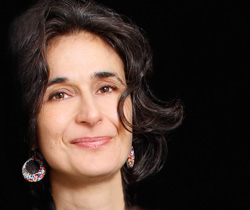 Eve Egoyan (M.Mus '85), one of Canada's foremost pianists and interpreters of contemporary music, and a UVic Distinguished Alumna, will perform an intimate contemporary piano recital at Toronto's Small World Music Centre, on October 16–18. The recital programme features music by Toronto composers John Mark Sherlock, Nick Storring and Linda Catlin Smith (M.Mus '81). The event also serves as the launch of Egoyan's latest CD, Thought and Desire, an album comprised of world première recordings by Linda Catlin Smith.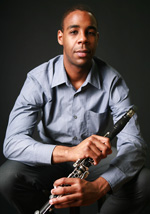 Clarinetist Shawn Earle (M.Mus '07) was a member of the Pierrot Ensemble at this year's Atlantic Music Festival held in Waterville, Maine from July 6th to August 1st. The ensemble was comprised of an international slate of musicians from Canada, Italy, Spain, Poland, and The United States, with a raison d'être to produce recordings of compositions by each of the forty student composers in residence at the Festival. The most noteworthy compositions were performed by the Pierrot Ensemble in the festival's closing concert, which was rewarded with a standing ovation.
Shawn Earle is teaching clarinet at the School of Music this semester while faculty clarinetist, Patricia Kostek, is on study leave.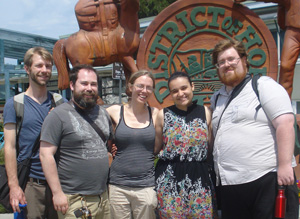 Wanted Composers Tour: Four School of Music alumni made their way through the BC interior this summer as part of the Victoria Composers Collective Wanted Composers Tour. Composers Dave Riedstra (M.Mus '15), Lynne Penhale (B.Mus '13), Nathan Friedman (B.Mus '11), Christopher Reiche (M.Mus '08) and current School of Music student Maria Eduarda Mendes Martins presented concerts of new and innovative pieces for electric bass, toy piano, trombone, clarinet, voice, and piano as well as non-traditional instruments. The tour started in Victoria and ended in Kamloops, with stops in Hope, 100 Mile House, Quesnel, Barkerville, Prince George, and Williams Lake. "The tour was a great experience and in every community we visited there were people who were curious and excited to hear the music we had written and were performing," says Reiche. "Everyone in the communities we went to greeted us warmly and made up some of the best audiences I've ever performed for. We were so happy to get the support of the SOCAN Foundation and the BC Arts Council for this project."


---

Keep in Touch!

Alumni: Have an upcoming performance or CD release? A new job or news to share? Please email concert@uvic.ca with your updates.

If you'd like to fill out our alumni questionnaire, you may do so here.


---
Canadian Anti-spam Legislation
We value every one of our subscribers and hope that you continue to enjoy receiving our newsletter and calendar of events. The School of Music, University of Victoria complies with Canada'santi-spam legislation and our email list requires express consent in order to subscribe. If for any reason you no longer wish to receive updates from the School of Music, please unsubscribe here. For information about the legislation, please visit Canada's Anti-Spam Legislation (CASL) website.


e-Pulse is a regular e-newsletter for those interested in the University of Victoria School of Music events. Do you know someone who would like to know more about us? Please feel free to forward this message to a friend!
Follow us on Facebook (University of Victoria, School of Music) and Twitter (UVicMusic).
For a complete list of School of Music events, visit our online Events Calendar.