September – October 2014
---
On the Pulse

Harald Krebs wins Craigdarroch Award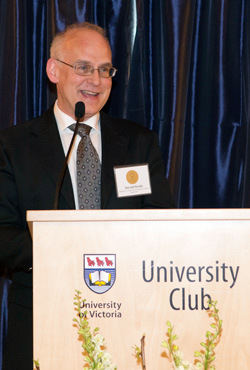 Scholar, pianist, author, artistic collaborator and professional speaker—School of Music professor Harald Krebs is one of Canada's finest music theorists, and has been named this year's winner of the Craigdarroch Award for Excellence in Artistic Expression.
"It's very touching that my colleagues would do this, given the nomination process," says Krebs. "In fact, I really thought someone else should be nominated this year, but it's very sweet that the department nominated me. I have such great colleagues."
Recognized internationally as an expert on musical meter and rhythm— especially in the 19th-century German art song known as Lieder—Krebs was also named a UVic Distinguished Professor in 2010. This award comes with a $1,000 prize, which Krebs characteristically is considering using for the greater good. "One thing I've done with other awards I've received is to bring in a guest speaker, so it's not just for my benefit but also for the benefit of the School and the faculty," he says. "It's really nice to contribute in this way."
The Craigdarroch Research Awards were established in 2003 to recognize outstanding research-focused and creative contributions at UVic. They were named for Craigdarroch Castle, the estate that was once home to UVic's predecessor institution, Victoria College, from 1921 to 1946. The Lafayette String Quartet received the award in 2010.
Read more about this story on Artsy Type.


---
School of Music Launches New Degree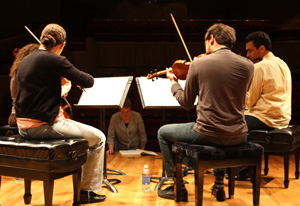 Over the past few years, the School of Music's string faculty has been working with the university to establish a program for young musicians to study intensively—not as individual artists, however, but as a quartet. We are now proud to announce the launch of the Masters Degree Program in String Quartet Performance—a first in Canada.
While there are other institutions where individual musicians can earn graduate degrees in string performance, UVic is now the first Canadian degree-granting institution to offer a Masters with a string quartet emphasis. This new program will allow previously formed quartets the opportunity to study both as a group and individually with the Lafayette String Quartet, UVic's acclaimed Artists-in-Residence.
"This will bring an outstanding student quartet to UVic for a two-year residency," says School of Music director Susan Lewis Hammond. "The program will bring the high level of the LSQ's creative activity directly to students. The result will be an innovative student experience that builds directly on the creative and research expertise of the Lafayette String Quartet."
String quartets of any nationality interested in pursuing a Masters Degree in String Quartet Performance may now apply for the 2015-16 calendar year (deadline for applications is December 1, 2014).
Read the full story at Artsy Type.


---
Crescendo Card Pays Off
Frequent concert-goers are taking advantage of some huge savings on School of Music concert tickets with the new Crescendo Card. Designed as a punch card, for one low price—$65 regular and $45 for seniors, students, and alumni—patrons may use their card for entry to any 5 concerts, including those held in the Phillip T. Young Recital Hall and the University Centre Farquhar Auditorium. Purchase a card for each semester or use the same card through till the end of the season. While the concerts for Spring 2015 have yet to be announced (look for announcements early December), the card is valid until April.
The Crescendo Card comes with some additional perks, including a Bring a Friend voucher and complimentary coffee and tea at The Lounge concession. Don't wait! Get your card by September 15 to be entered in a draw for a collection of School of Music faculty CDs.
For more information about the card and to purchase, visit our website.


---
On Stage

Re-Birth of the Cool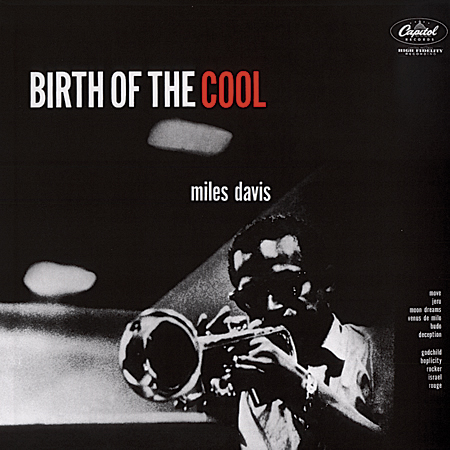 The Birth of the Cool recordings have influenced musicians and arrangers worldwide, and since their release on vinyl in 1954 continue to be one of the most extensively discussed, studied, imitated, and transcribed in the history of jazz. For UVic Jazz Professor, Patrick Boyle, these recordings were his first exposure to Miles Davis. "In high school I took a cassette tape out from my local library and practically wore it out," he recalls. Revolutionary in their time, the Birth of the Cool sessions were the first notable new movement in jazz since bebop. Sixty-five years later, "there is still a freshness and vitality to these recordings," says Boyle.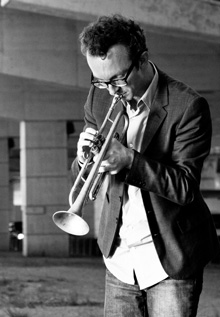 In a concert on September 20, Boyle will perform innovative arrangements from the classic Birth of the Cool charts on trumpet and guitar. His all-star band will feature some of the island's hottest jazz players, including Monik Nordine (alto sax), Marc Patsula (horn), Ross MacDonald (double bass), Kelby MacNayr (drums), Tom Vickery (piano), and School of Music faculty Wendell Clanton (baritone sax) and Eugene Dowling (tuba).
Revered Victoria trombonist, Ian McDougall, will join Boyle for some duos in the second half of the evening. "One of the most important musicians this country has produced, [McDougall] is an ideal model for anyone wishing to pursue a career in music: know everything about what you do, do it better than anyone else, and be the funniest guy to hang out with while you're doing it," says Boyle.
The concert takes place at 8 p.m. on Saturday, September 20 at the Phillip T. Young Recital Hall. Tickets are available through the UVic Ticket Centre and at the door.


---
Diversity Highlighted in Alumni Concert
It may seem unusual to pair a classical violist with a folk band in concert, but the two acts performing in the School of Music's inaugural Emerging Artists Alumni Series concert have a lot in common. Nothing short of eclectic, these artists are skilled on multiple instruments and in a wide-range of musical styles. This kind of multiplicity gives these artists a leading edge as they break into professional careers in music.
Violist Sarah Tradewell (B.Mus '14) recently graduated from the School of Music and already has a busy schedule of teaching and performing. "It's only been a few months, but a bunch of opportunities cropped up that I was overjoyed to accept," says Sarah.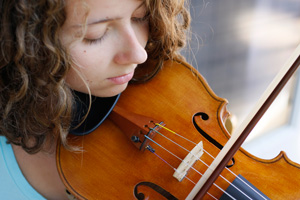 Raised in Northern Saskatchewan, Sarah had a rich musical upbringing inspired by her music-teacher mother. She gave her first performance at age three, was involved with musical theatre from age six, and insisted on learning both fiddle tunes and Classical music when she started violin lessons.
To this day, Sarah continues to hone a range of skills and pursue diverse opportunities. Her broad repertoire of experience, paired with her talent and tenacity, is proving advantageous. The evidence is in her fall schedule: teaching the Conservatory Fiddles at the Victoria Conservatory of Music, touring with acclaimed tenor Ken Lavigne, playing in several concerts with the Victoria Symphony, and playing the role of Jane Bennet in Langham Court's Pride and Prejudice in October. Sarah can also be heard regularly with Black Angus at the Irish Times. "I'm pretty happy with my life right now and the diverse performance opportunities I have. I don't know what my future holds yet, but I do know that I want to be performing, whether it's orchestra, chamber, new music, or folk music."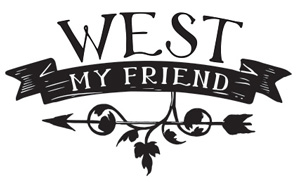 Members of the chamber-folk band West My Friend—featuring Eden Oliver (B.Mus '08), Jeff Poynter (B.Mus '11) and Alex Rempel (B.Mus '12), as well as Nick Mintenko—believe their diverse experiences have made them more well-rounded artists. From touring musician and church music director to house painter, and non-profit program director, "our journey since graduating has been very much one of chiseling out lives for ourselves and exploring the different things we want to put our energies into," describes Poynter. A lot of that energy has gone into preparing for their upcoming tour through BC, Alberta, Idaho, Washington and Oregon this October and November.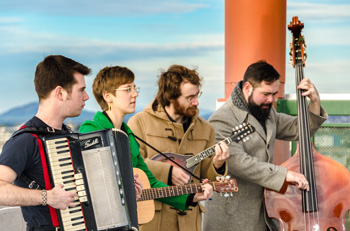 Poynter describes West My Friend's sound as "cascadian third wave indie prog chamber folk roots music." Apparently this is what happens when you put an accordion, mandolin, guitar and upright bass together with four part harmonies and three music degrees. Having formed 5 years ago, the band has two albums under their belt as well as multiple tours. Their most recent tour across Vancouver Island and the Gulf Islands turned some heads. "Many people were shocked that we carried all of the gear and instruments that we did, and everyone was very supportive," says Poynter of the band's choice to travel by bicycle.
Both Tradewell and Poynter couldn't say enough about the value of performing—on campus and in the community—during their time at UVic. "Perform as much as you can. You never know who will see you," stresses Tradewell. Whether you're fiddling at pubs, singing in local choirs, or accompanying a musical, Poynter emphasizes that "the connections you make with other musicians and people in the music business can be priceless and can have far reaching impacts you can't imagine yet!"
The School of Music's inaugural Emerging Artists Alumni Series concert will take place at 7:30 p.m. on Sunday, September 21 in the Phillip T. Young Recital Hall. Tradewell will perform solo works by Bach, Hindemith, Stravinsky and others while West My Friend plays songs from their latest album along with some new and old material. Chances are good that Tradewell will join the group with some fiddle stylings. Admission is by donation and proceeds will benefit further Emerging Artists Alumni Series events.


---
Concerto Winner Takes the Stage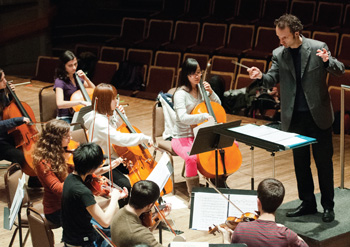 A School of Music tradition since the early 1980s, the annual Concerto Competition gives winning soloists the opportunity to perform with the University of Victoria Orchestra. "Concerto performances are among the highest recognitions within the School of Music," explains Ajtony Csaba, conductor of the UVic Orchestra. "They represent an opportunity for the Victoria audience to witness artists at the beginning of their career."

We congratulate this year's Concerto Competition winners: Ella Hopwood (cello), Elizabeth Clarke (piano), and Keenan Mittag-Degala (marimba).

Third-year performance major, Ella Hopwood, is looking forward to her performance of Saint-Saëns' Cello Concerto No. 1 on Friday, October 31, which she describes as "fiery and full of character, and immense fun to play." Ella has enjoyed her journey with the piece, which she's been practicing for the past year. "I love this concerto because it has such a wide range of characters and colours to explore. The orchestration gives me the space and time to express everything exactly how I want to—I feel so free while playing!"
Ella has found plenty of inspiration in weekly lessons with instructor Pamela Highbaugh Aloni. "She encourages me not only to increase my proficiency on my instrument, but also to connect with my love of music each day, to remember why it is we put in such a great amount of time and effort into practicing," says Ella.
This performance will be Ella's first as a soloist with an orchestra and she is grateful for the opportunity. "I have learned so much—both as a musician and personally—from working this piece up for performance."
The concert starts at 8 p.m. in the University Centre Farquhar Auditorium. Tickets are available through the UVic Ticket Centre and at the door. The concert will also be broadcast live from the School of Music website.

Elizabeth Clarke will appear with the Orchestra on November 29 and Keenan Mittag-Degala takes the stage on January 30. Stay tuned for more!
---
Beyond UVic


News on School of Music Alumni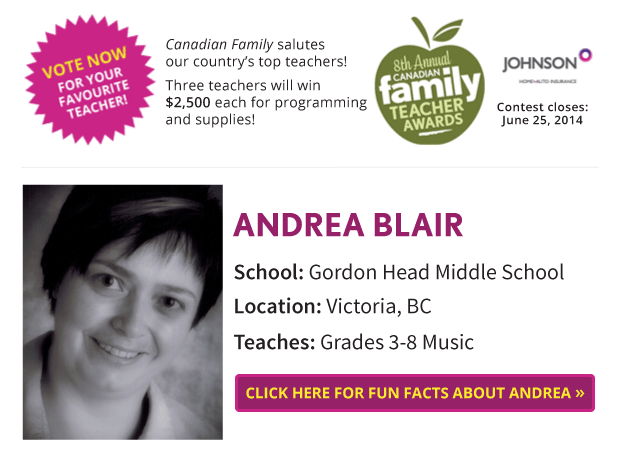 Congratulations to Andrea Blair, one of the top three winners of the annual Canadian Family Teacher Awards. Over the six-week online voting period which began in May, Blair received more than 7,800 votes, winning $2,500 for school programming and supplies for Gordon Head Middle School, where Blair is Music Director.
"I was elated at the news and wish to thank everybody who voted for me," says Blair. "The community support and support from family and friends was tremendous. I received emails from friends saying they voted while vacationing in Spain and Austria. Very cool!"
Blair, who received her Masters in Music Education in 2007, was among 12 finalists. She was nominated for the contest by the parent of one of her students, Daniel Davenport. "My son has learning disabilities—he is dyslexic and dysgraphic," wrote Leslie Davenport in her nomination letter. "When he started middle school he told us he wanted to join the band. The problem was that he was incapable of reading music. I approached the music teacher, Mrs. Blair, and asked if he might be able to join in some way. I was thinking of him banging a tambourine or something. For Mrs. Blair, it was not enough for him to just do some simple percussion; instead, she designed a whole new sheet music system for dyslexics."
Having dyslexia and dysgraphia means Daniel can't read or write either music or the English language—but, thanks to the creative and continued efforts of his dedicated teacher, he is now playing clarinet in the school band.
Due to the continued job action within the BC Teachers' Federation, Blair has not yet had the opportunity to celebrate with her students and colleagues or decided how the winnings will be used. "I am waiting until we are back in the classroom so the students can participate in determining how to allocate the funds."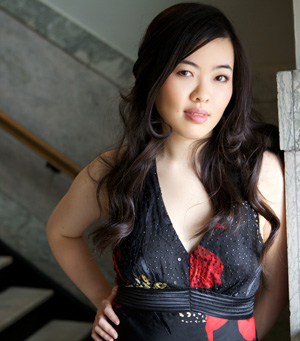 Pianist Kayla Wong (B.Mus '04) recently released her debut solo album, Allure. Recorded in Toronto at the Glenn Gould Studio and independently released on her label, Luminous Vine Records, Allure features pieces by composers who Kayla has "always loved and gravitated towards," including Ravel, Rachmaninoff, Barber and Lecuona.
While a student at UVic, Kayla studied with the late Dr. Robin Wood, who made a lasting impact on Wong as an undergraduate student. "He always told me: play how you feel, and say what you have to say in your music," recalls Wong. "Ultimately, his words have stuck with me and guided me in discovering and developing who I am as an artist today," says Wong.
You can purchase Kayla's new CD and listen to an excerpt on her website.


---
Canadian Anti-spam Legislation
We value every one of our subscribers and hope that you continue to enjoy receiving our newsletter and calendar of events. The School of Music, University of Victoria complies with Canada's new anti-spam legislation and our email list requires express consent in order to subscribe. If for any reason you no longer wish to receive updates from the School of Music, please unsubscribe here. For information about the legislation, please visit Canada's Anti-Spam Legislation (CASL) website.


e-Pulse is a regular e-newsletter for those interested in the University of Victoria School of Music events. Do you know someone who would like to know more about us? Please feel free to forward this message to a friend!
Follow us on Facebook (University of Victoria, School of Music) and Twitter (UVicMusic).
For a complete list of School of Music events, visit our online Events Calendar.