September 2013
---
On the Pulse

Summer in Review
The School of Music was bustling with activity over the summer months with festivals, workshops, conferences and performances.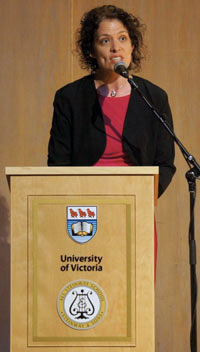 The 2013 Congress of the Humanities and Social Sciences was held on the University of Victoria campus from June 1-8. Thousands of academics, researchers, policy-makers, and practitioners gathered at UVic to share findings, refine ideas, and build partnerships through meetings, lectures, panels, presentations, concerts, and social events. The Canadian University Music Society joined Congress at the School of Music for their annual association meeting from June 6-9. Chaired by the School of Music's Jonathan Goldman, highlights of the four-day conference included a gala concert with School of Music faculty performers on June 6 and a concert of contemporary music featuring winners of the CUMS 2013 Student Composer Competition. Selected by a jury, two outstanding works shared First Prize: UVic graduate, Robert Hansler's Broken Branch and André Mestre's Zikr.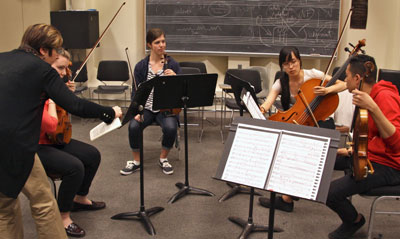 After a 15-year hiatus, QuartetFest West resumed in June with a new series of masterclasses & performances in the School of Music. The Penderecki String Quartet united with UVic artists-in-residence the Lafayette String Quartet and other guests to train the next generation of string players. Twenty-five students from across Canada and the U.S., as well as Brazil and New Zealand participated with great enthusiasm in the 10-day intensive workshop.

The annual SALT New Music Festival & Symposium returned for its third year at the end of May. Created & hosted by the Tsilumos Ensemble (UVic's Ajtony Csaba, Dániel Péter Biró, and Joanna Hood, with Kris Covlin), the festival, which took place at Open Space and the School of Music integrates local and international performers to present performances of groundbreaking new music to Victoria audiences. The line-up included concerts and workshops with guest artists Chicago's Ensemble Dal Niente, the world-renowned members of Germany's Experimentalstudio, Montreal's Quasar Saxophone Quartet and Berlin tuba soloist Max Murray (BMus '10). Invited composers included Wolf Edwards (MMus '03), Suzanne Farrin, Detlef Heusinger, Claus-Steffen Mahnkopf, Steven Kazuo Takasugi and Gianluca Ulivelli.


Check out what some of the School of Music faculty were up to over the summer on our website.

---



Around the World in 37 Years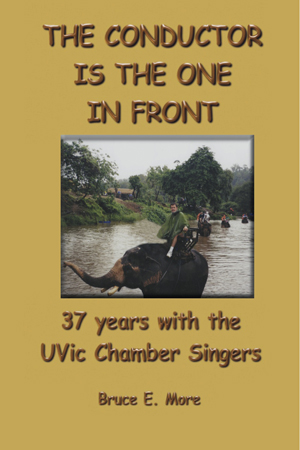 First rule of history: if you want your story to be remembered, be sure to write it down. Such is the case with Bruce More and the UVic Chamber Singers, the 40-year-old School of Music choral group that has more than a few rich stories to tell.

While More retired back in 2008, the Professor Emeritus has spent the past three years documenting the story of the Chamber Singers in his new self-published book, The Conductor is the One in Front: 37 Years with the UVic Chamber Singers. And what a story: with over 400 singers having followed his baton, plus international tours to 140 cities in 40 countries (including Eastern and Western Europe, Asia, Africa and the South Pacific, plus the U.S. and Canada), the UVic Chamber Singers carved out an enviable reputation under More's direction.

"The UVic Chamber Singers is probably the most widely traveled chorus in Canadian history, let alone universities," says More from his home in Castlegar. "Some universities travel regularly, but they go back to the same place every time. I always tried to go for a three-week tour somewhere new. I didn't want to just go someplace for a week and then come home, which is what most choirs do."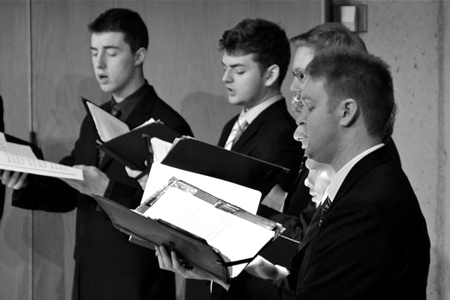 Specializing in the works of Canadian composers, the Chamber Singers routinely perform sacred and secular music from all eras, having a repertoire of more than 700 works. They've recorded for broadcast in at least seven different countries, received numerous awards and represented BC in the Juno Award-winning performance of R. Murray Schafer's Credo back in 2000. Currently, the Chamber Singers are under the direction of School of Music instructor Garry Froese.

While the history of the Singers is well documented, it's the colourful tales of international touring that take up the bulk of the 135 pages of More's book. Geographically, More literally took the Chamber Singers around the world on a different tour every two years, from Helsinki (the farthest north) to New Zealand (farthest south), and from Hawaii (west) to Tokyo (east). Describing himself as not only conductor but also a den mother and travel advisor, More says his years with the Chamber Singers were both incredibly fulfilling and exhausting.

Read John Threlfall's full story on Artsy Type.

Interested in a copy of The Conductor is the One in Front? Contact Bruce More directly at morebruce@gmail.com. He would also like to hear from any Chamber Singers alumni not currently in touch.
---
On Stage

Brahms, Bubbly and Brunch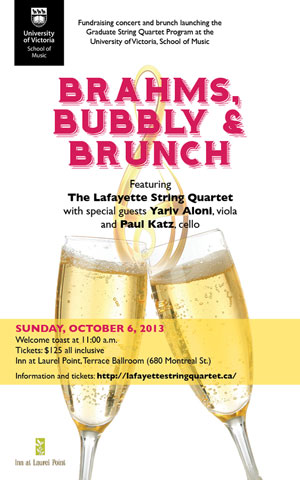 The University of Victoria and the Lafayette String Quartet are thrilled to be launching Canada's first Masters degree program in String Quartet Performance. This new program allows previously formed quartets the opportunity to study as a group and individually with the Quartet in a two-year program. To celebrate, the LSQ is hosting a brunch at the Inn at Laurel Point on October 6. Sip on a glass of bubbly while enjoying the music of Brahms performed by the LSQ, renowned cellist Paul Katz of Cleveland Quartet fame, and violist Yariv Aloni, beloved by Victoria audiences. Executive Chef Takashi Ito has designed a spectacular brunch menu to accompany this event.
With stunning music, views overlooking the harbor, the beautiful gardens of the Inn at Laurel Point, and food prepared for you by one of the finest chefs in North America, this will be an event to remember! Proceeds from the fundraiser will go towards UVic's Graduate String Quartet Scholarship Fund, and tax receipts will be available upon request.
Visit the Lafayette String Quartet's website for more details.
---
Lieder at Lunch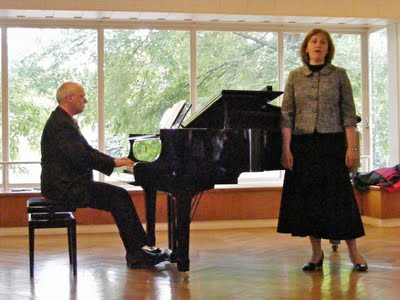 It's been twelve years since Harald and Sharon Krebs presented their first Lieder at Lunch concert at the School of Music. Over the years, the series has drawn a dedicated following and the commitment of this duo to the Lied (literally meaning "song" in German) has never waned. A loyal audience member described the concerts as "an essential part of my life on campus" and is "elated and illuminated by these forty minutes of wonderful music in the midst of my day."
Dr. Harald Krebs is head of the theory section in the School of Music, is a UVic Distinguished Professor and President of the Society for Music Theory. Kristy Farkas, the School of Music's Concert Manager, asked Dr. Krebs a few questions about the Lieder at Lunch series:

Since the first Lieder at Lunch concert in 2001, how has the series evolved over the years?
The format of the concerts hasn't changed all that much. As at the beginning, the 45-minute concerts consist of songs organized around a theme, with a bit of what one colleague calls "affable banter" between songs. The PowerPoint presentations, with translations and relevant images, have become more sophisticated (that's Sharon's doing - she's a PowerPoint virtuoso!). What has changed most is the size of our audience. Sharon and I started the series with the aim of sharing our knowledge of the German Lied repertoire with others, especially with voice and piano students. But it was much more difficult than we expected to attract these students, and indeed anybody, to Lieder at Lunch. The first few concerts were poorly attended, and we almost gave up on the series after the first season. But we persevered, and now we often have a full house (in a small room, to be sure, but we like the intimacy of B037). It is a lot more fun to perform when one doesn't have to worry about there being people in the seats. We always have a good time during the concerts now, and we have the feeling that our audience members do too!

Of all the genres of music, why has the Lied been such a prominent subject of your research?
I have always enjoyed performing Lieder. I kept very busy at this activity even during my undergraduate years. I have also always enjoyed teaching students about Lieder in my theory classes; these short pieces are wonderful vehicles for acquainting students with a wide variety of harmonic techniques as well as the expressive function of these techniques. With this longstanding interest in the genre, it was inevitable that my research would sooner or later deal with it. Since the mid-90s, much of my writing has dealt with Lieder, especially with the works of Josephine Lang (1815-80) and Robert Schumann, but also those of Schubert, Wolf, and Clara Schumann.

How does your research of the Lied inform your programming of the concerts and performances of the songs?
I participate in a lot of conferences at which Lieder are discussed and performed. Songs that we hear at conferences often make their way into our own concerts. The same is true of songs that I myself discuss in my papers. Sharon and I always perform the musical examples during my talks, and some of those musical examples are later integrated into Lieder at Lunch concerts. My research certainly influences our performances. For example, I have done a lot of research on metrical conflict and its text-expressive function in Lieder; I believe that my awareness of such conflicts helps me to play passages that contain them more accurately and expressively.

What can we expect from the upcoming concert on September 11?
The title of the concert is Unterwegs (On the Road), a title that we always use for the first concert of the season. We'll recount our song-related experiences during our recent travels, and interweave relevant song performances (songs we heard at the concerts we attended, unknown songs that we discovered in libraries in Europe, songs on which I did research, etc.). Among the featured composers are Hugo Wolf, Franz Schubert, Josephine Lang, Pauline Viardot, and Johannes Brahms.


The next Lieder at Lunch concerts are on September 11 and October 16 and take place at 12:30 p.m. in room B037 in the B-Wing of the MacLaurin Building. Admission is free.
---

New Dimensions for Trombone
Trombonist Abbie Conant and husband, the award-winning composer, William Osborne, have a common goal: to explore new dimensions of performance art and create substantial music theatre and multi-media works.
During their visit to UVic from September 18-20, Conant, Professor of Trombone at the Staatliche Hochschule für Musik in Trossingen, will perform two works of experimental music theatre composed by Osborne as well as present the lecture, Alone among men: my relationship with the Munich Philharmonic.
The September 19 performance of Music for the End of Time, for trombone, video and quadraphonic electronics, is based on the Book of Revelation. The polarities of apocalyptic visions and transcendance inform the arrangement of the movements in this piece and shape their cycles of light/darkness, drama/reflection, ecstasy/remorse.
Conant will give the world premiere of Aletheia on September 20. Aletheia is about an opera singer in a dressing room preparing to sing for a gala benefit but can't bring herself to go out and perform. The process explores conceptions of artistic authenticity and the relationship of the artist to society. The work alludes to the life of Theresa Duncan, a filmmaker, media-artist, and cultural critic who died by suicide in July 2007 at the age of 43.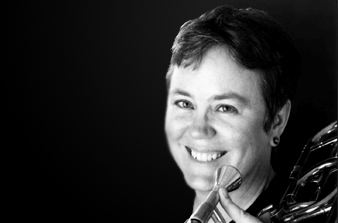 From a young age, Conant won numerous honours and scholarships for her talent as a musician. In 1980, she won an audition for solo trombone with the Munich Philharmonic but was demoted to second trombone solely because of her gender following her probationary year. She fought her demotion and eventually triumphed in court. Since that time, the International Trombone Association Journalhas featured Conant on its pages and described her as "in the first rank of world class trombonists." She has been a soloist in over 155 North American and European cities. Conant will talk about this journey in her lecture on September 18.
All events take place at the Phillip T. Young Recital Hall in the MacLaurin Building at the University of Victoria. Donations collected on September 19 and 20 will go to the Sandy Merriman House Emergency Shelter for Women.
---

Tune In Online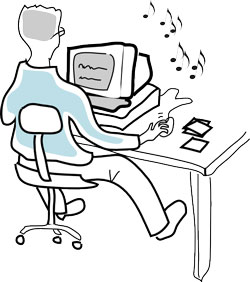 A complete schedule of School of Music events is available on our website. Can't make it to the concert hall? Many of our concerts in the Phillip T. Young Recital Hall are broadcast live from our website. Have a look at the schedule for Fall 2013.
---
Beyond UVic


News on School of Music Alumni




The new music scene was resounding this summer in Victoria, and School of Music alumni were at the forefront of some rare and exceptional events. Here's a review in brief:

The annual SALT New Music Festival & Symposium from May 25 to June 2 featured new compositions by Wolf Edwards (MMus '03) and Stefan Maier (BMus '13), with performances by Max Murray (BMus '10) and Liam Hockley (BMus '11). More about the festival here.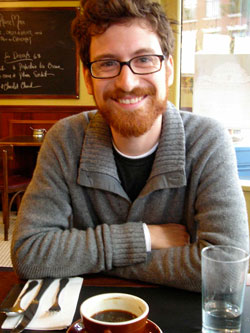 Alumni were also represented at the Canadian University Music Society's annual meeting in June, with performances of works by Daniel Brandes (MMus '10), Stefan Maier, and Robert Hansler (MMus '13), winner of the CUMS Student Composer Competition.

In June, Open Space hosted a three-day Wandelweisser festival, with a new composition by Daniel Brandes performed by Quatuor Bozzini and the Wandelweisser Collective.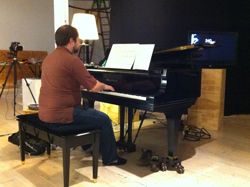 On June 21, Christopher Reiche took on the formidable task of performing Erik Satie's Vexations in a fundraiser for Open Space. Over the course of 24 hours, Reiche played all 840 repetitions of the piece, many of which were sponsored by Open Space supporters.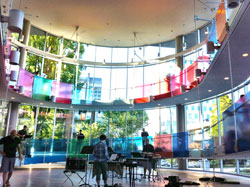 Five alumni were represented in Transpondings, a Redshift Music Society/Open Space collaboration of three concerts in Vancouver, North Vancouver and Victoria from August 9-11. Newly commissioned works by Daniel Brandes, Stefan Maier, Kristy Farkas (MMus '04), Lynne Penhale (MMus '13), and Kimberley Shepherd (BMus '12) were performed by the Vertical Orchestra, which included School of Music faculty Suzanne Snizek, PhD candidate Michael Dias, and alumni Alexei Paish (BMus '13) and Adrian Verdejo (BMus '04).
---
Music Extras
Ticket Giveaways, Contests and more!
@UVicMusic
Tell us on Twitter or Facebook which School of Music concert held in the Phillip T. Young Recital Hall you are most looking forward to in the Fall 2013 season for a chance to win a pair of tickets to that event. Deadline is Monday, September 16.


---
e-Pulse is a regular e-newsletter for those interested in the University of Victoria School of Music events. Do you know someone who would like to know more about us? Please feel free to forward this message to a friend!
Follow us on Facebook (University of Victoria, School of Music) and Twitter (UVicMusic).
For a complete list of School of Music events, visit our online Events Calendar.