September 2012
---
On the Pulse
UVic Celebrates 50 Years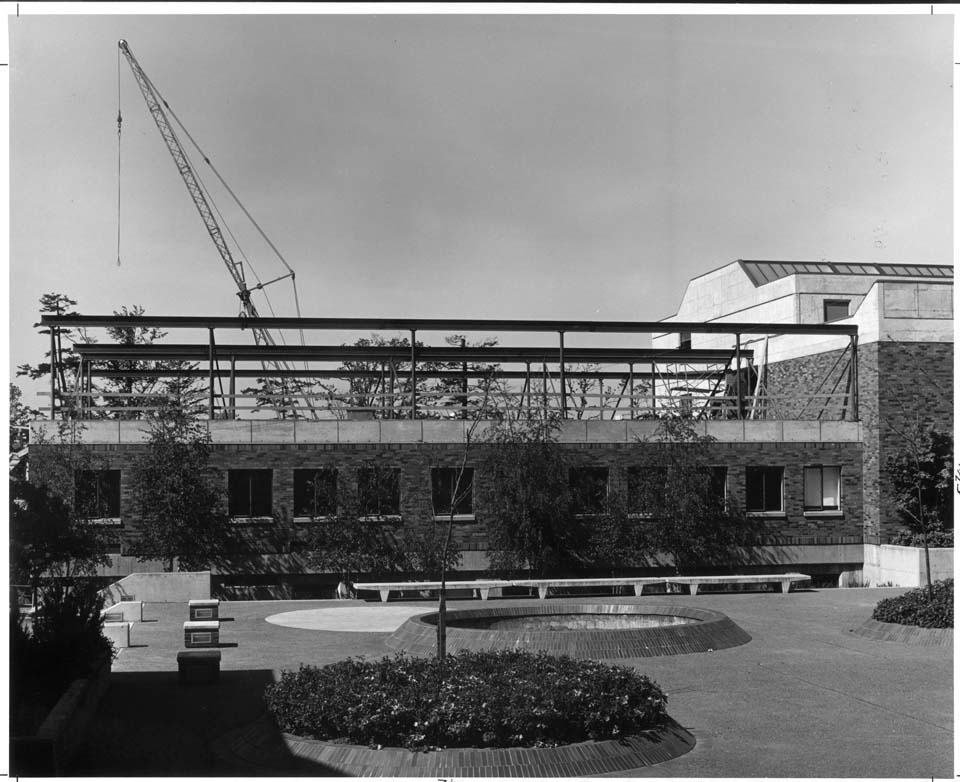 This year marks the University of Victoria's 50th Anniversary, and the University will be celebrating with a host of exciting events. To commemorate this milestone, the School of Music also has some special events scheduled in their 2012-13 concert season. Highlights include a performance by distinguished alumni, Eve Egoyan (piano), a Homecoming Open House, special alumni performances, and a concert of works by the School's Composition faculty in the New Year.

On September 28-29, UVic's 50th Anniversary Festival & Homecoming will feature a jam-packed weekend celebrating 50 years of UVic excellence. Head to campus for reunions, Vikes athletic games, the Island Savings Family Zone, live concerts, open house events, community bbq, special campus tours, and much more! For information about UVic's 50th year and to check out videos and photos of UVic history (like the one above of the MacLaurin Building under construction), visit the 50th Anniversary website.

September 29: UVic's 50th Anniversary Fine Arts Open Houses

School of Music: 11:30am - 12:30pm Free hand drumming workshop with Jordan Hanson. (RSVP here) Phillip T. Young Recital Hall, MacLaurin Building
1:00pm - 3:00pm Experience student musicians performing throughout the school's practice rooms, hallways, recital hall and classrooms. MacLaurin Building, B Wing
Department of Theatre: 2:00pm - 4:00pm Guided building tours take you backstage and behind the scenes of the magic of making theatre. Phoenix Theatre (meet in lobby)
Department of Writing: 1:00pm - 2:00pm A presentation of the hilarious "Freshman's Wharf," a 10-webisode, student-created show about a young man's introduction to university. (48 minutes) Fine Arts Building Rm.103
Department of History in Art: 11:00am - 4:00pm Learn about the 8th Annual Symposium "Acts of Intervention: The Arts and Social Change" through their display. Fine Arts Building, lobby
Department of Visual Arts: 11:00am - 4:00pm Audain Gallery Exhibition of new work by visiting artist Michael Nicoll Yahgulaanas, the 2012 holder of the Audain Professorship in Contemporary Art Practice of the Pacific Northwest. Visual Arts Building
---

Tune in online...LIVE!
Too far away or have too busy a schedule to attend a School of Music concert? Beginning this month, live audio of select concerts—including some faculty and guest concerts, graduation recitals, Fridaymusic and ensemble concerts—will be streamed directly through the School of Music website. Thanks to a dedicated computer and new software installed by School of Music audio specialist and recording engineer Kirk McNally, with an assist by UVic Systems, plans are also in the works to stream concerts live through CFUV (UVic's campus radio station). A benefit to students, out-of-town family and friends will now have the opportunity to listen to their loved ones perform live from anywhere in the world!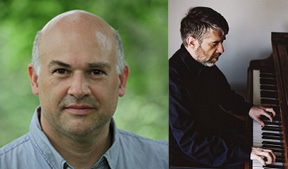 Listen! Live will have its official launch on Saturday, September 15 at 8:00 pm with our Faculty Concert Series season opener featuring renowned tenor, Benjamin Butterfield, and dynamic pianist, Bruce Vogt. Click here for full concert details.
For a schedule of upcoming events to be streamed and to tune in live, visit Listen! Live
---
On Stage
Steinway Fundraiser Reunites Artists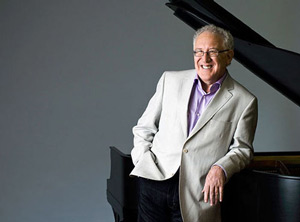 Celebrated Canadian pianist and noted Steinway artist Robert Silverman will be the featured performer at a School of Music fundraiser this month. But while the concert will be helping to cover the costs of the 63 new Steinway pianos that made UVic the first and only all-Steinway school in Canada, it also marks a reunion of sorts between Silverman and the Lafayette String Quartet, who will be joining him on stage.
Recognized as one of Canada's premiere pianists, Robert Silverman was a faculty member at the University of British Columbia for 30 years and has performed in concert halls throughout North America, Europe, Australia and the Far East. He has appeared with orchestras on three continents, including the Chicago Symphony, the Sydney Symphony, the BBC (London) Symphony, the St. Petersburg Philharmonic Orchestras and every major orchestra in Canada.
"It has been a number of years since he has performed in Victoria," says Associate Dean of Fine Arts and School of Music piano professor Arthur Rowe, "and we're very excited at his return to the University of Victoria to help launch this year's Steinway fundraising campaign."
Silverman's discography includes over thirty CDs and a dozen LPs. His recording of Liszt's piano music received a Grand Prix du Disque from the Liszt Society of Budapest, while his widely acclaimed ten-CD recording of all thirty-two Beethoven sonatas was short-listed for a Juno Award.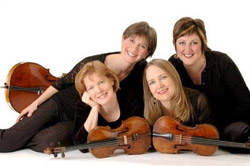 For the upcoming School of Music concert, Silverman will be performing Brahms' Rhapsody in B Minor and Six Pieces for Piano—as well as Schumann's Piano Quintet with the acclaimed Lafayette String Quartet. "It was 25 years ago when we first met Robert," recalls LSQ violinist Sharon Stanis. "We first performed together in 1987 in Vancouver at the Friends of Chamber Music series, where we played the Shostakovich Piano Quintet."
After that initial performance, says Stanis, Silverman and the LSQ played together in various venues across Canada and the U.S., including another Friends of Chamber Music series (this time playing the Brahms Piano Quintet) at UBC in 1991—just days after the LSQ accepted the offer to become Artists-in-Residence at UVic. "Robert made the announcement from the stage that we would be moving to Victoria and welcomed us to the west coast," Stanis fondly recalls.
Silverman will soon be releasing a recording of Brahms and Schumann.

The concert is at 2:30 pm on Sunday, September 23, in the Phillip T. Young Recital Hall. Tickets are available at the University Centre Box Office.
---

Egoyan Goes Beyond the Surface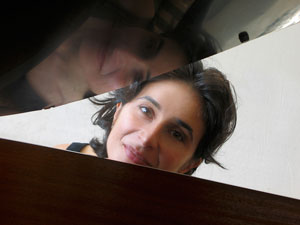 School of Music Distinguished Alumni and member of UVic's 50th Anniversary Honorary Cabinet, Eve Egoyan, returns to campus to present a concert as part of the UVic 50th Anniversary Signature Event series. The acclaimed pianist will perform solo repertoire for piano as well as the collaborative interdisciplinary work, Surface Tension, with proceeds benefitting a scholarship for UVic Fine Arts students.

Surface Tension, created by the artist and David Rokeby for disklavier (an acoustic piano with a computer interface) and interactive video, extends the piano into a visual instrument. A variety of performance parameters (such as dynamics, pitch, and note duration) are transformed and interpreted by a computer into live visual images projected onto a screen.

School of Music Concert Manager, Kristy Farkas, asked Eve Egoyan a few questions about her upcoming performance:


When performing Surface Tension, how is it different for you from improvising without the interactive/visual element? How much are you responding to the visuals?
There are five different visual worlds in Surface Tension and each of these visual worlds explores very specific pianistic and music related materials. Rather than comparing the experience to improvising a solo, I would compare it with improvising alongside another instrument that has a specific colour range. Each visual world does not respond interestingly to everything I might play because the range of things each visual world responds to is limited. To create a successful performance I have to limit what I explore within each of these five worlds. The limitations force me to explore fully things I might not otherwise be very interested in playing around with.


How much of the music improvisation is structured or notated?
None of it is notated right now, although I am thinking about this possibility. It is structured to some degree because I have worked with it so much and developed approaches that seem to work well.
I am not sure how well more specific structuring and notating will work because of the nature of the relationship between myself and the visual worlds. I am creating a feedback loop that I am swimming inside of. I understand how I impact the visual worlds I am working within however this relationship is fluid. I suppose I could be totally in control of everything but that would remove the element of play and surprise that makes this piece very special - its immediacy for both myself and the viewer/listener. Should it be repeatable when beauty is in its fluidity?

How would you describe the piece?
Each movement has a contrasting mood - dramatic, meditative, slow, fast, full of recognizable images, or abstract. It is always beautiful and exhilarating. The audience responds viscerally to the mix of visuals and sound. We have noticed that for some, if music is a difficult world to enter, the visuals enhance their experience and opens them up to sound.
If an audience member is always trying of figure out how I am making things happen, they could stifle their experience of the piece. I sometimes try to introduce cause and effect, reveal, but sometimes I choose not to or move away quickly from this moment. Ideally my audience would view everything as a unit, suspend their analytical faculties. For me, the most ideal space to perform from is where both are fluid, that I am both leading and following, and that both my aural and visual sensibilities are working together at the same level.
Both visual and aural worlds are married, neither existing without the other - if I don't play, nothing happens. If one is too strong, the other becomes less interesting. I am responsible for keeping both flying - it is striving for this unification of experience, visual and aural, which is most challenging for me as performer but is at the core of the intent of Surface Tension's creation.

Eve Egoyan will perform at UVic's Phillip T. Young Recital Hall on Saturday, October 13 at 8:00 pm.
Click here for concert and ticket information.
Click here to view a performance of Surface Tension.
---
Beyond UVic


News on School of Music Alumni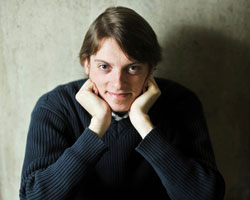 Baritone Cairan Ryan (B.Mus '08) recently begun training at the Atelier Lyrique de L'Opera de Montreal, and will be singing the Commissario in La Traviata on the main stage this September as well as in the Atelier Lyrique's Menotti double bill in March/April 2013, entitled "The Visitors." Cairan was a laureate of the Jeunes Ambassadeurs Lyriques in 2011 and 2012, and a recipient of the Alberta Foundation for the Arts Music Project Grant. Following his degree at UVic, Cairan completed a Masters of Music in Performance at the Guildhall School of Music & Drama as well as an Artist Diploma at the McGill University Schulich School of Music. He recently sang Pish-Tush and covered Ko-Ko in Gilbert & Sullivan's The Mikado at the Virginia Opera, as a member of the Emerging Artists at the Virginia Opera; Scotty McDonald in John Estacio's new Opera Lillian Alling at the Banff Centre, a co-production with Vancouver Opera; and Don Alfonso in Cosi fan tutte at the Green Mountain Opera Festival. Cairan credits Benjamin Butterfield, his voice instructor while at UVic, for setting him on the path to success: "He gave me so much confidence, and the right mindset to continue on when a lot seemed uncertain."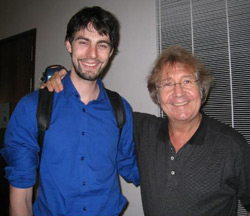 Violinist Jeremy Potts (B.Mus '12) spent a month this summer in Salzburg studying at the famous Mozarteum Summer Academy with instructors Igor Petrushevski and Pierre Amoyal. Jeremy was one of two fortunate UVic students to be awarded the Strauss Scholarship, making it possible for him to attend the program. Currently residing in Victoria, Jeremy will be a frequent member of the Victoria Symphony for its 2012/2013 season while working towards auditions for graduate studies abroad.
---
Music Extras

Volunteer Opportunities!
The School of Music is seeking volunteers for our 2012-13 concert season to work alongside our team and assist as an usher or at the concession. Meet students and faculty, gain enriching work experience, and best of all, receive complimentary tickets to School of Music concerts! For more details and to complete an application, please visit the School of Music website.
---
e-Pulse is a regular e-newsletter for those interested in the University of Victoria School of Music events. Do you know someone who would like to know more about us? Please feel free to forward this message to a friend!
Follow us on Facebook (University of Victoria, School of Music) and Twitter (UVicMusic).