November – December 2015
---
On the Pulse

Faculty and Staff Recognized for Long Service
Several School of Music faculty and staff were recently honoured for their long service to the University of Victoria. In a celebration at the University Club on the evening of October 22, Administrative Officer, Jill Michalski, was recognized for her 25 years of service to the School. "It is no exaggeration to state that without Jill, the School of Music would grind to a halt," says School of Music Acting Director, Dr. Harald Krebs. Guitar instructor Alexander Dunn and computer music specialist Andy Schloss were also acknowledged for their 25 years. Further honours went to recording techniques instructor Peter Driessen and pianist May Ling Kwok for 30 years and pianist Bruce Vogt for an impressive 35 years of service.

"All of these individuals have made major contributions to the School of Music," says Dr. Krebs. "We are grateful to them and hope to have the privilege of working with them for many more years!"


---
On Stage

Suppressed Music and the Third Reich
During the Third Reich, two generations of composers and performers of Classical music were silenced, and with them, an important musical heritage. Many works by these composers are of truly exceptional quality but are rarely performed to this day. School of Music professor and flutist, Dr. Suzanne Snizek, has dedicated much of her research and performance practice to music suppressed by Nazi Germany and will bring a program of works by Czech composers to the stage on Thursday, November 5 with pianist Alexandria Le. The program will include works by Petr Eben, Bohuslav Martinu, E. F. Burian, and Jindrich Feld.
Composer Petr Eben was a child survivor of the Holocaust. As an adult he was further persecuted by the Communist regime of his native Czechoslovakia because he was a life long devout Catholic. Snizek will perform Eben's Miniatures, which she describes as "a set of extraordinarily succinct and colourful character pieces." Bohuslav Martinu, whose works are regarded as part of the Suppressed Music repertoire as well, fled the Nazi invasion of France by immigrating to the US in the 1940's. His music has a strong folk quality to it and, in Snizek's opinion, is always rhythmically satisfying to perform.
On the other end of the political spectrum is composer E. F. Burian, a political insider who was very active as an artist during the Communist regime in Czechoslovakia. His music has often been avoided as a result of his political engagement during that era. "I have never seen his work here in North America," says Snizek, who picked up his 'Lost Serenade' while she was in Prague in 1993, shortly after the fall of Communism. The Burian, a "very sparse and technically simple" piece is a nice counterpart to the intricate Jindrich Feld Sonata on the program, "which has all the notes (and more) that the Burian does not use!" describes Snizek.
Read further about Suppressed Music in an interview with Dr. Snizek in this curious arts blog post.
Concert and ticket information is available here.


---
Guest Artist Series: Delighting in the New
The School of Music's November series of guest artists showcases a range of repertoire and specialists of 20th- and 21st-Century Music. Featuring works by composers as close to home as Victoria and Vancouver, and performers travelling from as far as Belgium, these concerts are certain to intrigue and impress. And if that's not enough, all of the events listed below are free admission or by donation.

Monday, November 16 | 8pm
Belgian pianist Daan Vandewalle — internationally renown as a new music specialist with a strong focus on 20th- and 21st-Century American piano music — performs music by Alvin Curran and Gordon Mumma. The program will include an excerpt from Curran's Inner Cities, a twelve-part cycle for solo piano that in its entirety lasts four hours, twenty-four minutes and twenty-two seconds. Curran describes part 10, composed for Vandewalle, as "a planetary sonata form where land-masses and oceans, volcanoes and rivers and quiet grasslands, all swirl out of a classic set of arpeggiated 5ths."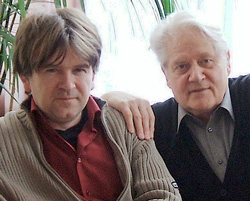 While Gordon Mumma (California/Victoria) is best known as an electronic music composer and instrument builder, he also has written extensively for solo piano. Vandewalle will perform Mumma's Jardin (1997) suite, which includes whimsical titles such as "tricycle and fence" and "lunar asparagus d'après Max Ernst."

Tuesday, November 17 | 12pm
Orion Series in Fine Arts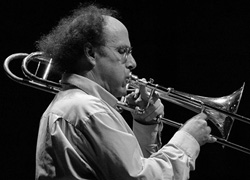 Trombonist Benny Sluchin specializes in brass acoustics and extended techniques. He's been a member of Ensemble Intercontemporain since 1976, playing the most representative music of the present century and participating as soloist in premières of solo works by Iannis Xenakis, Vinko Globokar, Gérard Grisey, Elliott Carter, Luca Francesconi, and many more. Sluchin pushes the boundaries of the trombone with a performance of two works for trombone and interactive electronics by Vancouver-based composers Paul Steenhuisen and Keith Hamel.

Wednesday, November 18 | 12:30pm
Orion Series in Fine Arts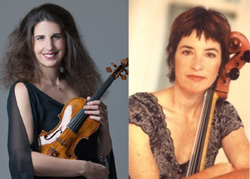 Violinist Laurence Kayaleh and cellist Elizabeth Dolin will perform an unusual program of duos by Zoltán Kodály and Maurice Ravel. Each piece reflects the composers' native countries through their use of folk character that gives a taste of Kodály's Hungary and Ravel's unique style, at once impressionistic yet imbued with a Spanish flair, so typical of his individual language.
Laurence Kayaleh is professor at the University of Montreal and Elizabeth Dolin has earned a solid reputation as one of Canada's finest cellists, in demand as a recitalist throughout Canada and the United States.

Monday, November 23 | 8pm
Orion Series in Fine Arts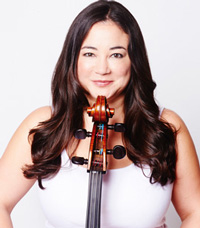 Cellist Rachel Mercer leads a masterclass with School of Music cello students and all are welcome to attend. Mercer is currently guest principal cellist for the National Arts Centre Orchestra and the Canadian Opera Company. She performs with Ensemble Made In Canada, the Mercer-Park Duo, the Seiler Trio, Art of Time Ensemble, Group of 27, and is Artistic Director of the "5 at the First" Chamber Music Series in Hamilton.

Friday, November 27 | 8pm
Orion Series in Fine Arts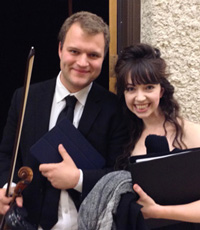 The Eckhardt-Gramatté National Music Competition is Canada's most important annual contemporary music competition for exceptional emerging Canadian performing artists in piano, voice, and strings. This year's winners, violinist Joshua Peters and pianist Katherine Dowling will make a stop at the School of Music for a concert as part of their 2015 Winner's Tour. The duo will perform a contemporary program featuring the works of Canadian composers Vivian Fung, John Estacio, and Jordan Pal, as well as music by Alfred Schnittke and Mieczyslaw Weinberg. Don't miss the opportunity to hear this exception duo!

For complete concert and masterclass listings, visit the School of Music website.


---
20 Questions with Louise Hung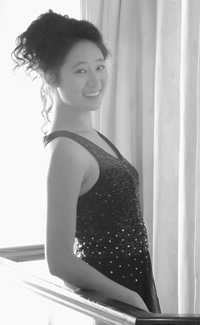 While fourth-year School of Music student, Louise Hung, has mastered the technique of transferring a cookie from her forehead to her mouth hands-free, her most impressive talents lie in her abilities at the keyboard. Louise has been awarded Conservatory Canada Medals of Excellence for piano studies, theory studies, and history studies, and the Conservatory Canada Lynda Rehder Kennedy Medal of Excellence for the top grade 10 exam marks in Canada. She has won numerous competitions, scholarships, trophies and awards from festivals and the BCRMTA. A piano student of May Ling Kwok's, Louise is also a winner of the University of Victoria's Annual Concerto Competition and will perform Beethoven's Piano Concerto No. 4 with the UVic Orchestra on December 2.
Find out more about Louise in this round of 20 questions:
Where were you born? Vancouver, BC

Places you've lived? Coquitlam, BC and Taipei, Taiwan

Three words to describe yourself? I am weird.

At what age did you start learning the piano? 4 or 5…I'm not sure!

Do you play any other instruments? High school clarinet

What's your non-music related, hidden talent? I can balance a cookie on my forehead and use gravity and my face muscles to move it into my mouth hands-free.

Your personal motto? Do what will make you happy.

Favourite spot on campus? Anywhere outside where I can hear the birds and feel the sun.

What has been your most memorable moment at the School of Music? Moments when I realize I'm truly listening and reacting to the sounds I am making.

What's the most powerful thing you've learned at UVic? Live for yourself.

Favourite music to listen to? I don't have a favourite! I get bored very easily, so I need a wide variety all the time. Well, I think live music is my favourite, actually.

Favourite music to play? Beethoven

Guilty musical pleasure? I can't say, or I'll never be taken seriously ever again.

What gives you inspiration? Performances that touch me and strip everything away until all I am experiencing is the feeling of simply being a human.

If you could invite one composer for dinner (living or not), who would it be? Beethoven or Schumann

What's your dream performance? Intimate salon

Best way to unwind? Working out at the gym is the most efficient, but going to a concert or an opera is the best.

Best advice you've ever received? Stop acting everything out, stop moving.

Did you follow it? I'm trying.

Where do you see yourself in 5 years from now? Just finishing up a third degree, teaching, performing (hopefully).
---

Calendar Quick-Fire
More event highlights for November and December: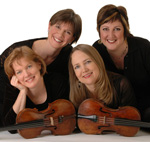 Sunday, November 15, 2:30pm | FACULTY CONCERT
Lafayette String Quartet
UVic's acclaimed quartet-in-residence performs works by Dmitri Shostakovich and Antonín Dvorak.

Friday, November 20, 8pm | SONIC LAB: Workers Union
UVic's contemporary music ensemble performs Louis Andriessen's Workers Union and Hout, as well as Elliott Carter's Flute Concerto. With Ajtony Csaba, conductor

Saturday, November 21, 8pm | FACULTY CONCERT: Alexander Dunn, guitar
Performing his adaptations of lute and cello works by Bach, 12 Miniature Preludes by Allan Wilcocks, and Joaquin Turina's Sonata.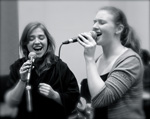 Sunday, November 22, 8pm | VOCAL JAZZ FALL SHOWCASE
Too Hot To Sleep in Winter
Performing original and inspiring arrangements in a fun-filled, audience-engaging evening. With Wendell Clanton, director

Friday, November 27, 8pm | UNIVERSITY OF VICTORIA WIND SYMPHONY
Song and Dance
Featuring School of Music alumni, David Michaux and Matthew McConchie, performing Joseph Turrin's Fandango for trumpet/trombone solo and wind ensemble, plus Scotch Strathspey and Reel by Percy Grainger. Dr. Gerald King, conductor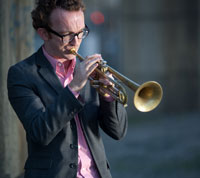 Saturday, November 28, 8pm | UVIC JAZZ ENSEMBLE
Mostly Monk: Celebrating Thelonious Monk
Dr. Patrick Boyle, director

Thursday, December 3, 8pm | DON WRIGHT SYMPHONIC WINDS
Featuring student musicians from across the UVic campus, conducted by Dr. Michael Keddy.

Friday, December 4, 8pm | UNIVERSITY OF VICTORIA CHOIRS
Sing, Choirs of Angels!
The UVic Choirs return to Christ Church Cathedral to present a gift of choral music to the Greater Victoria community in their second annual joint concert. Featuring the UVic Chorus, Chamber Singers, Women's Choir and Vocal Jazz Ensemble.

Sunday, December 6, 2pm | UNIVERSITY OF VICTORIA ORCHESTRA: Two Giants
Performing Pyotr Ilyich Tchaikovsky's Symphony No. 5 as well as Beethoven's Piano Concerto No. 4, Op. 58 featuring pianist and UVic Concerto Competition Winner Louise Hung.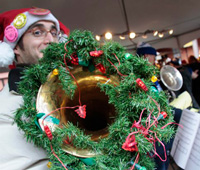 Saturday, December 12, 1–3pm | TUBA CHRISTMAS
70 tubas and euphoniums play your Christmas favourites in Market Square, conducted by Paul Beauchesne. Donations accepted for the Times Colonist Christmas Fund.
---
Beyond UVic


News on School of Music Alumni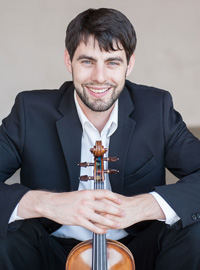 Violinist Jeremy Potts (BMus '12) is one of the Canada Council for the Arts 2015 Musical Instrument Bank Winners. The Instrument Bank is a collection of rare instruments of legendary quality created by some of the world's greatest craftsmen including Stradivari, Guarneri and Gagliano. The full collection is valued at over $41 million. A recent 2015 winner of the distinguished Eastman Concerto Competition, Jeremy is quickly building acclaim as soloist, orchestral and chamber musician. An avid orchestral musician, Jeremy has displayed high levels of musical leadership, serving as both Concertmaster and Principal Second Violin of the University of Victoria Orchestra, the Eastman Philharmonia and the National Youth Orchestra of Canada (NYOC). Jeremy will be playing on the 1902 Enrico Rocca until 2018.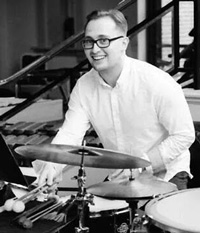 Corey Rae (BMus '10), Principal Percussionist with the Victoria Symphony, took centre stage in the zany concert, Percussive Hits, on October 4 at the Alix Goolden Hall in Victoria. The program included the Concerto for Marimba and String Orchestra by Emannuel Séjourne, Joseph Haydn'sSymphony No. 103 in E Flat Major "Drum Roll" and a Concerto for Tabla and Orchestra by Dinuk Wijeratne featuring renowned tabla player Ed Hanley. Corey also performs with Aventa, one of Canada's leading new music ensembles based in Victoria. With Aventa he has toured to New York, Munich, Copenhagan and Australia.


---

Keep in Touch!

Alumni: Have an upcoming performance or CD release? A new job or news to share? Please email concert@uvic.ca with your updates.

If you'd like to fill out our alumni questionnaire, you may do so here.


---
Canadian Anti-spam Legislation
We value every one of our subscribers and hope that you continue to enjoy receiving our newsletter and calendar of events. The School of Music, University of Victoria complies with Canada'santi-spam legislation and our email list requires express consent in order to subscribe. If for any reason you no longer wish to receive updates from the School of Music, please unsubscribe here. For information about the legislation, please visit Canada's Anti-Spam Legislation (CASL) website.


e-Pulse is a regular e-newsletter for those interested in the University of Victoria School of Music events. Do you know someone who would like to know more about us? Please feel free to forward this message to a friend!
Follow us on Facebook (University of Victoria, School of Music) and Twitter (UVicMusic).
For a complete list of School of Music events, visit our online Events Calendar.