November – December 2014
---
On the Pulse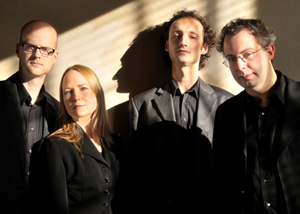 The School of Music was well represented at the Symposium of New Music and Computer Music (SiMN 2014) in Curitiba, Brazil this past September. Ensemble Tsilumos, the new music group formed by School of Music faculty Joanna Hood, Ajtony Csaba, and, Dániel Péter Bíró, with Kris Covlin, was in residence at the symposium to present a concert, reading session, masterclasses, and a lecture.
In concert in the picturesque Capella Santa Maria, with new pieces from Takasugi, Ullivelli, Bíró, and Frechette, Tsilumos also performed the world premiere of Alhures, composed by School of Music alumnus Felipe de Almeida Ribeiro (M.Mus '08), currently professor of composition the State University of Paraná – EMBAP.

Dániel Péter Biró is spending the 2014-15 academic-year at Harvard University's Radcliffe Institute for Advanced Study, thanks to the prestigious Fellowship he received—a first for the University of Victoria. Biró's tenure at Harvard will be spent not teaching but completing a seven-part, three-hour composition cycle he has been creating since 2003. "It's called Mishpatim, which means 'laws'. It's all coming from an archaic Hebrew text, and will involve large ensemble, voice, piano and electronics," explains Biró. Read more about this work at Artsy Type.


---
Spring Preview
Our On the Pulse events brochure for Spring 2015 is in the works, so before it reaches your inbox, here are a few upcoming concerts to mark in your calendar:
On Saturday, January 10, School of Music faculty commemorate Louis Ranger's upcoming retirement with the Faculty Chamber Music concert Favorites from a Life in Music, featuring a program selected by Ranger, celebrating his 36 years of teaching at the School.

The inaugural scholarship concert to benefit the Eugene Dowling Scholarship Fund for Tuba and Euphonium will take place on Sunday, January 11 with performances by Dowling, Charlotte Hale, Ann Elliott-Goldschmid, the Pinnacle Brass Quintet, and The Bastion Jazz Band.

Our Alumni Concert Series features the Emily Carr String Quartet, one of BC's finest music ensembles, on Thursday, January 29. The quartet will perform music by George Crumb, Osvaldo Golijov, Dimitri Shostakovich, and Cassandra Miller (B.Mus '05).

The School of Music says Thank-You to our concert-goers, the community, and supporters with a wonderful afternoon of music on Saturday, February 28, with performances by School of Music students.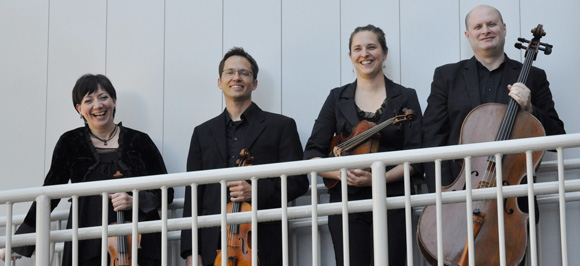 ---
On Stage

Strength in Numbers: Wind Bands Unite
The University of Victoria Wind Symphony and the Naden Band of the Royal Canadian Navy are joining forces for a concert on Friday, November 21.

Lead by maestros Dr. Gerald King (UVic Wind Symphony) and Lieutenant (Navy) Matthew Clark of the Naden Band, the conductors will swap ensembles throughout the program of works by Jager, Nelson, Zdechlik, and the Canadian premiere of Perrine's Tears of St. Lawrence. The two groups will band together to tackle larger works than they could on their own, including Traveler, by David Maslanka, and Four Scottish Dances, by Malcolm Arnold/John Paynter.
"This is a rare opportunity for the community to see and hear two outstanding wind bands perform major works independently and together," says Dr. King.

Not only does this make for an exciting concert for the audience, members of the two bands benefit from such a unique collaboration. "UVic students have the opportunity to perform alongside professional musicians," says Dr. King, "and Naden musicians have the opportunity to be mentors, while at the same time be in equal partnership with musicians who will soon enter the professional world of music making." It's a win-win!
Proceeds from the concert will benefit the Naden Band of Maritime Forces Pacific Scholarship in Music Performance, awarded annually to second and third year School of Music students who demonstrate excellence in brass, woodwind and percussion performance.
The concert starts at 8 p.m. in the University Centre Farquhar Auditorium. Tickets are available through the UVic Ticket Centre and at the door.
---

Spotlight on Concerto Winner Elizabeth Clarke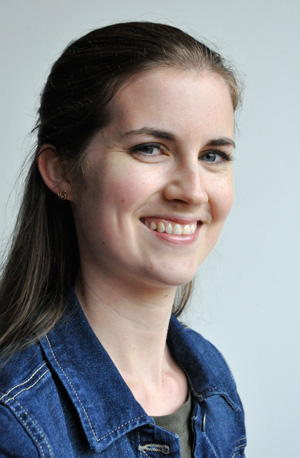 As one of the three winners of the School of Music's annual Concerto Competition, pianist Elizabeth Clarke will perform Brahms' Piano Concerto No. 1 in D minor with the UVic Orchestra on November 29.
Originally from Fort McMurray, Alberta, Elizabeth is currently completing her M.Mus in piano performance under the direction of Professor Arthur Rowe. Before arriving at UVic, Elizabeth studied piano with Milton Schlosser at the University of Alberta's Augustana Campus where she was one of three 2013 undergraduates to receive the presigious Governor General's Silver Medal.
Elizabeth has always loved the music of Brahms "because of its richness and the way it balances form and structure with the most beautiful expression," she says. When selecting a piece last year, she was seeking a challenge, as well as something she could really connect to emotionally. Elizabeth knew from the moment she first listened to this concerto that it would be "just right." "I love how there are many kinds of passages, from passionate and extroverted to gentle and intimate," describes Elizabeth.
Elizabeth's lessons with Arthur Rowe have really helped her to grow as a musician. "I feel so fortunate to study with someone who is not only a top-notch performer but also a wonderful teacher," says Elizabeth. "He has a solution for every technical problem and constantly inspires me to look deeper into the music," she continues. "As a result of my lessons, I feel like I understand the music I play better than ever before, and this understanding is something I will carry with me for the rest of my musical career."
Elizabeth is excited to perform with the orchestra and to "share this amazing music with people who might not have heard it before." The concert starts at 8 p.m. in the University Centre Farquhar Auditorium. Tickets are available through the UVic Ticket Centre and at the door. The concert will also be broadcast live from the School of Music website.
Concerto Competition winner Keenan Mittag-Degala takes the stage on January 30. Stay tuned for more!
---

Choirs en Masse
On the heels of a sold out concert on November 2, the School of Music choirs are gearing up for their second joint concert of the season. The UVic Chamber Singers, Philomena Women's Choir, Chorus, and Vocal Jazz Ensemble are sure to get you into the holiday spirit with Heralding the Season on Friday, December 5 at 8:00 p.m. Special guests include UVic brass students under the direction of performance faculty member Louis Ranger.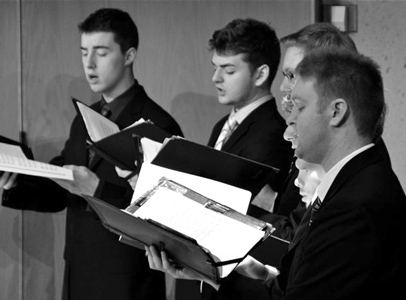 New to the School of Music faculty, UVic Chorus conductor Dr. Adam Con is enthusiastic about this rare collaboration for the department. "It was such a thrill to have all of the School of Music choirs singing together," he says of the concert on November 2, which included students from across campus as well as members of the community. "There was a real sense of camaraderie—the energy was palpable," Con continues.
With a program of festive songs to usher you into the holiday season, the December concert at Christ Church Cathedral offers the opportunity to hear each vocal group perform individually before singing en masse. Admission is by donation and proceeds will benefit Our Place as well as the Christ Church Cathedral Choral Scholars program.
---

Calendar Quick-fire

Event highlights for November and December:


Friday, November 7, 8 p.m. | FACULTY CONCERT: Lafayette String Quartet
Quartets by Haydn, Shostakovich & Ravel.

Saturday, November 15, 8 p.m. | UVIC JAZZ ENSEMBLE
A concert of hard-bop and South Indian inspired jazz featuring special guests, School of Music alumus Bruce Hurn (trumpet) and Newfoundland percussionist Curtis Andrews.

Friday, November 21, 8 p.m. | UVIC WIND SYMPHONY
A joint concert with the Naden Band of the Royal Canadian Navy

Saturday, November 22, 8 p.m. | SONIC LAB: Stories Told with Sounds
UVic's contemporary music ensemble performs works by Jonathan Harvey, Gérard Pesson & Salvatore Sciarrino.

Sunday, November 23, 8 p.m. | VOCAL JAZZ FALL SHOWCASE: Shades of Blue
A concert of soulful ballads to warm the heart, and hot swing charts to warm the feet.

Monday, November 24, 8 p.m. | FACULTY CONCERT: Arthur Rowe, piano
Critically acclaimed pianist, Arthur Rowe, performs solo piano works by Schubert and Liszt.

Wednesday, November 26, 12:30 p.m. | FACULTY CONCERT:
Alexandra Pohran Dawkins, oboe & English horn
Featuring new compositions, improvised music and special guests.

Saturday, November 29, 8 p.m. | UVIC ORCHESTRA: Ways of Passion
Elizabeth Clarke, piano (UVic Concerto Competition winner) performing Brahms' Piano Concerto No. 1 in D minor

Thursday, December 4, 8 p.m. | DON WRIGHT SYMPHONIC WINDS: Colours!

Friday, December 5, 8 p.m. | UVIC CHOIRS: Heralding the Season!
The UVic Chorus, Chamber Singers, Vocal Jazz Ensemble, and Philomela Women's Choir perform music of the season. Christ Church Cathedral (930 Burdett Avenue)


A complete list of School of Music events can be found on our website.
---
Beyond UVic


News on School of Music Alumni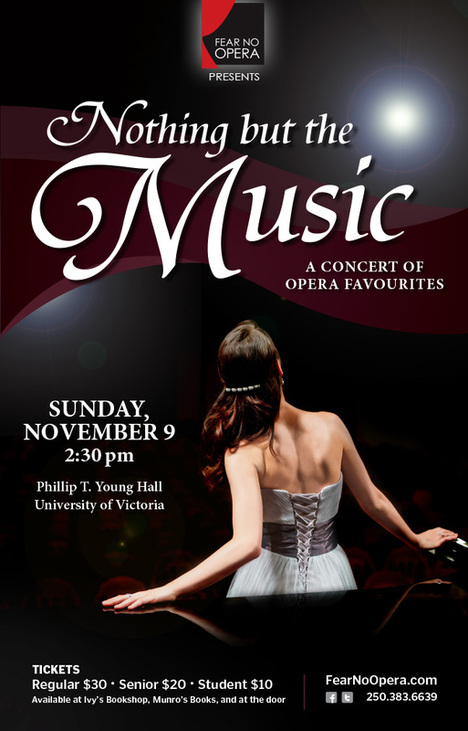 Two years ago, Neil Reimer (B.Mus '07) began an opera company for emerging artists. Now entering its third season, Fear No Opera has been wowing audiences with its talent and creativity. The company is dedicated to encouraging the "opera curious" to get their feet wet, and has also impressed more seasoned opera-goers with its high level of professionalism.
This season's opening show, Nothing But The Music, will be an afternoon concert of opera arias, duets, and trios such as Cara Non Dubitar, highlights from La Fille Du Régiment, The Marriage of Figaro, The Pearl Fishers and La Bohème. Featuring a cast of Victoria favourites (including alumni Anna Shill, Inge Illman, Olivia Selig and Adam Dyjach) as well as singers from Vancouver and Toronto, this stellar line-up includes artists who have sung with Vancouver Opera, Calgary Opera and Pacific Opera Victoria.
Neil says, "A concert like this lets us present a variety of great opera music from different periods in a single show. We move from funny to romantic to anguished and bring the audience with us every step of the way. We're especially thrilled to have some new faces—and great voices—joining us for our new season."
Nothing But The Music takes place at 2:30 p.m. on Sunday, November 9, in the Phillip T. Young Recital Hall. Tickets ($10-30) are available at Ivy's Bookshop, Munro's Books, and at the door.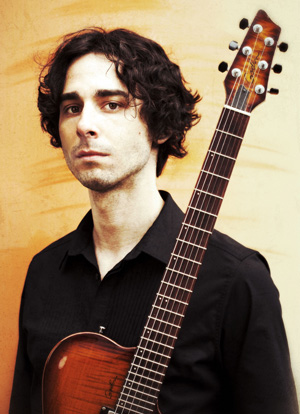 Guitarist Adrian Verdejo (B.Mus '04) launched his new album Modern Hearts - New Music for Electric Guitar in September in a concert at China Cloud in Vancouver. A debut album for the Vancouver-based guitarist, Modern Hearts has been hailed "an album of wonder, curiosity and pure, focused energy" (thisisclassicalguitar.com). Released by Redshift, the album features music for multiple electric guitars by composers from the last thirty years, including Nicole Lizée, Tristan Murail, James Tenney, Jordan Nobles and Rodney Sharman.
Verdejo specializes in contemporary music with equal fluency in classical and electric guitar styles and has commissioned and premiered several new pieces. He maintains a busy performance schedule as a soloist and with the Victoria Guitar Trio and the Erato Ensemble.
In a concert on October 19 celebrating 25 years of teaching at UVic, School of Music professor and clarinetist, Patricia Kostek, invited several School of Music alumni to join her on stage, including Rebecca Hissen (B.Mus '03), Shawn Earle (M.Mus '07), Sydney Tetarenko (B.Mus '14), Kate Frobeen (B.Mus '06), Nathan Freedman (B.Mus '11) and Kiiri Michelsen (B.Mus '04, M.Mus '10). "To be able to perform side by side as professionals with my students, past and present, is a reminder that these young musicians are the future of our cultural heritage," say Kostek. "Their achievements are a source of great pride for me, as I observe that they are continuing the traditions and methods I was taught and shared with them."
These alumni have gone on to further education at some of the top universities around the globe, perform with orchestras, chamber groups, and as soloists, and have their own teaching studios. "To see the successes of my students reminds me just how much each of them loves music and the pursuit of a life's dream to be a professional musician. This takes a lot of courage," says Kostek proudly.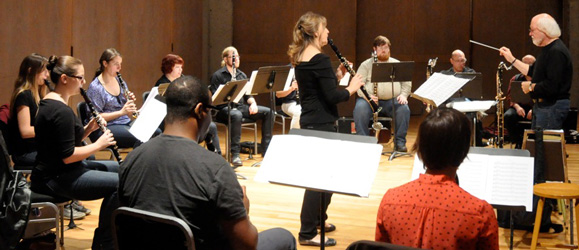 ---

Keep in Touch!

Thank-you to all of the School of Music alumni who completed our alumni survey this past summer. We had a terrific response rate and enjoyed hearing all about what you've been up to since graduating. If you did not have a chance fill out the survey, you may still do so here.
Do you have some news that you'd like to share for our newsletter or website? Need to update your contact information? Please email concert@uvic.ca.


---
Canadian Anti-spam Legislation
We value every one of our subscribers and hope that you continue to enjoy receiving our newsletter and calendar of events. The School of Music, University of Victoria complies with Canada's new anti-spam legislation and our email list requires express consent in order to subscribe. If for any reason you no longer wish to receive updates from the School of Music, please unsubscribe here. For information about the legislation, please visit Canada's Anti-Spam Legislation (CASL) website.


e-Pulse is a regular e-newsletter for those interested in the University of Victoria School of Music events. Do you know someone who would like to know more about us? Please feel free to forward this message to a friend!
Follow us on Facebook (University of Victoria, School of Music) and Twitter (UVicMusic).
For a complete list of School of Music events, visit our online Events Calendar.