November 2013
---
On the Pulse

School of Music kicks off Vikes Rally Song contest
The University of Victoria has never had a rally song to get fans and teams pumped up during games. That's all about to change, however, thanks to a new contest sponsored by Vikes Athletics and UVic's School of Music.

While the crowd at any game can readily chant "Let's go Vikes, let's go!", it isn't quite the same as having a UVic-specific rally song sporting unique and memorable music and lyrics. "To maintain our standard of excellence and build tradition at UVic, it's important that our fans have a rally song to cheer during games," says Clint Hamilton, Director of Athletics.
UVic students, faculty, staff, and the general public alike are invited to submit original material to the Vikes Rally Song Contest. Songs should be no longer than 20 seconds, must include the word "Vikes" and the deadline for submissions is November 15, 2013. The winning songwriter will receive a $500 iPad courtesy of PepsiCo Canada, who is proud to partner with Vikes Nation and the School of Music on this school spirit initiative. Winners will also receive a prize package of CDs and tickets for School of Music performances and Vikes games, and the winning song will be recorded at the School of Music for use in future Athletics events.

"Music plays a vital role in encouraging community, spirit, and success," says Susan Lewis Hammond, Director of the School of Music. "The School of Music is excited to support the Rally Song Contest at UVic. Our partnership with Vikes Athletics speaks to a shared commitment to teamwork, collaboration, and excellence in student training and performance."

The judging panel will include UVic president Jamie Cassels, Athletics Director Clint Hamilton, School of Music Director Susan Lewis Hammond and gold medal-winning athlete Kendra Pomfret. Judging will occur in December, with the shortlisted songs being performed by noted tenor and Music's Head of Voice Benjamin Butterfield and the UVic Jazz Ensemble at the Vikes Days of Thunder men's basketball game on January 10, 2014.

This academic year will also see greater collaboration between Music and Athletics, with School of Music students and professors performing at select basketball games throughout the 2013/14 season. The first will be on November 23 with the UVic Jazz Ensemble providing some pep for the women's (5:00 p.m.) and men's (7:00 p.m.) games.

For more information on Vikes Nation, visit govikesgo.com/VikesNation
Visit the Artsy Type blog for Vikes Rally Song contest rules and details.
---
Monumental Opera Debut for Music Student
If you've attended a Pacific Opera Victoria production, there's a good chance you've heard School of Music students singing with the chorus. It's also likely that the cast included an alumnus in a lead role, such as Betty Waynne Allison (BMus '05) who played Mary in the world premiere of Mary's Wedding last November. Verdi's Falstaff, the POV's 100th production, was unprecedented it that it was the first time an undergraduate student was cast in a major role with the production company.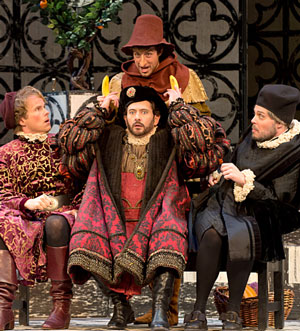 Fourth-year performance major, Josh Lovell, made his national operatic debut this fall as Bardolfo in Falstaff. "Working with Pacific Opera Victoria has been an amazing experience!" says Josh. "Verdi's Falstaff is a charming, rich, and entertaining opera and I had such a wonderful time during the rehearsals and performances. Learning and performing the role of Bardolfo was so rewarding."

The Times Colonist review of the "historically momentous show" applauds Josh for his performance: "Tenor Josh Lovell … is still an undergraduate student, and that is scarcely believable – he seems fully at home amoung all these distinguished pros." Josh gives due credit to the Falstaff cast and creative team for making the process so fantastic. "I had the privilege of working with some of Canada's top opera singers, as well as Scottish bass, Brian Bannatyne-Scot, well-known director, Glynis Leyshon, and Pacific Opera's artistic director, Timothy Vernon. I could not have dreamed of working with a greater group of colleagues!"

Josh Lovell is a 2013 UVic Concerto Competition winner and will be appearing as soloist with the UVic Orchestra on November 1. Read more about this concert in the following story.

Photo credit: Standing: Josh Lovell as Bardolfo. Seated: Colin Ainsworth as Fenton, Brett Polegato as Ford; Christopher Mayell as Dr. Caius. David Cooper Photography



---
On Stage

Top Soloists Take the Stage
The annual Concerto Competition has been a School of Music tradition since the early 1980s. In previous years, winners of the competition performed in a January Concerto Concert. As a new twist this year, the talent will be shared across the concert season with top soloists appearing with the University of Victoria Orchestra on November 1, November 30, and January 31. "Concerto performances are among the highest recognitions within the School of Music," explains Ajtony Csaba, conductor of the UVic Orchestra. "They represent an opportunity for the Victoria audience to witness emerging artists at the beginning of their career."

We congratulate this year's Concerto Competition winners: Josh Lovell, Liam Caveney, and Barry Tan.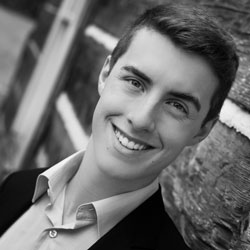 The spotlight will be on fourth-year tenor, Josh Lovell, performing Handel's Look Down, Harmonious Saint, at the imminent concert on Friday, November 1. The piece "is a celebration of music itself", describes Csaba. Josh was inspired to learn Look Down, Harmonious Saint after hearing a performance by one of his favourite artists, and thanks his instructor, Benjamin Butterfield, for his coaching since he began working on the piece last spring. "He has helped guide me technically and emotionally with this piece," says Josh. "It is one thing to perform the piece with all the right technique; it is another to perform it with a focus on the lyrics and drama while still being able to have good technique." Performing with a full orchestra is undoubtedly an exceptional experience and Josh feels lucky to have the opportunity to be on stage with fellow students and friends. "Hearing and seeing the members of the orchestra working together as a collective unit is so amazing." Under Csaba's baton, the Orchestra will also perform J. C. Bach's Symphony No. 2 in B-flat, Biber's Battalia, Canzoni e Sonate by Gabrieli, and Tchaikovsky's Symphony No. 2.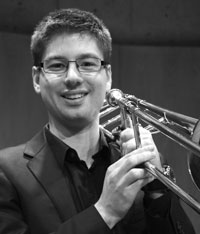 Third-year trombonist, Liam Caveny, is anticipating his performance of Grondahl's Concerto for Trombone on Saturday, November 30. "Most of the time I perform solo works it's with a piano reduction, so I am very excited to be able to play with an orchestra, as the composer would have intended," says Liam, who takes the seat as principal trombone in the UVic and the Greater Victoria Youth Orchestra. "I am also looking forward to the challenge of stepping outside my normal role at the back of the orchestra and performing in front as soloist." Liam, who aspires to make a career as an orchestral trombonist, studies with Scott MacInnes. "My instructor has helped me very much in preparing this concerto. He has given me many suggestions on phrasing and musicality, but has always encouraged my own ideas," describes Liam. Grateful for a number of sets of ears, Liam has had valuable coaching from American Brass Quintet trombonist Michael Powell, Jesper Busk Sørensen, of the Berlin Philharmonic, and Juno award winning trombonist, Ian McDougall. The concert on November 30, which also features the UVic Chorus, will include performances of Beethoven's Egmont-Ouverture and Meeresstille und Glückliche Fahrt, Shostakovich's Festive Ouverture, Chant du Deportes by Messiaen, and Poulenc's Gloria.

Both concerts start at 8:00 p.m. in the University Centre Farquhar Auditorium. Tickets are available through the UVic Ticket Centre and at the door. Concerts will also be broadcast live from the School of Music website.

Barry Tan will appear with the Orchestra on January 31, 2014. Stay tuned for more!
---

David A. Jaffe's Imaginary Symphony
What would it sound like if you plucked the cables of the Golden Gate Bridge? David A. Jaffe's iconic electronic work, Silicon Valley Breakdown, has been described as just that. Since the 1983 premiere of the work, which the California-based composer describes as "a symphony of imaginary plucked stringed instruments," the piece has been presented in over twenty countries on five continents. On November 6, thirty years after its creation, Jaffe brings a newly-restored, rarely-heard quadraphonic version to UVic's School of Music. While visiting as an Orion fellow to talk about and present this work, School of Music faculty are taking advantage of the opportunity to perform Jaffe's music in two additional concerts on November 8 (in collaboration with Open Space) and 9.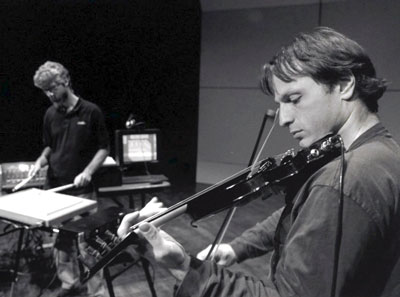 Jaffe is no stranger to the School of Music. With UVic professor Andrew Schloss as a major collaborator for the past thirty years, and proponents of his music on faculty, including guitarist Alexander Dunn and the Lafayette String Quartet, Jaffe has close ties to the School. Schloss describes his time working with Jaffe as "a wonderful adventure, both musical and otherwise." They have performed together in North America, Europe, and Asia, taking him on a "physical, as well as stylistic world tour."

One of their most elaborate collaborations is Jaffe's The Seven Wonders of the Ancient World in which Schloss was the soloist. Work on this piece began in the 1990s at the Banff Centre for the Arts, where Dunn played guitar for the recording and the seed for the November 9 Guitarworks concert germinated. Jaffe "has an intimate knowledge of instruments and writes exceptionally well for guitar," says Dunn of the talented multi-instrumentalist, composer, and world-class computer programmer and software engineer. "The opportunity to organize a concert of his works has been a rewarding experience."

The Orion Series concert-lecture of Silicon Valley Breakdown on Wednesday, November 6 starts at 8:00 p.m. in the Phillip T. Young Recital Hall and admission is free.

Head to Open Space (510 Fort St.) on Friday, November 8, at 8:00 p.m., to hear The Lafayette String Quartet, Andrew Schloss, Scott MacInnes, Trimpin, and others performing a selection of Jaffe's music ranging from the old time fiddle-inspired Cluck Old Hen Variations to the Canadian premiere of The Space Between Us for radio drum, two string quartets, piano, and robotic percussion designed by Seattle's Trimpin. Also on this concert, The LSQ will present the world premiere of the newly commissioned string quartet Fox Hollow. Tickets and details can be found on the Open Space website.

The Guitarworks concert on Saturday, November 9 features Jaffe on mandolin and 5-stringed banjo, Dunn on guitar, the UVic Guitar Orchestra, and a number of guests in an eclectic program that includes the Canadian premiere of May All Your Children Be Acrobats, for soprano, eight guitars, and electro-acoustic sound, and the premiere of Grass Valley Fire for two mandolins and two guitars. Expect a concert of "wry witticism, multiple-layered textures and heavy borrowings from folk and jazz idioms," says Dunn. Starting at 8:00 p.m. in the Phillip T. Young Recital Hall, the event will be streamed live from our website. For tickets and information visit the School of Music website.
---

Calendar Quick-fire


Don't miss these upcoming School of Music events:

Tuesday, November 5 | GUEST MASTERCLASS: Charles Castleman, violin
One of the world's most active performer/pedagogue's on the violin will lead masterclasses at 1:30 and 5:30 p.m. with string students.

Thursday, November 7, 3:30 p.m. | GUEST LECTURE: Larry Groupé
Film Music: An in-depth look at the state of composing in Hollywood today
Three time Emmy® nominee and twice winning composer Larry Groupé discusses his feature film and television projects, including his latest award winning score Straw Dogs, directed by Rod Lurie.

Friday, November 8, 8:00 p.m. | UVIC JAZZ ENSEMBLE
Anita Bonkowski, director

Saturday, November 16, 8:00 p.m. | SONIC LAB: Vertical Concert
UVic's new music ensemble performs Pierluigi Billone's Verticale Muto, Dérive I by Pierre Boulez and Elliott Carter's A Mirror on Which to Dwell.

Friday, November 22, 8:00 p.m. | UVIC WIND SYMPHONY: In Remembrance
Performing music of war and music of remembrance. Works by Williams, Bukvich, Elgar, del Borgo and Bulla, with Eugene Dowling, conductor.




Saturday, November 23, 8:00 p.m. | FACULTY CONCERT: A Britten Celebration
Alexander Dunn, guitar and guests
Solo, ensemble and vocal works of the eminent British composer, Benjamin Britten, commemorating the centenary of his birth.

Sunday, November 24, 2:30 p.m. | LAFAYETTE STRING QUARTET
With Arthur Rowe, piano & Benjamin Butterfield, tenor
Jewish Arts 2013 presents Grand Finale celebration of Congregation Emanu-El's 150th anniversary. Works by Britten, Vaughan Williams, Schubert and other.

Sunday, November 24, 8:00 p.m. | VOCAL JAZZ FALL SHOWCASE: Fall Back
Wendell Clanton, director
In early November clocks "fall back." The time shift can catch us slightly off guard. Join for an evening of switch hits that might cause you to fall forward out of sheer joy.

Monday, November 25, 8:00 p.m. | FACULTY CONCERT: Michelle Mares, piano
Performing the complete sets of Chopin Etudes Op.10 and Op. 25

Sunday, December 1, 2:30 p.m. | UVIC PHILOMELA WOMEN'S CHOIR
Susan Young, conductor

Monday, December 2, 8:00 p.m. | UVIC CHAMBER SINGERS
Christmas Narratives with Garry Froese, conductor

Saturday, December 7, 1:00-3:00 p.m. | TUBACHRISTMAS
70 tubas and euphoniums playing your Christmas favourites. Donations accepted for the Times-Colonist Christmas Fund.

A complete list of School of Music events can be found on our website.
---
Beyond UVic


News on School of Music Alumni




From October 24 to 26, the British Columbia Music Educators' Association (BCMEA) held its annual conference at the River Rock Casino Resort in Richmond, BC. Jeff Weaver (BMus '03), music teacher at Oak Bay High and President of the board of BCMEA, oversaw the organization of the entire conference, which School of Music faculty Ann Elliott-Goldschmid and Pamela Highbaugh Aloni described as an "alumni reunion."

The BCMEA advocate for music education in BC schools and are dedicated to fostering a community of passionate music educators through professional development. The Executive Committee of Table Officers is currently made up entirely of School of Music alumni including 1st Vice-President Cindy Romphf (BMus '02), Secretary Jamie Davis (BMus '05), Treasurer Michael Doogan-Smith (BMus '86) and Past-President Mark Reid (BMus '03). Many attended the conference along with recent grads Nathan Jacklin (BMus '11), Paul Luongo (BMus '12), CJ Kumar (BMus '12), and countless others.

"It was so fun to run into many of our alumni at the BCMEA conference," says Elliott-Goldschmid. "I think a large majority of their membership list is comprised of UVic alumni." In addition to alumni, several current School of Music students volunteered at the conference.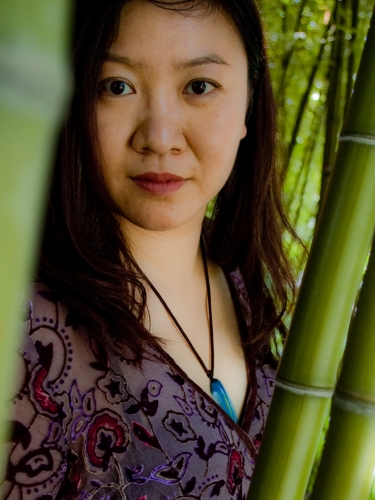 Two School of Music alumnae were featured in the most recent issue of Canada's experimental music magazine, Musicworks. Chinese composer, Fuhong Shi (MMus '05) was profiled in an article that highlights her aptitude for bridging the contrasting musical cultures of the East and West. Shi completed her PhD at the University of Toronto, and music faculty Lawrence Cherney described her in the story as "one of the most talented students ever to go through the University of Toronto."


Photo by: Sophie X Zhang

Anna Höstman's (MMus '05) latest collaboration, Singing the Earth—Nuyaml-il Kulhulmx, with UVic alumni Dylan Robinson, was the topic of an interview with the artist in this feature article. The eleven-part concert-installation work investigates the languages, history, and evolving nature of BC's Bella Coola Valley where Höstman grew up. In the interview, she talks about her connection to this region, and the creative process of the work, which will be presented by Continuum Contemporary Music in Toronto.



---
Music Extras
Ticket Giveaways, Contests and more!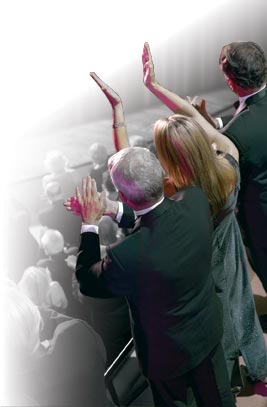 We want to hear from you!
Have you attended a School of Music concert that left an impression? Was there a solo that gave you shivers or a final cadence that brought you to your feet? Tell us about a School of Music concert that you've enjoyed for a chance to win a pair of tickets to the University of Victoria Chorus & Orchestra concert on Saturday, November 30. Email your response to concert@uvic.ca by Monday, November 18. Winners will be selected in a random draw and contacted by November 19.



---
e-Pulse is a regular e-newsletter for those interested in the University of Victoria School of Music events. Do you know someone who would like to know more about us? Please feel free to forward this message to a friend!
Follow us on Facebook (University of Victoria, School of Music) and Twitter (UVicMusic).
For a complete list of School of Music events, visit our online Events Calendar.