November 2012
---
On the Pulse
UPDATE: The Violin Class Recital scheduled for Sunday, November 4 at 2:30 p.m. has been cancelled.

Biró Selected for World Music Days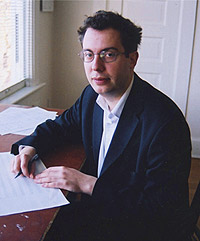 Congratulations to Dániel Péter Biró, whose composition for solo bass flute, Kivrot HaTa'avah (Graves of Craving), was selected as an independent submission for the ISCM (International Society of Contemporary Music) 2013 World New Music Days in Kosice, Bratislava, and Vienna. Founded in 1922, ISCM is an international network of members from around fifty countries, devoted to the promotion and presentation of contemporary music. Each year they present an international festival hosted annually by a selected country of one the of ISCM's Section Members. The festival focuses on contemporary music across a broad range of contemporary practice.
Additional Canadian works to be performed at the 2013 ISCM World New Music Days include Anna Pidgorna's solo accordion piece Light-play through curtain holes, and Patrick Saint-Denis' multimedia work Trombe.
---

Snizek Uncovers Suppressed Music in New Course
UVic students still looking to add a course to their Spring timetable may want to register for Suzanne Snizek's new course, which uncovers suppressed music from the days of the Nazi regime. Crafted to musicians and non-musicians alike, MUS 391 draws on Snizek's ongoing research and performance of music from a lost generation of composers. "Most often these composers were 'suppressed,' or outright murdered, for being Jewish, but sometimes musicians were suppressed for aesthetic or political reasons, or for reasons of perceived ethnicity," explains Snizek. The course will examine the lives and musical contributions of composers such as Goldschmidt, Toch, Gál, Korngold, Smit, Weinberg, Henze, and Reizenstein.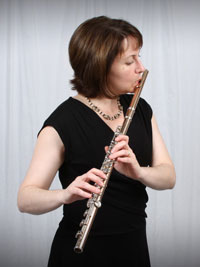 Snizek first became interested in the subject of suppressed music in 2006, while a DMA student at UBC. "My awareness and deep concern over the practice of indefinite detention, as in the current case of Guantanamo, was what led me to stumble on the history of internment. This led to my discovering the diary of interned composer Hans Gál, and then his music, which I immediately loved. I have been championing this little known, but rapidly re-emerging composer ever since," describes Snizek, who has presented at numerous conferences and contributed to several publications on her research, while continuing as an active performer (on flute), presenting works by suppressed composers.
Snizek developed the course to fill an often unacknowledged gap in our music history. "In my own experience as an undergraduate student, this issue was simply not discussed," says Snizek. "However, awareness of the music of these 'suppressed' composers offers music lovers a more accurate and complete picture of the development of classical music in the twentieth century, and opens up a whole world of excellent but under-recognized music."
Through readings, films, recordings and score/text study, the course will examine a number of topics, including the role of music in resistance to Fascism and oppression, the experience of refugee musicians in internment (in Canada and the UK), the contributions by these refugee musicians, and various philosophical questions regarding the relationship between politics and art. The course will culminate with a public lecture-recital presented by the class (look out for the concert date once the Spring calendar is posted!).

---
On Stage
Kindred Cellists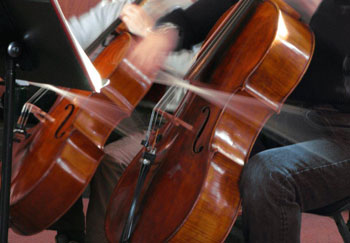 Harmony, both on the stage and off, is often at the heart of some of the most successful musical collaborations. This is indeed the case with UVic faculty cellist, Pamela Highbaugh Aloni and her friend and fellow-cellist, Paula Kiffner. The duo will perform along with pianist Jamie Syer on November 3 at UVic's Phillip T. Young Recital Hall.
"Playing with her has always seemed so easy," describes Highbaugh Aloni of Kiffner, whom she has been performing alongside in the Galiano Ensemble for over ten years now. The cellists had an instant connection, both on a musical and personal level, and have been good friends ever since. The two had been planning a concert together for quite some time and last year had the opportunity to perform at the Art Spring Series on Salt Spring Island accompanied by Jamie Syer. "We had such a good time preparing and performing the concert that we thought it would be great to perform it again," says Highbaugh Aloni. "We are excited to play the program here as well as in Qualicum Beach."
Pamela Highbaugh Aloni is a co-founding member of the prize-winning Lafayette String Quartet, another partnership that boasts a longevity – 26 years and counting – built on a strong foundation of friendships. Since 1991, Pamela has been an artist-in-residence at the School of Music, where she teaches cello, chamber music and co-supervises the strings mentoring course in collaboration with School District 61.
The concert on November 3 will include works by Handel, Bartók, Adaskin, Glière and others. "The two cellos allow for such a glorious range that there is the chance for great variety in texture and sound in the repertoire. The works with piano allow for even greater dimension and diversity," describes Highbaugh Aloni. "It is our hope that the audience will have half the fun hearing this program as we have had putting it together."
The concert is at 8:00 pm on Saturday, November 3, in the Phillip T. Young Recital Hall. Tickets are available from the UVic Ticket Centre and at the door.
---

Cage 100 Festival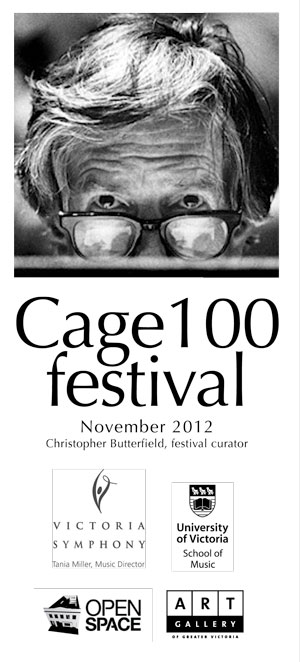 Across the globe, the life and work of American composer, John Cage, is being given some extra attention this year as we mark the centenary of the iconic artist. In collaboration with the University of Victoria, the Art Gallery of Greater Victoria (AGGV), and Open Space, the Victoria Symphony dedicates its November New Music Festival to a series of concerts, art exhibitions and special retrospectives celebrating the 100th anniversary of Cage's birth.
Cage's significant contributions to music, modern dance, writing, critical thinking and visual arts could not possibly be summarized in this short article. His influence, which continues to grow twenty years after his death, has been impressed upon countless artists, from composers Karlheinz Stockhausen and Phillip Glass, to Radiohead and U2 producer Brain Eno. "Music in the twentieth century was changed profoundly by Cage's life. If you're a musician, or interested in music, you can try to ignore him, but sooner or later you have to deal with him," remarks Christopher Butterfield, a member of UVic's composition faculty and Victoria's Cage 100 Festival curator.
Drawing on Cage's extensive body of work and diverse artistic practices, Victoria's Cage 100 Festival brings together some of his most famous compositions as well as works too seldom heard; the artist's graphic work; a 1987 sound installation; film, letters and paintings by people who were part of Cage's social circle; and works by composers who share Cage's sense of exploration and wonder.
"Cage was endlessly inventive, not just in music, but in other forms too," describes Butterfield. When crafting the program for the festival, Butterfield wanted to offer a broad yet intimate glimpse into Cage's world, people he knew, and ideas he espoused. "We were lucky to rely on old friends of Cage's, who volunteered some extraordinary material." Devoted Play, which opens at the AGGV on November 8, brings together a collection of materials from some of his closest friends & influential figures including Gordon Mumma, Jasper Johns, Marcel Duchamp, Mark Tobey, Morris Graves, and Robert Rauschenberg.
On Friday, November 16 at 12:30 p.m., the UVic Percussion Ensemble, under the direction of Bill Linwood, will perform works by Cage and Linda Caitlin Smith. That same day, UVic's Sonic Lab hosts an evening of Cage's music starting at 5pm with a School of Music wide fanfare performance of Musicircus followed by a concert at 8 pm. All events take place in the Phillip T. Young Recital Hall and admission is by donation.
Additional Cage 100 Festival programming includes a concert with the Victoria Symphony on November 17 at the Alix Goolden Hall, and on November 18 at the AGGV with the Emily Carr String Quartet. Talks and discussions will take place at Open Space (November 19) and the AGGV (November 22). Also at Open Space, Essay, a sound installation by Cage using text from Henry David Thoreau's essay "On Civil Disobedience," will run for two months.
Further Info:
Christopher Butterfield recently spoke with CFUV's Phoenix Bain about the festival. Listen here.
For information on both local and international Cage-related events, go to: johncage.org
---
Beyond UVic


News on School of Music Alumni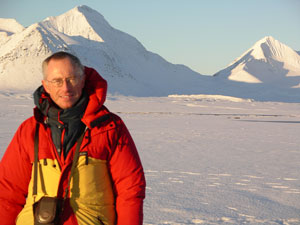 Nicholas Fairbank (M.Mus '05) has just returned from a residency in the Arctic. With 25 other artists from around the world he spent two weeks sailing in a tall ship around the Svalbard archipelago north of the Arctic Circle. During his time there he worked on a large choral composition which will be performed in Victoria in November 2013 by five local choral groups. The piece is designed to be performed in a large hall, reflecting the wide-open spaces of the far north, and is based on the poetry of Robert Service and Marcus Lund (one of the writers on the program).
Nick writes: "It was a tremendous privilege to be invited to participate in this program. Travelling together in the High Arctic and having the opportunity to collaborate with the other musicians, visual artists and writers was the opportunity of a lifetime." To view his online journal go to: http://www.fairbankmusic.ca/AC2012.html.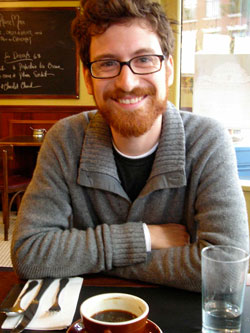 From January to June 2012, Daniel Brandes (M.Mus '10) was one of three young BC composers to participate in the second Canadian Music Centre/Canadian League of Composers Emerging Artist Mentorship program. As part of this professional development residency, two new commissioned works were performed, including somewhere and somewhen: for laura, composed for the Reshift Music Society and premiered by Ethos Collective at the Vancouver Art Gallery. With assistance from the Canada Council for the Arts and the BC Arts Council, Brandes also travelled to Düsseldorf Germany this summer for three weeks of intensive study with composer Antoine Beuger. During that time he had two works performed as part of the KLANGRAUM 2012 concert series including the European premiere of for Benjamin for solo tuba, performed by Max Murray (B.Mus '10).
You may have a chance to hear some of Brandes work performed in Victoria as part of his latest experimental listening series A Place to Listen. The monthly series focuses on works by Wandelweiser composers and other fringe artists working with silence. The next concert on November 21 will feature works for solo piano by Jürg Frey, Taylan Susam and Christopher Reiche (M.Mus '08).
---
Music Extras

Ticket Giveaways, Contests and more!
Like the School of Music on Facebook (University of Victoria, School of Music) or follow us on Twitter (UVicMusic) and you will be entered in a draw to win a pair of tickets to the UVic Chorus and Orchestra concert on Saturday, December 1. Performing works by Mozert, Handel & Britten, this concert will take place in the University Centre Farquhar Auditorium at 8:00 pm.
Draw closes Monday, November 19 at 4 pm.
---
e-Pulse is a regular e-newsletter for those interested in the University of Victoria School of Music events. Do you know someone who would like to know more about us? Please feel free to forward this message to a friend!
Follow us on Facebook (University of Victoria, School of Music) and Twitter (UVicMusic).
For a complete list of School of Music events, visit our online Events Calendar.