November 2011
---
On the Pulse

Faculty Honoured for Service
This year marks a significant milestone in the careers of four School of Music faculty members. At a reception on October 4 at the University Club, long service employees from all areas of campus were honoured. Among those celebrated were our very own Alexandra Pohran Dawkins (Head of Woodwinds) and Harald Krebs (Head of Theory) for 25 years, Eva Solar-Kinderman (piano performance) for 30 years and Eugene Dowling (tuba, euphonium, and trombone performance), for 35 years with the School of Music.
Dr. Gerald King, the School of Music's Director, is grateful for their commitment to the School of Music. "We are so honored to have such talented and dedicated faculty who have given so much to the School of Music and the University. Four faculty members who have served the University for 25, 30 and 35 years—this is a remarkable milestone. Such longtime service is an indicator of the quality of our School. We thank Alexandra Pohran-Dawkins, Harald Krebs, Eva Solar-Kinderman, and Eugene Dowling for their outstanding contribution to the UVic School of Music."
---
Student Voices Fly on Dutchman Stage
This October, eight School of Music students took to the Royal Theatre stage for Pacific Opera Victoria's production of Wagner's The Flying Dutchman. As members of the massive 50 plus-person chorus, Andrew Buckley, Josh Lovell, Mary-Ellen Raynor, Jeremy Roszmann, Anna Shill, Cedric Spry, Claire Stewart, and Marlee Wetter brought their dynamic voices to the stage with verve.
Having the opportunity to work with the Opera Company has given these students a valuable glimpse into the world as a professional musician. "POV has shown me what the real world is like. The ability to study professionals in their element without feeling like an intruder is invaluable experience and education," says fourth year student, Jeremy Roszmann. First year Master's student, Anna Shill, felt honoured to be a part of the production: "What can't you learn from your peers and those ahead of you? Sharing space with people that spend their lives living the career you hope for puts everything that we learn at school into perspective."
POV will stage the world premiere of the new opera, Mary's Wedding, this November, and we can look forward to hearing Andrew Buckley, Anna Shill and Cedric Spry, in this chorus as well. In addition, the lead female role will be performed by School of Music alumna, Betty Wayne Allison (B.Ed & B.Mus '05).
---
Duo Release Dual CDs
Bruce Vogt has had a productive year in the recording studio. In addition to his latest CD release of the piano music of Franz Liszt (Volume 1), Vogt has further released two CDs this year, both recorded in the Phillip T. Young Recital Hall with soprano, Susan Young (chorus director and voice instructor at UVic).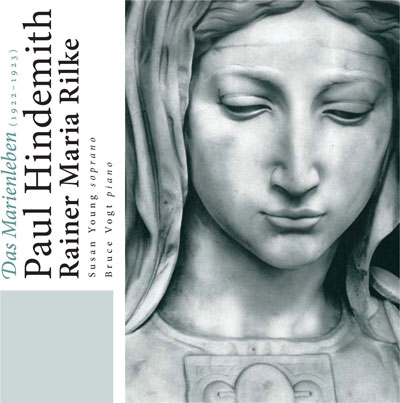 Paul Hindemith's Das Marienleben (The Life of the Virgin Mary) is a rarely heard masterpiece. Although a more practical, revised version exists of this song cycle for soprano and piano, Vogt and Young recorded Hindemith's original, more powerful and demanding 1922-23 version. "The later version is more singable," says Vogt, "but not nearly as fresh or beautiful. Susan is that rare singer who can handle the difficulties."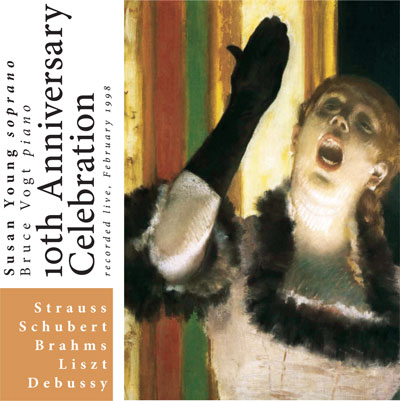 The 10th Anniversary Celebration CD, a live recording commemorating the period of Young and Vogt's collaboration, includes works by Strauss, Schubert, Brahms, Liszt, and Debussy. The recording "beautifully captures Susan's voice in four languages and many musical styles," describes Vogt.
Credits to the production of the CDs include School of Music faculty Alexandra Pohran Dawkins (producer), Kirk McNally (mastering), and alumni Andrea Young (B.Mus '01) (sound editor, graphic design and producer).
Available for purchase on Vogt's website, CDs will also be for sale at Vogt's upcoming solo concert at UVic. On Saturday, November 5 Vogt will perform the final of three solo piano recitals commemorating the bicententary of the birth of Franz Liszt. The concert will take place at 8pm in the Phillip T. Young Recital Hall. Visit our events calendar for more information.
---
On Stage
UVic First Stop for National Canadian Electroacoustic Tour
With the ever-growing interest in music technology, and the remarkable success of UVic's combined Music and Computer Science program (they are now having to turn students away), the timing could not be better for the Canadian Electroacoustic Community (CEC) to collaborate with the University of Victoria as a host institution on their 25th Anniversary Tour. The full-day event of concerts, demonstrations and seminars will be a platform for the latest in technology and research in the field as well as provide the opportunity to learn more about the CEC.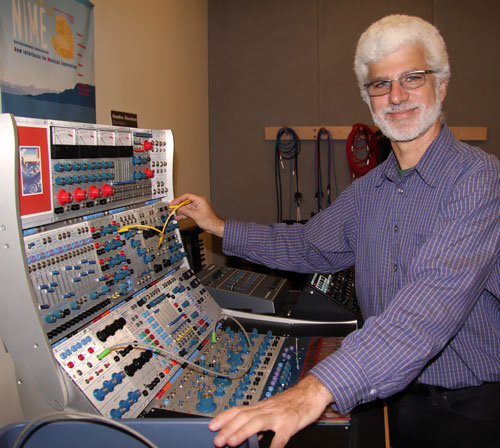 When approached by the CEC several months ago, Andrew Schloss, co-creator of the combined program at UVic and specialist in computer research in music and acoustics, jumped at the opportunity. "Canada has a vibrant community of artists and composers doing electroacoustic music," says Schloss," and in particular we have a great deal of creative activity right here in Victoria. So the opportunity to be the first stop in a national tour of the CEC seemed like a natural. It will be an action-packed day, with events from 10:30 am to midnight!"
As Canada's official national association for electroacoustics, the CEC is dedicated to supporting all genres of this progressive art form, from computer, acousmatic and soundscape music to hardware and software research and development. For the past 25 years the CEC has strived to raise the profile of electroacoustics in Canada and promote Canadian artists internationally with projects including the e-journal eContact!, the world's largest online (and free) jukebox SONUS, and the annual Jeu de temps / Times Play (JTTP) project for young and emerging sound artists.
The 25th Anniversary event on November 15 will feature the work of the CEC and its members alongside projects taking place within the UVic community. Presentations will include a seminar with Kevin Austin (Concordia University) on the recent trends in electronic music, a demonstration on controllers and synthesizers with Randy Jones (Madrona Labs), along with presentations by UVic students from the Music and Computer Science program. A trio of concerts scheduled for the evening will highlight the diversity in the field of electronic music: UVic's MISTIC with its state-of-the-art robotic instruments, electroacoustic works by this year's winners of the CEC's JTTP competition, and local DJs spinning ambient electronica at the campus Grad House. All events are free and open to the public.
For a complete schedule of events, please visit the School of Music events calendar.
Read more about Andrew Schloss and the Music and Computer Science program in a recent article posted on the new Fine Arts blog, Artsy Type.
---
Wind Symphony Tours the Island
The University of Victoria Wind Symphony is steadily building its reputation as one of the finest University Wind Ensembles in the country. With an approximately fifty-person ensemble comprised of both undergraduate and graduate wind and percussion players from the School, its conductor, Dr. Gerald King (also the School of Music's Director), is taking the ensemble's talent beyond the UVic campus and out to the Island community.
With two performances scheduled in Victoria and one in Courtenay, King recognizes the value of community outreach. "I strive to liaise with Music Educators and students in the field on a regular basis," says King. In addition to joining the Spectrum Senior Concert Band at Victoria's Spectrum Community School on November 15, the UVic Wind Symphony will perform in Courtenay as the guest ensemble for the Courtenay/Comox Music Festival on November 22. A few days later the ensemble will take to the University Centre Farquhar Auditorium stage in prime form following a recording session the previous day. "The concert on November 25 will include works of major composers—original compositions for winds as well as transcriptions. The concert should be very exciting," describes King.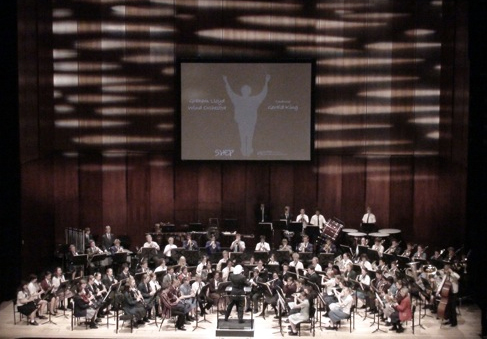 Considered one of Canada's most respected conductors and educators, King maintains an active schedule of guest appearances not only in North America, but worldwide. He recently returned from a trip to Australia where he lectured at the University of Wollongong in New South Wales and was guest conductor of the Graham Lloyd Wind Orchestra as part of the 2011 Student Honors Ensemble Program at the Queensland Conservatorium, in Griffith University in Brisbane.
Tickets ($14 and $12) are currently available for the UVic Wind Symphony concert on November 25 at the University Centre Farquhar Auditorium. For more details please visit our website.
Photo: Dr. Gerald King in concert with the Graham Lloyd Wind Orchestra, Brisbane, Queensland (October 2, 2011)
---
Nothing Says "Christmas" Like a Tuba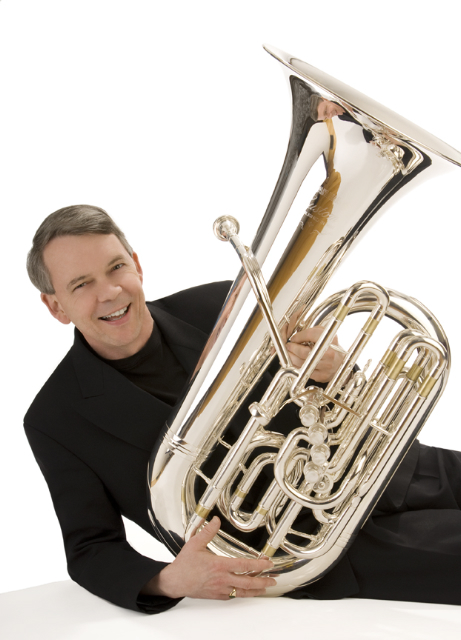 Some traditions never grow old with time. Tuba Christmas is one of them. "Some people say that their Christmas starts with Tuba Christmas," explains School of Music faculty member, Eugene Dowling, who is organizing his 33rd Tuba Christmas in Victoria this December.
Founded by the legendary tubist Harvey G. Phillips, the first Tuba Christmas was held on December 22, 1974 in New York City's Rockefeller Centre. Over 300 musicians played that day which initiated a phenomenon that continues worldwide.
Dowling was first introduced to Tuba Christmas on a trip back to Chicago to visit family. "I heard that there was something new going on when I got to Chicago. I borrowed a tuba from a friend and played my first Tuba Christmas." Dowling was keen to bring the idea to Victoria, and the very next year, he did. Now, 33 years later, Dowling says that not much about the event has changed. "People like the carols the way they are," says Dowling, and some of the players have been part of the group since the very beginning. Made up of local school band players, community band members, Victoria Symphony members, and Dowling's current and former students, some of the participants come from as far as Oregon and Washington.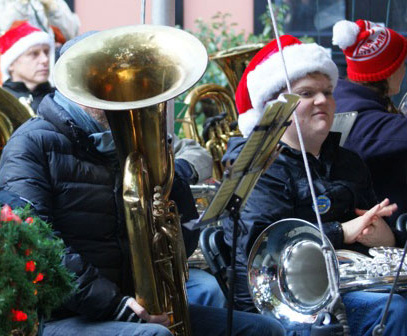 Performing at various locations downtown (long-time residents might remember their earliest performances in the space between the old Eaton's stores before the Bay Centre was built), Tuba Christmas has been held in Market Square for some years now. Dowling occasionally invites special guests (most recently Victoria Symphony music director Tania Miller as a guest conductor), but the fact that the event is for a good cause is enough to keep the people coming out year after year. "Raising money for a very fine local charity (the Times Colonist Christmas Fund) helps get the word out to the community and gives something back to the community where we live," says Dowling. The TC Christmas Fund helps those in need at Christmas time and works with other local agencies like Burnside Gorge Community Association, CFAX Santas Anonymous, the Mustard Seed Food Bank, Our Place, Salvation Army Family Services, the Single Parent Resource Centre and the St. Vincent de Paul Society. One hundred percent of the money raised goes to those in need.
Another thing that Dowling hasn't changed since the very first Victoria Tuba Christmas: "The old battered tuba that we've used as a donation bin has held tens of thousands of dollars during that time." Now that's a tradition that we hope will carry on for another 33 years.
If you can't make it out to Markey Square for Tuba Christmas on Saturday, December 3 (from 1-3 pm), you'll have the opportunity to hear Dowling's students play their favorite carols on Sunday December 4 at 2:30 pm in the Phillip T. Young Recital Hall for their annual Tuba Christmas Reprise. Donations from this concert help support local tuba and euphonium projects.
If you'd like to hear more from Dowling, his latest Christmas CD, recorded with his brass group, the Pinnacle Brass, is scheduled for release this December. While also keeping a busy schedule performing with the likes of the Vancouver Symphony (who he recently joined to back-up Sarah McLachlan) and other Yamaha Canada projects, you can often hear Dowling on a Saturday night at the Ocean Island Inn playing with the Bastion Jazz Band.
---
Beyond UVic


News on School of Music Alumni
Re-connecting in Victoria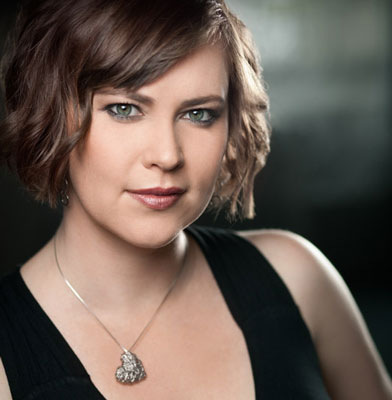 Betty Waynne Allison (B.Ed & B.Mus '05) soprano, is back in town! A graduate of both the UVic education program and the music education program, she is now a leading lady with Pacific Opera Victoria taking on the role of Mary in the upcoming world premiere of Mary's Wedding by composer, Andrew MacDonald. "It's wonderful to be back; it's home and that is a special feeling in this business...Since day one POV has been a supporter of mine and I feel honored that they are taking this chance on me. We all believe in this show and it is rare to be afforded the opportunity to create a brand new opera character."
Throughout her studies at UVic, opera certainly wasn't Betty's focus. "While at UVic I never dreamed or even thought about being a professional singer. My focus was on learning to play all the band instruments and education technique rather than learning performance techniques."
Now a full-time opera singer, Betty's career is taking off. She is an alumna of the Canadian Opera Company Ensemble where her roles included Fiordiligi (Così fan tutte), Donna Anna (Don Giovanni), Tatyana (Eugene Onegin), and Rusalka (Rusalka). She performed the Countess (Le Nozze di Figaro) with the Centre for Opera Studies in Sulmona, Italy, the title role in The Cunning Little Vixen in a new production at the Banff Centre, the First Lady in the COC's The Magic Flute and Alice in Falstaff with L'Opéra-Théâtre de Metz Métropole, France. Next spring she takes on the title role in Susannah with Florentine Opera.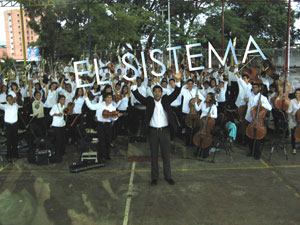 Jonathan Andrew Govias (B.Mus '98) returned to UVic on October 31 as a guest lecturer lecture to talk about his work as a conductor, educator, and consultant for el Sistema, a publicly financed voluntary sector music education program in Venezuela. Govias has written articles on el Sistema pedagogy, philosophy and practices that have been published internationally in leading periodicals and magazines. Since 2010 he has given keynote addresses in London (UK), Canada, Brazil, and South Africa on various aspects of el Sistema theory and practice.
Since graduating from UVic, Govias has been the successful recipient of several prestigious fellowships including the Abreu Fellowship at New England Conservatory. As a conductor he has studied with Janos Sandor, Kurt Masur, Marin Alsop, Gustav Meier and Pinchas Zukerman, and has worked with leading symphonies in North American and Europe, including a 2009 debut with Canada's National Arts Centre Orchestra.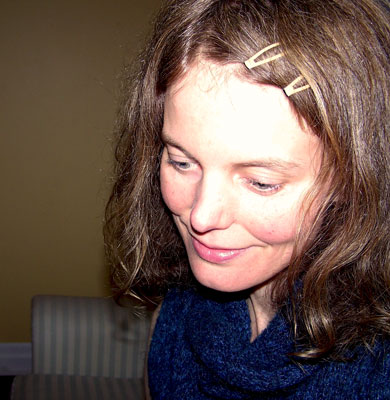 Anna Höstman (M.Mus '05) was in Victoria this October for the premiere of a new orchestra piece commissioned by the Victoria Symphony. Emily's Piece, performed by the Symphony as part of a Victoria-wide collaborative celebration of the life and work of Emily Carr, is a four-movement orchestra work based on a quartet of Carr's paintings from the mid-1930's.
Currently pursuing her doctorate at the University of Toronto, Höstman is regularly commissioned to write new works for Canada's leading musicians and ensembles. Upcoming premieres include two pieces for baritone and piano based on the works of Swedish poet Tomas Tranströmer for Peter McGillivray, an accordian solo for Ina Henning, a short opera scene for the Toronto New Music Festival, a work for two pianos for the Pendulum Ensemble, a flute and piano duet for Tiresias, and a Baroque flute solo for Emma Elkinson. She is also researching material with Dylan Robinson and Marion Newman for an inter-media work exploring the relationship of the Nuxalk Nation with the Norwegian settlers in the Bella Coola Valley in the 1900's for Toronto's Continuum Ensemble.
---
Music Extras
Ticket Giveaways, Contests and more!
Test your knowledge for a chance to win a pair of tickets for the following School of Music events:
University of Victoria Wind Symphony, Friday, November 25 at 8 p.m.
Which of the woodwinds has the smallest range in octaves?
University of Victoria Chorus and Orchestra, Saturday, December 3 at 8 p.m.
In Rachmaninoff's choral symphony The Bells, the text is based on a poem by which writer?
To be included in a draw for a pair of tickets to either of these concerts, please send an email with your answer(s) to concert@uvic.ca with Ticket Giveaway in the subject line. Contest closes November 21, 2011.
---
e-Pulse is a regular e-newsletter for those interested in the University of Victoria School of Music events. Do you know someone who would like to know more about us? Please feel free to forward this message to a friend!
Follow us on Facebook (University of Victoria, School of Music) and Twitter (UVicMusic).