March 2012
---
On the Pulse

Goldman Awarded Opus Prize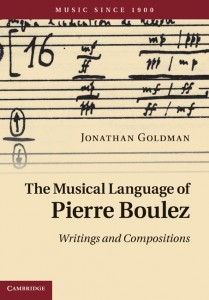 Jonathan Goldman—assistant professor of music history, musicology and theory for the School of Music—recently won the Opus Prize in the category "Book of the Year" for his book, The Musical Language of Pierre Boulez by Cambridge University Press.
Awarded annually by the Quebec Music Council, Goldman describes the Opus Prize as "kind of like the Quebec classical music Grammys." Goldman was also mentioned in this Montreal Gazette piece on the Opus Prize. This latest accolade comes on the heels of Goldman's previous "Article of the Year" Opus win for "Charting Mémoriale: Paradigmatic Analysis and Harmonic Schemata in Boulez's … explosante-fixe …"
Specializing in 20th-century music history, Goldman is also editor-in-Chief of the journal Circuit, musiques contemporaines. He completed his undergraduate studies in philosophy and mathematics at McGill University, and went on to earn an M.A. and PhD from the Université de Montréal under the direction of Jean-Jacques Nattiez, with a dissertation which deals with form in the thought and works of French composer Pierre Boulez; he wrote the preface to Leçons de musique (2005), a collection of Boulez's writings published in France by Christian Bourgois.
Goldman is also interested in the history of analytical practices and is a member of the research team "Mise en tableau/Écoute segmentée" at IRCAM (Institut de Recherche et Coordination Acoustique/Musique) in Paris. Somehow he also has time to perform on the accordion and the bandoneon, focusing on tango repertoire; in 2002, his arrangement of an orchestral piece by Astor Piazzolla was released by music publisher Éditions Henry Lemoine.
---
Season with Salt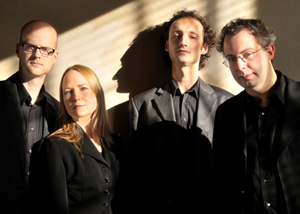 Tsilumos Ensemble, Victoria's new music ensemble co-directed by School of Music faculty Dániel Péter Biró, Ajtony Csaba, and Joanna Hood as well as Kris Covlin was recently awarded grants from the Ernst von Siemens Foundation for their 2013 SALT Festival. With the objective of presenting first-rate performances of new and challenging works by Canadian and international composers, the grant will fund the commissioning of new works by Wolf Edwards (M.Mus '03), Bernhard Gander (Austria), Steven Kazuo Takasugi (USA), and Gianluca Ulivelli (Italy).
Biró received an additional grant from the Ernst von Siemens Foundation for the commissioning of a new work for ensemble and electronics to be performed this year by Tel Aviv's Ensemble Meitar.
Can't wait until 2013 to find out what this SALT Festival is all about? This year's two-day event takes place on March 2 and 3 and kicks off with the UVic Orchestra concert featuring the innovative and edgy Ensemble Nikel (Belgium/Switzerland/Israel) performing the North American premiere of Zohar Iver (Blind Radiance) by renowned composer, Chaya Czernowin (Harvard University). Additional works include the world premiere of Lovely Monster Reloaded by Bernhard Gander as well as The Young Person's Guide to the Orchestra by Benjamin Britten and J.S. Bach's Suite in B-minor. Day two of the festival will take place at Open Space and will feature performances by Tsilumous, UVic's Sonic Lab, Olaf Tzschoppe, percussion (Germany), Tzenka Dianova, piano (Victoria), Ensemble Nikel and more! For the complete schedule of events visit Open Space's website.
Read more about the SALT Festival on the Fine Arts blog, ArtsyType and in this article in the Times Colonist.
---
On Stage
Sing Into Spring!
Home to four unique vocal ensembles, the School of Music certainly has a lot to sing about. With offerings in a variety of vocal styles and repertoire, the School's choruses embrace and engage the community not only in their membership (their audition doors are open to all UVic students as well as community members), but in their diverse collaborations with local musicians, ensembles, composers, schools and organizations.
Here's a brief look at each of these exceptional ensembles and what you can expect to hear from them this season.
Known for its blend of students from across campus as well as its diverse repertoire, from power ballads to upbeat swing numbers, the UVic Vocal Jazz Ensemble has been in full swing this semester as it prepares for a tour as well as a concert on Sunday, March 18 at UVic.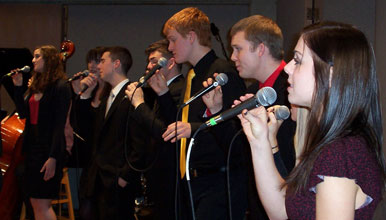 Under the direction of the School's saxophone instructor, Wendell Clanton, Vocal Jazz performs twice a year at UVic, and makes additional appearances at local high schools and live houses. This year Clanton is taking the ensemble of sixteen on the road to Powell River, BC, to participate and perform in the Vocal Summit XVII, Canada's preeminent vocal jazz festival. In aid of the tour to Powell River, this past February the Ensemble offered singing Valentines to the local community. "Most fun were the 'Ambush Valentines' randomly presented to surprised victims," says Clanton of the event in which the Valentiners performed over 25 bookings. Proceeds from their March 18 concert will also help fund the trip. Of the quirky title Mashed Potatoes & Moonbeams, Wendell explains, "'Moonbeams' is a hint at a line from Percy Bysshe Shelley's poem Love's Philosophy and 'Mashed Potatoes' is the title of a song by Chicago composer Paul Carey which describes the fickleness of romance from a woman's perspective" says Wendell of the piece that will feature the women's octet Heartstrings. The concert starts at 8:00 pm in the Phillip T. Young Recital Hall and admission is by donation.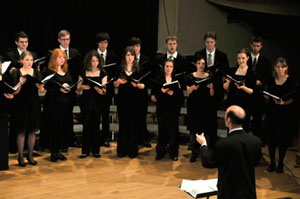 March for the UVic Chamber Singers brings with it a focus on composers of the 20th and 21st centuries whose works have original and innovative compositional techniques. The 20-member mixed ensemble continues to support up-and-coming composers by featuring new compositions by UVic music students. "This unique opportunity provides an exciting challenge for the choir and conductor to explore the process of interpreting and performing new music," says the ensemble's conductor, Brian Wismath.
Wismath has a passion for bringing musicians together to share in the joy of making music as an ensemble. In addition to presenting four main concerts during this academic year, the UVic Chamber Singers have also collaborated with Vox Humana, the VCM Chorale and several high school choirs, in a major event featuring over 150 singers at Alix Goolden Hall. Designed to encourage choral activities in the community and schools, the choirs ­performed a variety of choral works reflecting both classical and popular music.
The Chamber Singers will perform music by Leonard Bernstein, Francis Poulenc, Arvo Pärt, Gregg Smith, as well as works by UVic student composers on Friday, March 23 at 12:30 pm in the Phillip T. Young Recital Hall and on Wednesday, March 28 at 7:30 pm at St. Aidan's United Church.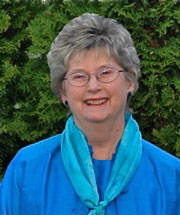 What began in 1994 on an ad hoc basis, the now 60-member Philomela Women's Choir performs each semester under the direction of Dr. Mary Kennedy, Associate Professor of Music Education. The idea for their upcoming concert Food Glorious Food came to Kennedy one day as she was driving past Our Placewhere she has previously volunteered. "The thought came to me: designing a concert on the topic of food and making it into a fundraiser for Our Place! Community outreach is something I believe in and it has been my intention to foster this aspect as the 'culture of Philomela' grows," says Kennedy of the group whose impact can be seen in the UVic community and beyond. The ensemble pays regular visits to seniors' residences and recently donated concert proceeds to relief efforts in Japan.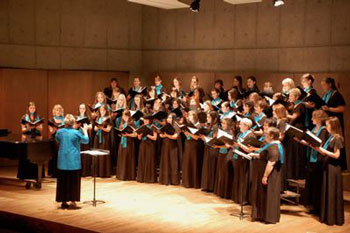 Their concert at 2:30 pm on Sunday, April 1 offers the opportunity to hear a newly commissioned suite of Children's Songs by Canadian composer Ben Bolden as well as Louise Rose's arrangement of the spiritual I'm gonna sit at the welcome table. Rose, who received an honorary doctorate from UVic in 2000, has been a friend and mentor of Kennedy for many years. The concert will also invite the audience to sing with the choir in a trio of popular songs about food. "We can't divulge the titles," says Kennedy, "you'll just have to buy a ticket to find out!"
Proceeds from ticket sales ($12 in advance and $15 at the door) will go towards the ensemble's trip to England planned for May 2013, and donations of non-perishable foods and monetary gifts collected at the concert plus proceeds from raffle tickets for a sushi-making workshop will go to Our Place.
By far the School's largest vocal group is the University of Victoria Chorus, directed by Susan Young, voice instructor at the School of Music. Performing each semester with the UVic Orchestra, this 150-voice chorus is made up not only of UVic students, but includes a large number of community singers, many of which have been with the Chorus for numerous years. John Sterk joined the Chorus in 2000 and "it turned out to be a most satisfying decision to sing in a large chorus with a full orchestra" he says of the experience. "Many community (townies) chorus members have become my friends over the years and I have fond memories of engaging with the students who have come and gone during the twelve years since joining." A few townies have been in the Chorus for over forty years, and several commute from Shawnigan Lake and Sidney to sing.
The Chorus has performed an impressive selection of outstanding masterworks including Bach's Mass in b, Verdi's Requiem, Carmina Burana by Carl Orff, and Mahler's Symphony of a Thousand. On Saturday, March 31, the Chorus, alongside the UVic Orchestra, will sing their hearts out to Schubert and Vaughan Williams.
For more details about these upcoming events as well as for ticket information, please visit the School of Music website.
---
Beyond UVic


News on School of Music Alumni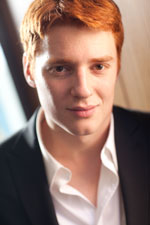 It is only a matter of time before tenor Isaiah Bell (B.Mus '08) sings his way to the international stage. With performances described as "breathtaking" and "...chilling in their fervency and clarity" (Opera Magazine), Bell's reputation as a rising star is reaching far beyond his West Coast roots. This year marks Bell's debuts with orchestra's across the continent, including l'Orchestre Métropolitain (Beethoven's Mass in C), Saskatoon Opera (Ernesto in Don Pasquale), Trinity Wall Street in New York (Evangelist in St. John Passion) and the Winnipeg Symphony Orchestra (Messiah), as well as return engagements with l'Orchestre Symphonique de Montréal (L'enfance du Christ), the Baldwin-Wallace Bach Festival in Ohio (St. Matthew Passion) and the Choeur St-Laurent, for Mozart's Mass in C Minor. Bell will also revisit the Evangelist in Bach's St. Matthew Passion (with Ensemble Caprice, under Jordan de Souza) and sing his first Ferrando (Così fan tutte) with Jeunesses Musicales Canada.
A former student of UVic's Benjamin Butterfield, Bell also trained at Calgary Opera's Emerging Artist Program, the Pacific Opera Victoria Young Artist Program, and the Universität Mozarteum in Salzburg, Austria.
Listen to Isaiah Bell singing Robert Schumann's Mondnacht, Op 39, No. 5 on City Opera Vancouver's podcast.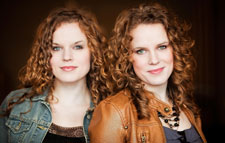 Victoria songstresses Carli and Julie Kennedy (B.Mus '08) have been making their mark on the music scene with their unique country-folk sound. Nominated for a 2012 Vancouver Island Music Award for "Best Live Act", the duo recently arrived home to Victoria after an impressive Nashville debut. Performances included songwriter showcases at numerous Nashville venues, including the historic Douglas Corner and The Commodore, as well as a guest spot on Nashville's Balcony TV. Representing Canada's Society of Composers, Authors and Music Publishers as the SOCAN Artist of the Month, Carli and Julie appeared on the Billy Block Show - second only to the Grand Ole Opry and Midnight Jamboree as Nashville's longest running live radio show and concert series - where they were accompanied by renowned musicians from Terri Clark's band.
For upcoming performances, and to listen to their 2011 EP, "Small Town Stories", visit their website.
---
Music Extras
Ticket Giveaways, Contests and more!
Like the School of Music on Facebook (University of Victoria, School of Music) or follow us on Twitter (UVicMusic) and you will be entered in a draw to win a pair of tickets to the UVic Chorus and Orchestra concert on Saturday, March 31. Performing works by Schubert and Vaughan Williams, the concert will take place in the University Centre Farquhar Auditorium at 8:00 pm.
Draw closes Monday, March 26 at 4 pm.
---
e-Pulse is a regular e-newsletter for those interested in the University of Victoria School of Music events. Do you know someone who would like to know more about us? Please feel free to forward this message to a friend!
Follow us on Facebook (University of Victoria, School of Music) and Twitter (UVicMusic).