March – April 2016
---
On the Pulse


EVENT NOTICE:
**DATE CHANGE >> CORRECTION**

The Guitar Class Recital originally scheduled for March 5 has been moved to Wednesday, April 6 at 8 p.m. in the Phillip T. Young Recital Hall.


JCURA Award Winners Showcase Research with Concert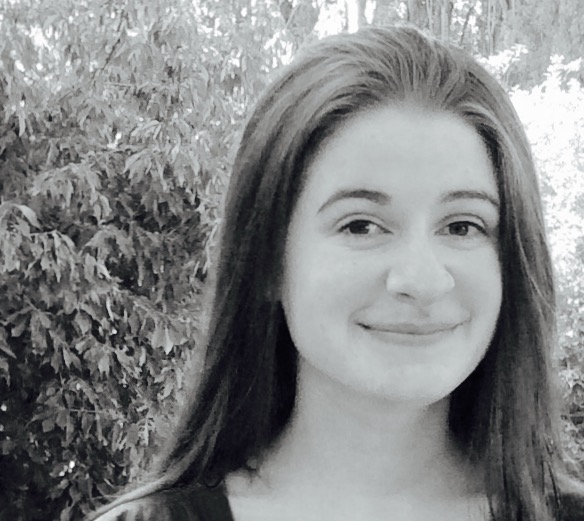 Congratulations to School of Music students Elizabeth Gerow and Aliayta Foon-Dancoes—both are recipients of the Jamie Cassels Undergraduate Research Award (JCURA) for 2015/16. The program, in which recipients undertake a research project in their field under the mentorship of a faculty supervisor, is designed to provide support for exceptional undergraduate students. Award winners receive $1500 to go towards their UVic tuition.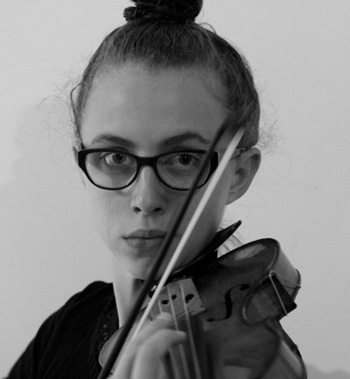 Fourth year voice student, Elizabeth Gerow, and third year violinist Aliayta Foon-Dancoes will present their research in a concert on March 9 at 4:30 p.m. in the Phillip T. Young Recital Hall. Elizabeth's performance-lecture, From Repose to Rapture: Editing and Performing the Unpublished Music of Josephine Lang (1815–1880), examines Josephine Lang's unpublished songs "Auf dem Felsen" and "Ob sie meiner noch gedenkt!" Dr. Harald Krebs, Elizabeth's research supervisor and one of the leading scholars on Lang's work, will accompany Elizabeth on piano. Aliayta Foon-Dancoes will perform J.S Bach's Violin Partita No. 2 in D minor, BWV 1004, described as one of the greatest pieces ever written. Aliayta has been digging deep into this work through harmonic analysis and historical research, with special focus on the performance practice of the time, under the guidance of violin instructor Ann Elliott-Goldschmid.

The JCURA research fair, which takes place from 11:30 a.m. to 3 p.m. on March 9 in the Student Union Building, will showcase over 100 inspiring research projects by award recipients from across campus. All are welcome to attend both events.

---
A Day in the Life of the Lafayette String Quartet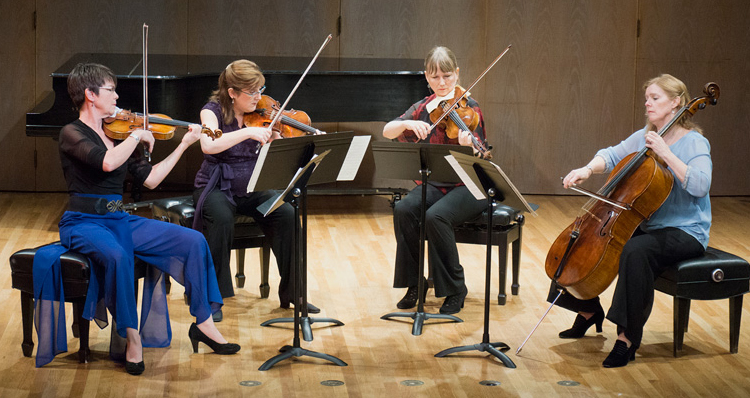 As millennia of human progress and innovation have proven, ideas can change everything. And ideas once again take centre-stage on campus with Ideafest, UVic's annual research festival. Running from March 7-12, Ideafest celebrates some of the brightest minds and ideas on campus and this year's festival showcases 50 outstanding events—of which the Faculty of Fine Arts is involved in more than a dozen. Ideafest offers yet another opportunity to demonstrate how essential creativity and culture are to UVic's core research strengths.
Ever wonder what it's like to be Artist-in-Residence at UVic? Find out with A Day in the Life of the Lafayette String Quartet on March 8. One of the most renowned string quartets in North America, the LSQ has garnered international acclaim as a talented, all-female string quartet for nearly 30 years. Since 1991, the LSQ—made up of Ann Elliott-Goldschmid, Joanna Hood, Pamela Highbaugh Aloni and Sharon Stanis—has held residency at the UVic School of Music, sharing their passion for chamber music with students and the Victoria community. This event offers a rare opportunity to accompany the LSQ as they rehearse new material, discuss their work, and workshop with students—all in a day's work! This event will feature an open rehearsal (11am­–12:30pm, Recital Hall), a brown-bag lunch discussion with the LSQ & their students (12:30–1:30, Mac B037), plus a chamber music masterclass/workshop (1:30–2:30, Recital Hall).
Find out more about Ideafest here.
---
On Stage

Chorus & Orchestra Concert March 5!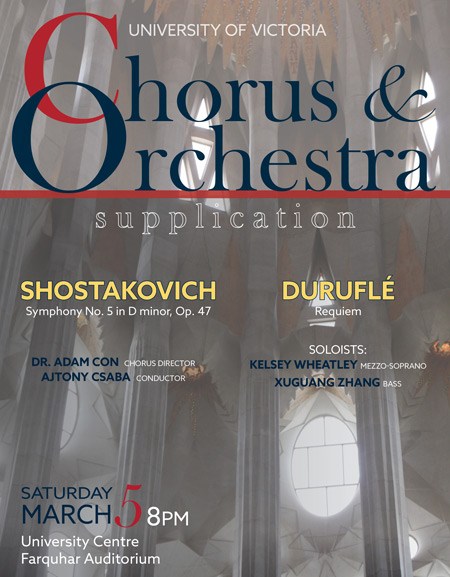 The University of Victoria Chorus & Orchestra takes on two major works of the 20th century on March 5 — Shostakovich's Fifth Symphony and Duruflé's Requiem. Both written amid personal and historic despair, these works reflect the composers' hopeful answers to some existential questions.
"Duruflé is 'writing himself free' after a personal loss and Shostakovich fights for the freedom of his conscience in a totalitarian political system," explains UVic Orchestra conductor, Ajtony Csaba. Duruflé's elastic choral texture and graceful lines are inspired by Gregorian chant, while Shostakovich's critical sarcasm and surreal lyricism is rooted in the Classical tradition. "The striking difference in the vocabulary of the two works reminds us that expressing the inextinguishable human desire for light and hope is independent of style, language, time, political and social systems," says Csaba.
The concert features two student soloists, mezzo-soprano Kelsey Wheatley and bass Xuguang Zhang alongside the 160-voice UVic Chorus.
The Chorus & Orchestra concert starts at 8pm in the University Centre Farquhar Auditorium. Info and tickets here.

---
Craigdarroch Castle in Song: Women's Life & Love

The Dunsmuir women of Victoria's historic Craigdarroch Castle lived lives of privilege and excess and yet each of them had their own stories of love and life. UVic School of Music voice and piano students continue in their third year of exploration of the Castle's history through song in two concerts on March 6 and 13.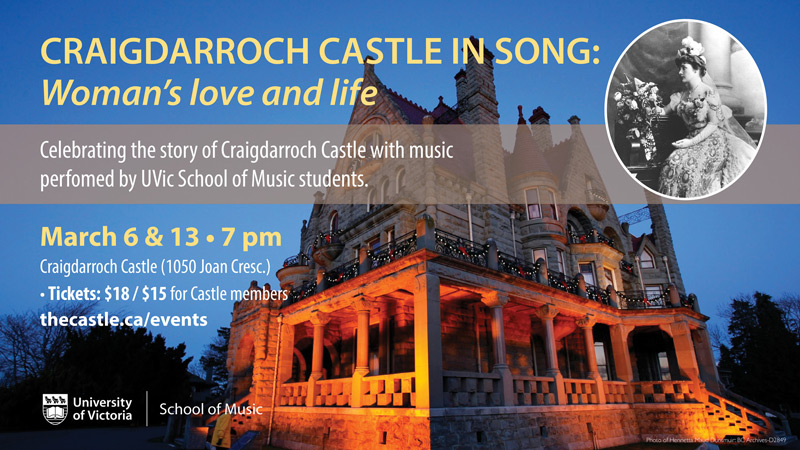 "This has been an ongoing discovery of the Dunsmuir family through music," explains Benjamin Butterfield, head of voice at the School of Music. With the challenge to select songs for the concert that connect with the castle's history, the lives, loves, dreams and demons of the Dunsmuir women are reflected through Schumann's Frauenliebe und Leben, Barber's Hermit Songs, Wolf's Mignon Lieder and Ravel's Don Quichotte among other works.
UVic piano students are eager to get their hands on the new piano recently acquired by the Castle for their Education Collection to replace the tired Steinway grand currently in the Dance Hall. The English baby grand by Collard and Collard has a serial number that indicates it dates from 1835 but the unusual 85-note keyboard suggests the1860s while other design features seem to align with the 1880s. A gift from the Varley family of Metchosin, the piano opens the doors for the Castle to host musical performances. It will also be accessible to visitors who wish to play during tours.
Both concerts start at 7 p.m. at Craigdarroch Castle (1050 Joan Cresc.). Tickets are $18 and $15 for Castle members and available at the Castle by phone (250-592-5323), in person and online: https://thecastle.ca/events.
---
Music of the moment with UVic Jazz Ensemble
Jazz music requires a rapport between musicians and also with the audience. It is the music of the moment. The UVic Jazz Ensemble is emphasizing small group performances this year and has been taking their grooves to some local venues including Hermann's Jazz Club and the Northern Quarter—all in preparation for their concert at the Phillip T. Young Recital Hall on March 12.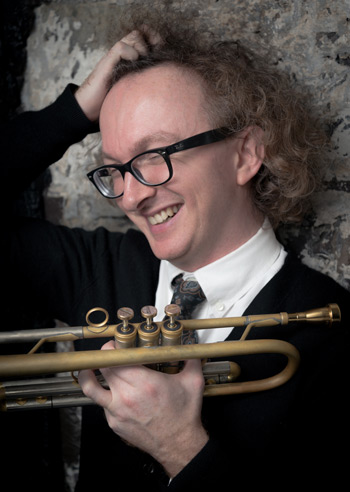 In Jazz music, "things shift on a dime and it's critical that players maintain an awareness at all times," explains ensemble leader and trumpeter, Dr. Patrick Boyle. "We can experience that a great deal in the classroom, but it is underscored even more when we play in public."
UVic Jazz Ensemble has been workshopping standards and originals in rehearsals as well as open jam sessions in which members of the general public are welcome to listen and/or play. The ensemble has come a long way in establishing strong individual voices within the band and has learned to interweave this individuality into a cohesive collective unit. "There has been a lot of deep listening going on," says Boyle.
On March 12, in addition to music by Radiohead and Ornette Coleman, the UVic Jazz Ensemble will premiere original compositions by band members including Rook by percussionist Keenan Mittag-Degala. Boyle describes the work as "an exciting, modular piece of music that seamlessly combines written and non-written elements."
Concert and ticket information is available here.
---

School of Music Thanks Supporters with Concert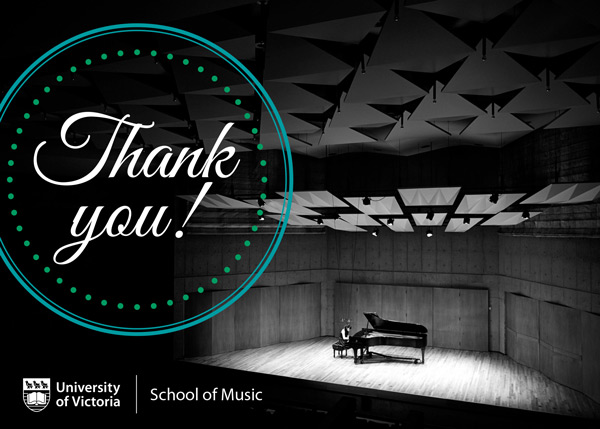 The School of Music's annual Thank-You Concert is an opportunity to honour donors, audience members, and guests whose support is so vital to the Music program. With music drawn from all instruments of the School, the Thank-You Concert is a highlight of our concert season, emphasizing the impact of individual and community support on students in all program areas. "The School features top faculty, studio lessons, chamber groups, ensembles, and innovative courses that prepare students to be skilled musicians," describes Susan Lewis, Acting Dean of the Faculty of Fine Arts. "The quality of our faculty and programming gives our graduates an edge—this is all made possible by the support of a strong network of people who realize the value of music and understand what it takes for a student to realize the dream of a career in music."
All are welcome to attend this free afternoon of music in the Phillip T. Young Recital Hall at 2:30 p.m. on Sunday, March 13. With solo and chamber performances by School of Music students—many of whom are scholarship recipients—the program ranges from Baroque and Classical to Jazz and modern, with works by Bach, Schubert, Shostakovich, Forsyth, Miles Davis, and more!
---

Calendar Quick-Fire
More event highlights for March and April:


Monday, March 7, 3:30 pm | VOCAL MASTERCLASS with soprano Donna Brown
Donna Brown has graced stages around the globe performing an extensive repertoire ranging from opera, oratorio, recital and chamber music, to contemporary and even alternative music. She currently teaches voice at the Conservatoire de Musique de Montréal. All are welcome to attend this masterclass as Ms. Brown works with School of Music voice students.


Saturday, March 12, 2:30 pm | UNIVERSITY WOMEN'S CHOIR:
Of Spring and of Eastertide
Performing Stabat Mater by Giovanni Battista Pergolesi directed by Susan Young
St. Aidan's United Church (3703 St. Aidan's)


Sunday, March 13, 8 pm (Pre-concert talk at 7:15 pm) | AVENTA PRESENTS:
Tunnels de lumière
Aventa Ensemble, conducted by Bill Linwood performs Christopher Butterfield's Souvenir, Tristan Murail's Mémoire/Erosion and Tunnels de lumière by Bent Sørensen.


Friday, March 18, 8 pm | UVIC WIND SYMPHONY: Year End Spectacular!
Dr. Gerald King, conductor
Repertoire to include Lincolnshire Posy by Percy A. Grainger, Saxophobia for Saxophone Quartet and Wind Ensemble by Rudy Wiedoeft (Woodis/Hammer) and more.


Saturday, March 19 & Friday, April 15, 8 pm | SONIC LAB
Evan Hesketh, graduate conductor & Ajtony Csaba, conductor
UVic's contemporary music ensemble performs György Kurtág's …quasi una fantasia…, Alec Hall's Hyperwarp, Quartet Op. 22 by Anton von Webern as well as some Soundpainting.


Thursday, March 31, 8 pm | DON WRIGHT SYMPHONIC WINDS:
Back To The Future!
Dr. Michael Keddy, conductor
Featuring student musicians from across the UVic campus.


Saturday, April 2, 8 pm | UVIC ORCHESTRA: Mythologic Zoo
Ajtony Csaba, conductor
Evan Hesketh, graduate conductor
Performing Debussy's Prélude à l'après-midi d'un faune, Tchaikovsky's Romeo and Juliet, Fantasy-Overture, and Bartók's Dance-Suite.


Sunday, April 3, 8 pm | UVIC VOCAL JAZZ ENSEMBLE:
Spring Showcase: Dreams I Left Behind
Wendell Clanton, director
The UVic Vocal Jazz Ensemble performs original and inspiring arrangements in a fun-filled audience engaging evening.


A complete list of School of Music events can be found on our website.
---
Upcoming Alumni Events at the School of Music
Join the School of Music Alumni Network!
The School of Music will celebrate its 50th anniversary over the 2017/2018 season. With this occasion on the horizon, we are looking for enthusiastic individuals to participate in the formation of a new UVic Alumni Network for music graduates.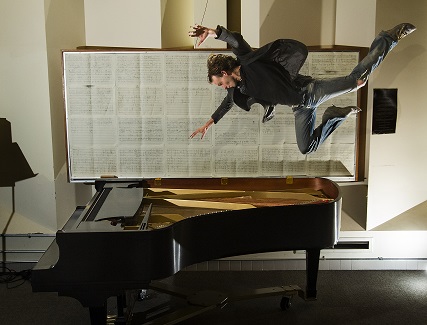 The official School of Music Alumni Network will be a vital part of the School of Music's alumni initiatives, helping to:
organize activities and events that bring music alumni together,

develop a mentorship program to connect established alumni with current music students and recent graduates,

apply for UVic grants in support of department and alumni initiatives, particularly those in connection with the upcoming 50th anniversary.
Please attend our upcoming information session:
Thursday, March 31, 2016*
5:00 p.m. to 6:00 p.m.
Board Room, Alumni House, Ian Stewart Complex, UVic
Pizza and light refreshments will be served.
(*We had lots of interests in our original meeting in February but the date did not work for everyone so we are trying again. We will be setting up a conference call as well so if you live outside of Victoria you can call in!)

Learn more about the Network and determine your own level of participation, whether it's volunteering at events or getting involved in the Network's organizing committee. At the meeting, we will be seeking your input and discussing the goals of the Network as well as looking for someone to take the reins and become the Chair of the School of Music Alumni Network. The Chair will help to organize the first official meeting later this Spring.
Please RSVP by March 24 to Peter Dunsmore-Papagiannis, Alumni Officer for the Faculty of Fine Arts at dunsmore@uvic.ca. If you're not able to attend the meeting, but are interested in participating, please send your contact information.
---

Keep in Touch!

Alumni: Have an upcoming performance or CD release? A new job or news to share? Please email concert@uvic.ca with your updates.

If you'd like to fill out our alumni questionnaire, you may do so here.


---
Canadian Anti-spam Legislation
We value every one of our subscribers and hope that you continue to enjoy receiving our newsletter and calendar of events. The School of Music, University of Victoria complies with Canada'santi-spam legislation and our email list requires express consent in order to subscribe. If for any reason you no longer wish to receive updates from the School of Music, please unsubscribe here. For information about the legislation, please visit Canada's Anti-Spam Legislation (CASL) website.


e-Pulse is a regular e-newsletter for those interested in the University of Victoria School of Music events. Do you know someone who would like to know more about us? Please feel free to forward this message to a friend!
Follow us on Facebook (University of Victoria, School of Music) and Twitter (UVicMusic).
For a complete list of School of Music events, visit our online Events Calendar.