March – April 2015
---
On the Pulse


EVENT CHANGE:

Gerald Barry will no longer be presenting an artist talk on Thursday, March 5.
In his place, Toronto-based composer and School of Music alumna, Linda C. Smith, will present the lecture The Speculative Experience of Composing Music. This event will take place from 4 to 5:30 p.m. in Rm. A168, MacLaurin Building, A-Wing.
Krebs/Biró Publication Praised in Review

The String Quartets of Béla Bartók: Tradition and Legacy in Analytical Perspective, a collection of essays compiled and edited by Dr. Harald Krebs and Dániel Péter Biró, received an extensive review in the Winter issue of Chamber Music America magazine (p.48-50). The book, recently published by Oxford University Press, grew out of an interdisciplinary workshop on Bartók's quartets at the School of Music in September 2008.


Dr. Con presents Dean's Lecture
Music Education instructor, Dr. Adam Con, spoke about his practice and research in a Dean's Lecture on February 13 at Victoria's Central Library. Hosted by UVic Continuing Studies, his presentation—The Three Components of the Golden Elixir: Mirror Neurons, Tai Chi Chuan and Choral Singing—explained how he combines and applies these three elements to provide a powerful elixir fostering a better quality of life. Read more about Con's research on the Artsy Type blog.
19th-Century Women Composers of Song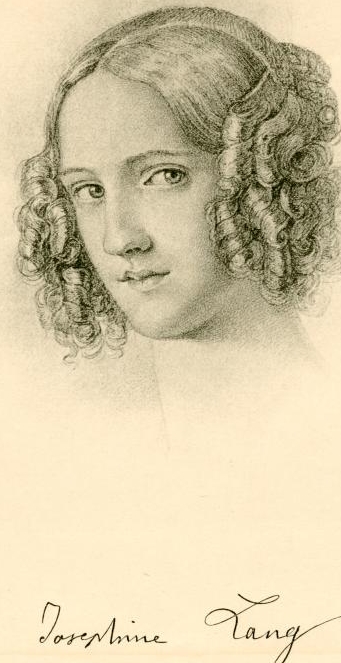 Josephine Lang was one of the most prolific and widely published song composers of the nineteenth century, yet her life and works are virtually unknown. School of Music theory professor, Dr. Herald Krebs, along with his wife, soprano and scholar, Sharon Kreb's have researched and written extensively on her music. In honour of the 200th anniversary of her birth, the Krebs' organized a workshop-conference dedicated to 19th-century women composers of song on February 21-22.
Leading scholars and members of the Society for Music Theory presented their research, including UVic theory professor, Dr. Laurel Parsons, who delivered a keynote lecture. A highlight of the conference included a concert that brought together faculty, alumni and students from the School of Music, faculty from the Victoria Conservatory of Music, and the UVic Chamber Singers.
---
On Stage

Experiments in the Sonic Lab

UVic's experimental music ensemble, Sonic Lab, joins the Victoria Symphony in their New Music Festival celebrating the music of Irish composer, Gerald Barry with a concert on Thursday, March 5. Barry's music has been described as a "world of sharp edges, of precisely defined yet utterly unpredictable musical objects. His music sounds like no one else's in its diamond-like hardness, its humour, and sometimes its violence." (UK Guardian) Under the direction of Ajtony Csaba, the student ensemble will perform Barry's Lisbon, characterized by strange repetitions and explosions. Also on the program is Webern's Konzert op. 24 and Vortex Temporum by French composer Gérard Grisey.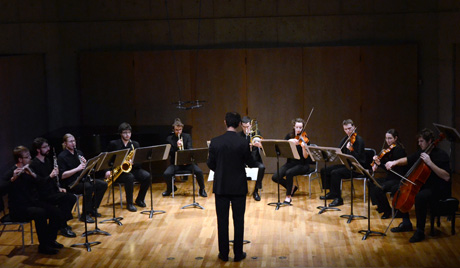 The Victoria Symphony New Music Festival runs from March 5 to 9 and includes concerts with the Victoria Symphony, Vox Humana Chamber Choir, and the Emily Carr String Quartet. Visit the festival website for further details.
The Sonic Lab concert on March 5 starts at 8 p.m. in the Phillip T. Young Recital Hall. Admission is by donation.


---
Craigdarroch Castle in Song

Victoria's legendary landmark, Craigdarroch Castle, has a history worth singing about. That's exactly what School of Music students will be doing on March 8 and 15. Under the direction of Benjamin Butterfield, head of the voice department, the students have been challenged to select songs for the concert program that connect with the castle's history.


"Essentially it is a communing of people exchanging stories," Butterfield explains. "There is no dialogue but a narrative is created through the songs and even costumes."
The concert will be performed in the upstairs Ball Room, which houses the only piano in the castle—an original from the turn of the century with its own unique character. "It isn't exactly a concert grand, but that's what makes it all the more charming," describes Butterfield. "The piano acts like a guest at a party that is a little odd but ends up being the hit of the evening."
The program will include music by Noel Coward, Henry Purcell, Samuel Barber, Benjamin Britten and Elinor Dunsmuir, as well as traditional Chinese and Persian songs. A portion of the proceeds will benefit scholarships for student summer music programs with the Vancouver International Song Institute (VISI).
The concerts start at 7 p.m. Tickets are $15 and available by phone (250-592-5323) or in person at the Castle (1050 Joan Cresc.).
---
Strumming back in time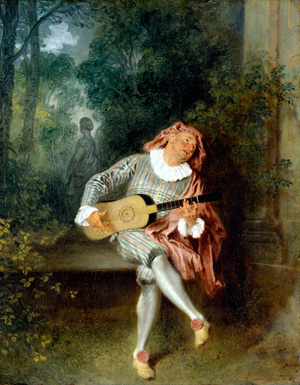 Take a musical journey back in time to the heyday of the Baroque guitar on Friday, March 13. This installment of Alexander Dunn's GuitarWorks series is inspired by the paintings of French Rococo artist, Antoine Watteau and 17th and 18th-century flair. Dunn, guitar instructor at the School of Music, will perform on a copy of Stradivarius' 1679 'Sabionari' guitar in works by Handel, Vivaldi, Scarlatti, and the ever-present Anonymous.
Handel's little known Spanish Cantata (his only work in that language) and Pensieri notturni di Filli cantata present the guitar in a continuo supportive role alongside voice and instruments. Two little-known sonatas—for plucked string instruments and bass lute—bring a refreshing sound to Domenico Scarlatti. Vivaldi's concerto for lute (or guitar) is a perennial favorite and the risqué ballad Marizapalos rounds out an evening of music on period instruments. Dunn will be joined by soprano Anne Grimm, Soile Stratkauskas on Baroque flute, Ann Fraser on Baroque violin, Douglas Hensley on theorbo, and Martin Bonham on Baroque cello.
The concert takes place in at 8 p.m. in the Phillip T. Young Recital Hall. Tickets ($18 and $14) are available through the UVic Ticket Centre and at the door.
---
Voices and Strings Unite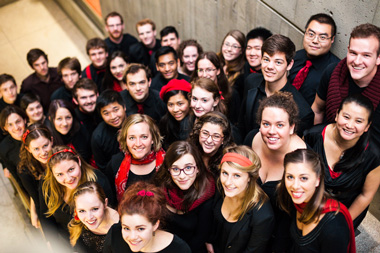 The University of Victoria Chamber Singers are collaborating with the Lafayette String Quartet in the concert Strings, Stars & Voices on Wednesday, March 25. The program features works for chorus and string quartet including Glenn Buhr's Ritchot Mass and Five Hebrew Love Songs by Grammy-winning American composer Eric Whitacre. The Chamber Singers will also perform Paul Halley's In Sideribus Domi: At Home In The Stars accompanied by an ensemble of piano, percussion, bass, cello, guitar, saxophone, and organ.
Ritchot Mass by Canadian composer, Glenn Buhr, was written while living as a refugee during the 1997 flood in Winnipeg, Manitoba and is dedicated to those who lost their homes in the disaster. Whitacre's Five Hebrew Love Songs, originally composed for soprano, violin and piano, was later adapted for SATB chorus and string quartet. The texts were written by Hila Plitmann—Whitacre's girlfriend at the time—and captured personal moments they shared together. Halley's In Sideribus Domi was composed to commemorate the opening of the Clay Centre's Maier Foundation Performance Hall in Charleston, West Virginia. The four-time Grammy winning composer drew inspiration from his interest in natural sciences in this piece about the stars and the people who "discover" them.
This concert starts at 8 p.m. at St. Aidan's United Church (3703 St. Aidan's). Tickets ($15 and $10) are available through the UVic Ticket Centre and at the door.
---

Calendar Quick-fire
More event highlights for March and April:

Friday, March 6, 8 p.m. | UVIC ORCHESTRA: A Symphonic Ornithology
Performing Strauss's Die Fledermaus: Ouverture, Rossini's The Thieving Magpie, Dvorak's The Wild Dove, Stravinsky's Firebird-Suite, and excerpts from works by Saint-Saëns, Parker and W.A. Mozart.


Saturday, March 14, 8 p.m. | UVIC JAZZ ENSEMBLE
An eclectic evening of contemporary works for jazz ensemble, including a rare performance of the Ebony Concerto by Igor Stravinsky. With Dr. Patrick Boyle, Director


Friday, March 20, 8 p.m. | UVIC WIND SYMPHONY
Lights, Action: Student Spectacular!
Performing the Canadian premiere of Jeff Tyzik's New York Cityscape: Concerto for Brass Quintet and Wind Ensemble, with guest ensemble, Brasstastics, as well as Eric Whitacre's Godzilla Eats Las Vegas. With Dr. Gerald King, Conductor.


Saturday, March 28, 8 p.m. | UVIC CHORUS & ORCHESTRA: Dear Strangers
Performing George Gershwin's An American in Paris and Joseph Haydn's Mass in D Major Hob. II:11 (Nelson-Mass). With Ajtony Csaba, Conductor and Adam Con, Chorus Director.

Sunday, March 29, 2:30 p.m. | UVIC PHILOMELA WOMEN'S CHOIR
To Sing in the Spring!
Singing songs of Spring and the Easter season. With Susan Young, Director.


Sunday, March 29, 8 p.m. | VOCAL JAZZ SPRING SHOWCASE
Blossoms and Bop
A concert of non-stop show-stoppers that just won't quit. With Wendell Clanton, Director


Thursday, April 2, 8 p.m. | DON WRIGHT SYMPHONIC WINDS
10 Years of The Don Wright Symphonic Winds
A selection of musical favourites from the first 10 years of the Don Wright Symphonic Winds. With Dr. Michael Keddy, Conductor


A complete list of School of Music events can be found on our website.
---
Beyond UVic


News on School of Music Alumni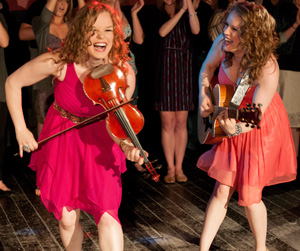 Powerhouse duo, Carli and Julie Kennedy (BMus '08), return to the School of Music as country duo Twin Kennedy for a CD release concert on Thursday, April 9. Their CD release tour is taking them across the country with their new album It's a Love Thing. Produced by multiple JUNO nominated and award-winning artists, Carli and Julie describe the album as a true extension of themselves—an honest account of their navigation through love and life.
The twin sisters have been making music together for as long as they can remember. In their youth they took piano, guitar and violin lessons and honed their skills in a family band, playing country music and fiddle tunes at community events.
The classical chops they fostered through their studies at the School of Music took them far—Julie was named Concertmaster of the 2007 National Youth Orchestra of Canada and Carli's guitar playing achieved third prize at the Canadian Nationals—but they both felt their true country folk roots calling. With Carli on vocals and guitar and Julie on vocals and violin, the duo has developed a sound that is all their own: a fusion of their background in country, folk, jazz, and Celtic music.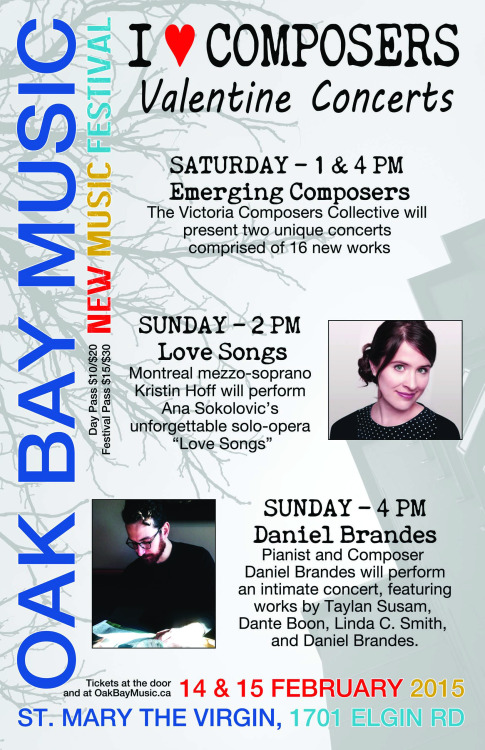 School of Music alumni and student composers converged in a 2-day festival, I Heart Composers, on February 14 and 15 in Victoria. Co-coordinated by Erik Abbink (of Oak Bay Matinée Concert Series) and composer Lynne Penhale (B.Mus '13), the festival included two Emerging Composers concerts. At least a dozen composers and many more performers—most of which were School of Music alumni and students—presented new or recent works. In two additional concerts, Montreal mezzo-soprano, Kristin Hoff, performed Ana Sokolovic's solo Opera, "Love Songs," and Daniel Brandes (M.Mus '10) performed intimate solo piano works—some with singing and whistling—by Eva-Maria Houben, Linda Catlin Smith and Brandes.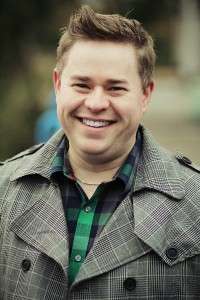 Mark Reid (B.Mus '03) was nominated for a 2015 Global Teacher Prize and selected as one of the top 50 teachers in the world. The coveted honour, considered the Nobel Prize of teaching awards, comes with a $1 million prize. Reid, Director of Bands and Choir at Vancouver Technical Secondary, was profiled on Global News back in January regarding the nomination.
Reid is highly regarded for his teaching. In 2013, he was named teacher of the year by MusiCounts, the music education charity associated with the Canadian Academy of Recording Arts and Sciences (CARAS). The award, one of the highest honors in Canadian Music, was presented to Reid by country super-star Shania Twain at a private ceremony in Las Vegas.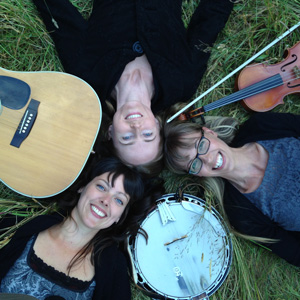 Violinist-turned-fiddler Miriam Sonstenes (B.Mus '06) joined CBC Radio's Vinyl Café on their Vancouver Island Tour with her band The Sweet Lowdown. With story-telling comic and voice of the Vinyl Café, Stuart McLean, the tour made stops in Courtenay, Campbell River, Nanaimo and Tofino. Podcasts of the episodes many be heard on the CBC website.
The Sweet Lowdown just recently released their third album, Chasing the Sun. Their second album, May, was nominated for a 2013 Canadian Folk Music Award for "Vocal Group of the Year" and was winner of a 2013 Vancouver Island Music Award Winner for "Island Roots Album of the Year."


---
Keep in Touch!

Do you have some news that you'd like to share for our newsletter or website? Need to update your contact information? Please email concert@uvic.ca.

If you have yet to fill out our alumni survey, please do so here.


---
Canadian Anti-spam Legislation
We value every one of our subscribers and hope that you continue to enjoy receiving our newsletter and calendar of events. The School of Music, University of Victoria complies with Canada's new anti-spam legislation and our email list requires express consent in order to subscribe. If for any reason you no longer wish to receive updates from the School of Music, please unsubscribe here. For information about the legislation, please visit Canada's Anti-Spam Legislation (CASL) website.


e-Pulse is a regular e-newsletter for those interested in the University of Victoria School of Music events. Do you know someone who would like to know more about us? Please feel free to forward this message to a friend!
Follow us on Facebook (University of Victoria, School of Music) and Twitter (UVicMusic).
For a complete list of School of Music events, visit our online Events Calendar.