March 2013
---
On the Pulse

Fine Arts Benefit CD Nominated for Juno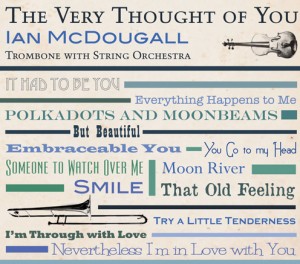 School of Music Professor Emeritus Ian McDougall's 2012 album The Very Thought of You, has been nominated for a Juno Award! A gorgeous collection of 14 jazz standards featuring McDougall's signature trombone backed by a lush string section, The Very Thought of You—produced by Ian's wife, Barb McDougall—has been nominated in the "Instrumental Album of the Year" category.
Conceived of as a benefit album for Fine Arts students in financial need, $10 from every $20 copy of The Very Thought of You goes directly to McDougall's student benefit fund—officially titled the Ten Mile Fine Arts Student Assistance Fund. Back in December 2012, McDougall presented Fine Arts with a cheque for $16,000, the first payback from the CD to the fund.
You can pick up a copy of the CD in the Fine Arts office, UVic's Bookstore, Arts Place cafe, the School of Music Office, and Phoenix Theatre, as well as Lyle's Place, Larsen Music and Munro's Books. Online, you can find it at CD Baby or through McDougall's own website.
Winners of the 2013 Juno Awards will be announced on April 21 at a gala ceremony in Regina.
Read more about this story on the Fine Arts blog, Artsy Type.
---
Celona Wins California Film Award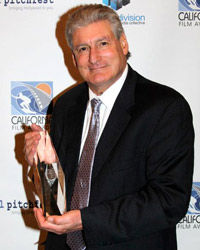 School of Music composition professor, screenwriter and filmmaker John Celona recently returned from having a "terrific experience" at the 2012 California Film Awards, where his screenplay for an unproduced sci-fi black-comedy thriller called Lady Smoke earned a Diamond Award in the screenwriting category.
The awards were held on January 26 at the swish Bahia Hotel in Mission Beach, San Diego. "They really do it up right," says Celona. "First-class, ballroom, formal dress, podium speeches, representation, studio execs like Harvey Weinstein."
This isn't Celona's first time to attend this awards ceremony. Celona picked up honorable mention at the same awards two years ago for his neo-noir thriller Nightfreight.
For more about Lady Smoke, visit Artsy Type.
---

Composition Student Finds Inspiration in Apeldoorn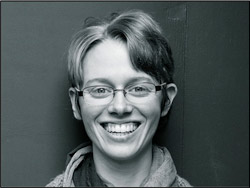 Fourth-year School of Music student, Lynne Penhale, had the opportunity to attend the 19th Young Composers Meeting in Apeldoorn, the Netherlands this past February. The meeting, which is chaired by iconic Dutch composer, Louis Andriessen, offers a select group of young composers (14 this year from around the globe) the opportunity to exchange ideas about contemporary music. "It was the most enriching experience of my life!" describes Panhale. "I learned more about society, myself and music in an experience which seemed to have lasted three weeks but was really only one." Each composer came prepared with a three-minute piece composed for the 23-instrument ensemble-in-residence, Orkest de Ereprijs. Participants engaged in rehearsals, lectures, and lessons with composers Martijn Padding, Richard Ayers, Dmitri Kourliandski, Carola Bauckholt, and Ted Hearne. The meeting culminated in a performance of the young composers' works. "As intense a learning experience this was...my most favourite learning experience was getting to engage with the other young composers, and being completely inspired and challenged by everyone's individual strengths they had brought with them," says Penhale, who thanks the UVic School of Music for supporting her in this opportunity.
Penhale's graduating composition recital will be held at the Art Gallery of Greater Victoria on Saturday, March 9 at 3:00 p.m. Admission ($13 & $11) includes viewing access to the gallery.
---
On Stage

Trombone Takes Centre Stage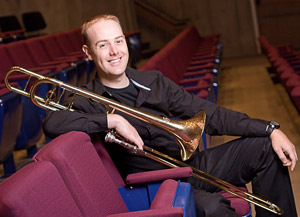 Scott MacInnes, UVic's trombone instructor, has a mission: to prove that this bellowing brass instrument is viable and versatile in the mainstream. While the trombone has come a long way since its earliest ancestor (the sackbutt, circa 1450) as a support instrument, solo repertoire is still somewhat limited. For MacInnes' upcoming concert on March 10, he has prepared several transcriptions of works originally composed for other instruments, including Camille Saint-Saëns Sonata for Bassoon. "I believe that this is the first performance attempted on the trombone," says MacInnes. "The work demonstrates the extreme capabilities of the bassoon, so it is tremendously difficult on the trombone." Other pieces on the program include Trauermusik by Paul Hindemith (originally composed for viola), the Canadian premiere of Jacob TV's multimedia work, I was like...WOW, and a couple tunes that will leave you "toe-tapping and humming." Tommy Pederson's Blue Topaz "is like getting a big hug from a trombone choir with solo bass trombone," describes MacInnes. Joining him on stage is pianist Kelly Charlton, as well as several members of the Naden Band, the Victoria Symphony, and a few UVic Music alumni.
The concert takes place on Sunday, March 10 at 8:00 p.m. in the Phillip T. Young Recital Hall in the MacLaurin Building. Tickets are $17.50 & $13.50 and available through the UVic Ticket Centre and at the door.
---
Guitar Wizard Confronts Ghostly Repertoire

Music has been likened to the songs of angels, the gateway to the soul, and has frequently been associated with spiritual experiences. On March 15, classical guitarist and School of Music faculty, Alexander Dunn, will draw you into the realm of spirits, ghosts and mystics with Guitarworks, a concert featuring contemporary music for guitar.
Described as a "genius and wizard" of the guitar (Victoria Times Colonist), Dunn will perform Tim Brady's Ghosts, for guitar quartet and electronics. Revised for this performance, Ghosts "is a striking work moving between atmosphere and rhythmic propulsion, with an ambient electronic part that acts as a 'ghost' identity shadowing the live players," describes Dunn. Also on the program is George Crumb's dark and richly layered, Ghosts of Alhambra (Canadian premiere) as well as Peter Maxwell Davies' intensely meditative Dark Angels. Dunn will also give the premiere of Liova Bueno's Poema Mistico. Born from a germinal musical idea, the single-movement work "explores the facets of mysticism," explains Bueno, a recent School of Music alumnus. "Calm and meditative moments are interspersed with sections of rhythmic intensity, creating a sound world which alternates between both the gentle and the wild energies of mystical and spiritual discovery and experience."
Aided and abetted by Susan Young, soprano, Stephen Price, baritone, Patricia Kostek, clarinet, and Alex Rempel, bass, Dunn has also invited students from the School of Music to join him on stage, including Jay Schreiber (percussion) and guitarists Brian Desjarlais, Stefan Maier, and Graeme Cruickshank.
The concert takes place on Friday, March 15 at 8:00 p.m. in the Phillip T. Young Recital Hall in the MacLaurin Building. Tickets are $17.50 & $13.50 and available through the UVic Ticket Centre and at the door.
---

Camaraderie at the Core of Jazz Performance
If you have yet to attend a concert with the UVic Jazz Orchestra or Vocal Jazz Ensemble, you may well be missing out on some of the most vibrant, eclectic, swinging performances that the School of Music has to offer.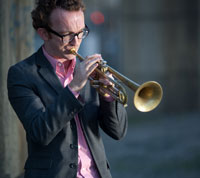 On March 16, the UVic Jazz Orchestra will present its most daring program to date. "Part of our mandate is to encourage the performance of new Canadian works, especially works by ensemble members," says Patrick Boyle, Newfoundland born trumpeter and Assistant Professor of Jazz Studies at the University of Victoria. The ensemble will perform pieces by UVic students Aaron Pang and Jared Richardson, as well as original arrangements made collectively by the group. In addition to big band, the concert will feature two new groups: the UVic Latin Ensemble E Pluribus Uno and The UVic Rhythm Kings & Queens, a small group that plays an amalgam of New Orleans and Balkan music.
"In jazz music, knowing whom you are playing with is critical to presenting the music holistically," explains Boyle, who is no stranger to collaboration and has played and recorded with some of the nations best jazz musicians. "This particular version of the UVic Jazz Orchestra blends a wonderful camaraderie and mutual respect with a serious work ethic and commitment to professionalism."
Wendell Clanton shares Boyle's sentiments on the importance of connections within the Vocal Jazz Ensemble, which he has been directing since 2005. Clanton incorporates movement, improvisation, and games into his rehearsals. "By bridging the social and academic environments, spontaneity is restored to music-making and people let their personalities shine," says Clanton. He describes these sessions as "fun, hilarious and educational" which is important to fostering "natural engagement, energy and enthusiasm which spreads to all areas of learning and performance." The Vocal Jazz Ensemble opens its auditions to students from across campus and therefore the range of musical experience in the group is varied. Clanton says this makes for the perfect blend of technique and style.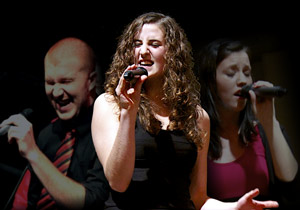 Expect a wide range of styles and moods in their March 24 concert, Moods of March. Clanton says the show "ping pongs between intimate ballads, quirky upbeat numbers and powerful showstoppers." "It will begin like a lamb and end like a lion," he adds. Expect to hear titles like He Beeped When He Shoulda Bopped, Lady Is A Tramp, Baby Driver and Won't You Be My Neighbor (yes, the theme song from childhood favourite, Mr. Rogers).
The ensemble will be graduating a number of veteran singers this year, and as the song goes, "breaking up is hard to do". For that reason, the month of March is bitter sweet; singers are excited to move on to the next stage of their lives, but sad to be leaving the group. "There are always tears," says Clanton. "Our group is tight. The music we make reflects a unity of hearts, minds and voices. When a voice leaves, our hearts go with him or her."
The UVic Jazz Orchestra concert takes place on Saturday, March 16 at 8:00 p.m. Tickets are $15 & $10 and available through the UVic Ticket Centre and at the door. Catch the Vocal Jazz Spring Showcase on Sunday, March 24 at 8:00 p.m. Admission is by donation. Both concerts take place in the Phillip T. Young Recital Hall in the MacLaurin Building.
Can't make it to the concert hall? Listen to the live broadcast online from our website.
---
Beyond UVic


News on School of Music Alumni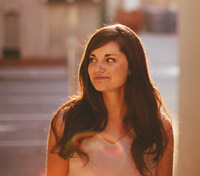 CBC's Searchlight competition for "Best New Canadian Artist" is in its third round of voting, and School of Music alumna, Amy Wood (B.Mus '12), has earned a position in the top five for the Victoria region. You can help Amy make it to the next round by voting (once per day until round three of voting ends on March 7, 2013 at 11:59 p.m. ET) and check out the other finalists on the CBC website. While at UVic, Amy studied voice with Benjamin Butterfield, but started playing and singing at the piano at a very young age. She now describes songwriting as an "obsession." "I can't not write and lately it hurts not to sing for others," describes Wood. She is currently planning the release of an EP as well as a full-length album and is also in the midst of covering song requests in her Sunday 'Request Booth' on youtube.com/amywoodsings.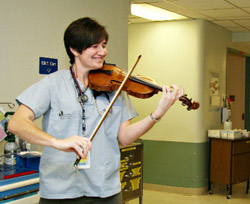 School of Music alumna, Dr. Jill Wiwcharuk, was recently profiled in the Brantford Expositor for her unique musical contributions to the hospitals in Brantford and Hamilton, Ontario where she now works. Musician turned physician, Wiwcharuk's compelling story of her world travels and career shift are highlighted in the article. One of her patient's relays the story of hearing Wiwcharuk play the violin while she lay in the emergency room just a few days before Christmas. "The song was 'Away In A Manger' and right away patients looked up and a sense of calm began to settle among us," describes the patient. Although Wiwcharuk's focus is in the medical field, she still keeps in touch with her music. "The fiddle tunes tend to lighten the atmosphere and get patients toes tapping," says Wiwcharuk. Read the article here.
---
Music Extras
Ticket Giveaways, Contests and more!

2 For 1 Tickets!
As the University of Victoria's 50th Anniversary year comes to a close, the School of Music is offering 2 for 1 tickets to the year-end UVic Chorus & Orchestra concert on Saturday, April 6 at 8:00 p.m. in the University Centre Farquhar Auditorium. Titled Exhibited Confessions, the concert featuresperformances of Modest Mussorgsky/Maurice Ravel's Pictures of an Exhibition, Mozart's Vesperae solennes de Confessore, K. 339, andLeonard Bernstein's Chichester Psalms.
2 for 1 tickets will not be available online. Please call the UVic Ticket Centre
(250-721-8480) or visit them in person at the University Centre to reserve tickets. Be sure to mention this special offer!
---
e-Pulse is a regular e-newsletter for those interested in the University of Victoria School of Music events. Do you know someone who would like to know more about us? Please feel free to forward this message to a friend!
Follow us on Facebook (University of Victoria, School of Music) and Twitter (UVicMusic).
For a complete list of School of Music events, visit our online Events Calendar.