January – February 2016
---
On the Pulse

RSC honours Fine Arts professors
More than 400 of Canada's brightest academic minds converged on Victoria in November for the annual general meeting of the Royal Society of Canada—Canada's national academy. During this gathering of scientists, scholars and artists from across the country, two Fine Arts faculty members were honoured. Noted composer and School of Music professor Dániel Péter Biró was elected as one of three new members of the College of New Scholars, Artists and Scientists (colloquially known as the RSC's "rising stars"), and celebrated playwright, Department of Writing professor and UVic alumna Joan MacLeod was one of three UVic professors elected as new fellows—the country's highest academic honour.

"The Faculty of Fine Arts is fortunate to have colleagues of the calibre of professor Joan MacLeod and Dr. Biró, both of whom bring their research and creative practice to bear on their teaching and mentorship of our students," says Susan Lewis, Acting Dean of Fine Arts. "We congratulate our two colleagues on their appointments to the RSC."

Lewis, also the Director of the School of Music, well knows the work of her colleague Biró, noting his position at the forefront of music composition and research. "In 2011, Dániel was Visiting Professor at Utrecht University and in 2014-2015, Fellow at the Radcliffe Institute for Advanced Study, Harvard University. His compositions are performed around the world and he is internationally active as a composer, researcher, performer, lecturer and teacher," she says.

"I am happy to be elected a member of the College of New Scholars, Artists and Scientists," Biró says. "Composing music is not only creating something new, but also discovering the past. It's almost like we're conservationists of culture."

Read more on the Artsy Type blog.


---
On Stage

Bucket List of Musical Gems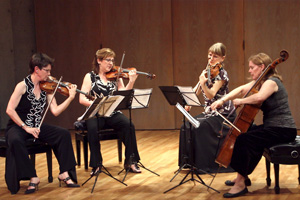 Continue your holiday wind-down with an intimate evening of chamber music on January 9. School of Music alumni join an all-star cast of performance faculty in a Faculty Chamber Music program of hidden gems from the early twentieth-century, including works by Frank Martin, Vaughan Williams, Rebecca Clarke, Jan van Gilse, and Andre Caplet. While the works selected for this program are accessible, they are not frequently performed. To help enrich the audience's appreciation of the music, the performers will introduce each of the pieces during the concert.
Each semester the music school presents a Faculty Chamber Music concert and this popular concert series offers an opportunity to hear many of the School's performance faculty in a single concert. The program, designed collaboratively by the performance faculty, often includes pieces from their "bucket list" and works they wouldn't otherwise have the occasion to perform.
This concert will feature performances by the Lafayette String Quartet, soprano Anne Grimm, flutist Suzanne Snizek, School of Music alumni bassoonist Robyn Jutras (B.Mus '04) and double bassist Alex Rempel (B.Mus '12), among others.
Concert and ticket information is available here.


---
High Class, Low Brass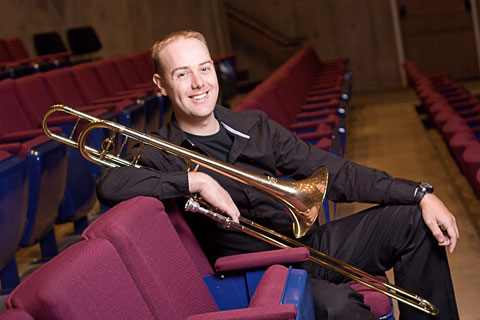 With a nod to the past and an eye to the future, the Pinnacle Brass Quintet joins UVic School of Music brass faculty for High Class, Low Brass on January 10.
"The show hits all the hallmarks of what you can expect from this group of musicians," describes UVic trombone instructor Scott MacInnes. The program will likely include a new arrangement (or two), music by Astor Piazolla, and some staples of the brass quintet repertoire.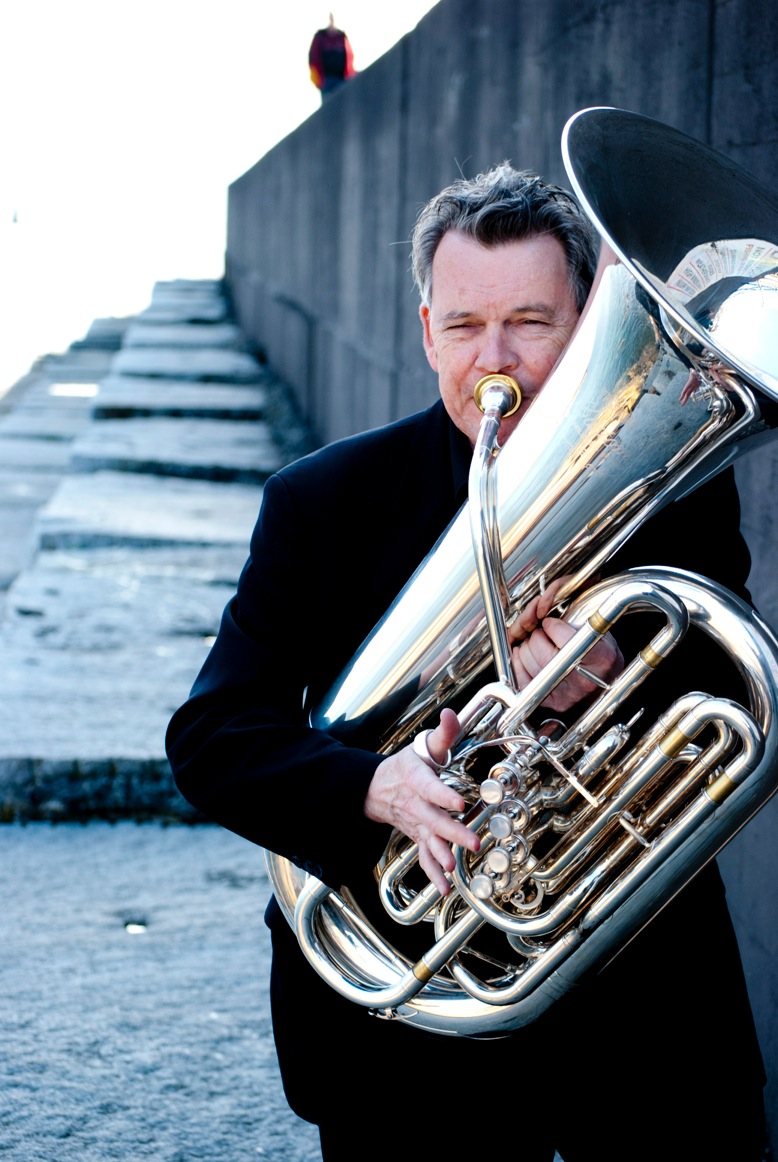 The concert honors the late tubist and UVic professor Gene Dowling and proceeds will benefit the Eugene Dowling Scholarship for Tuba and Euphonium. "The date we chose was the usual date that Gene preformed his faculty recital," says MacInnes. Paul Beauchesne, who took over for Gene at the School of Music, will be playing Gene's 'party piece', the Vaughan Williams Tuba Concerto with pianist Yoomi Kim. MacInnes will perform a beautiful set of songs by Brahms with sombre lyrics that tackle the topic of death.
MacInnes will also bring back Jacob ter Veldhuis's I was like WOW, a piece based on interviews with two US soldiers, Sam Ross, 21, and Tyson Johnson, 22, who both returned severely wounded from the Iraq War in 2003. "I performed this piece on my last recital, but unfortunately there were technical issues with the accompanying video," explains MacInnes. "Despite these issues the audience was absolutely taken with the piece and I had numerous requests to perform it again."
Gene was a founding member of the Pinnacle Brass Quintet. For this concert, the group's core members — John Ellis, Mike Oswald and Scott MacInnes — will be joined by guests Louis Ranger and Paul Beauchesne. Donations to the Eugene Dowling Scholarship will be accepted in-person and online.
---
10 Questions with Sam McNally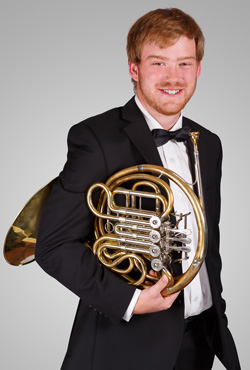 Third-year School of Music student Sam McNally has a lot to toot his horn about. A winner of the School's 2015 Concerto Competition, Sam also began his first season as Principle Horn of the Kamloops Symphony Orchestra this past fall.
A native Calgarian, Sam began playing horn at the age of 11 in his middle school band. A few years later he was winning his age divisions in the Calgary and Alberta Provincial Kiwanis Festivals and was later a member in both the Calgary Youth Orchestra and the Mount Royal Conservatory's Academy of Music. Now at UVic studying with Kurt Kellan, Sam enjoys having played in both the UVic Orchestra and Wind Symphony along with various solo and chamber performance settings.
Sam will perform Strauss's Horn Concerto No. 1, Op. 11 with the UVic Orchestra on January 29. Also on the program is Mozart's Ch'io mi scordi di te? K. 505, featuring soprano and Concerto Competition Winner Kelsey Wheatley.


Get to know a bit more about Sam in ten questions:
Places you've lived? Calgary and Victoria!

Three words to describe yourself? Happy, travelling, hornist!

Do you play any other instruments? I occasionally will noodle around on my mandolin.

What's your non-music related, hidden talent? I like to cook, though I'm not too sure how talented I am. Perseverant at the very least!

Favourite spot on campus? I really like the library. The smell of the books, the milling about of various people, the general din of even the "silent" areas.

What do you value most about being a student at UVic? The opportunities that come along with attending a smaller music school are awesome. Also the campus couldn't be prettier!

Favourite music to play? That changes often! Right now and for the last little bit I've been enjoying french music, but I suspect that I will hear something soon that will peak my interest in another way.

Guilty musical pleasure? While I do occasionally let the radio slip to the top hits, I think my guiltiest musical pleasure would certainly be the classical guitar. Once they start, I cannot even look away!

If you could invite one composer for dinner (living or not), who would it be? As cliché as it might be, I'd really like to hear from Mozart. His music has always captivated me and maybe I could get him to finish his E-major Horn Concerto while we eat!

Best way to unwind? After a long week I like to read, watch Netflix, or even play some good ol' video games!
---

Calendar Quick-Fire
More event highlights for January and February: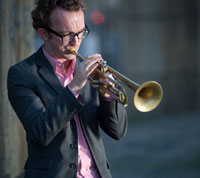 Saturday, January 16, 8:00 pm | FACULTY CONCERT:
Home Grown: Jazz in Canada
Patrick Boyle Quartet performs original music and music by Canadian composers including Mike Murley, Jeff Johnston, Moe Koffman, Terry Promane, Barry Elmes, and Ian McDougall.

Wednesday, January 20, 12:30 pm | LIEDER AT LUNCH
Selections from Hugo Wolf's Italienisches Liederbuch
Sharon Krebs, soprano and Harald Krebs, piano
An exploration of the German Lied repertoire with Sharon and Harald Krebs. Bring your lunch!

Tuesday, February 2, 8:00 pm | GUEST CONCERT: David Stewart, violin & Jane Austin Coop, piano
Orion Series in Fine Arts presents David Stewart & Jane Austin Coop performing works by Eugène Ysaÿe and Edvard Grieg inspired by a visit Ysaÿe paid to Grieg in 1882. David Stewart taught violin for more than 20 years at the University of Ottawa and is currently the concertmaster of the Bergen Philharmonic. Jane Austin Coop is an internationally recognized concert pianist and has appeared as a recitalist and as a soloist with major symphony orchestras throughout the world.

Wednesday, February 3, 6:00 pm | ANNUAL SOLO BACH COMPETITION
Featuring the solo suites and sonatas by J.S. Bach performed by UVic string students. The jury will elect three prizewinners, and the audience has the opportunity to vote for the Audience Prize. Come and vote for your favorite!

Thursday, February 4, 8:00 pm | GUEST CONCERT: Schubert's Winterreise
Orion Series in Fine Arts presents Daniel Lichti, baritone &Leslie De'Ath, piano performing Franz Schubert's epic song cycle, Winterreise, a setting of 24 poems by Wilhelm Müller. Daniel Lichti has established himself as one of Canada's most loved and respected bass-baritones, performing with many of North America's finest orchestras and choral organizations. Pianist, conductor, author, vocal coach, and accompanist, Leslie De'Ath is a professor in the Faculty of Music at Wilfrid Laurier University.

Friday, February 5, 8:00 pm | UNIVERSITY OF VICTORIA WIND SYMPHONY: Winds of Change
With the Naden Band of the Royal Canadian Navy
Dr. Gerald King, conductor
The University of Victoria Wind Symphony in concert with the Naden Band of the Royal Canadian Navy. Repertoire will include Symphony No. IV: Bookmarks from Japan by Julie Giroux and Pictures at an Exhibition by Modest Mussorgsky (Ravel/Lavender).

Monday, February 15, 8:00 pm | GUEST CONCERT: Terence Dawson, piano & Robyn Klassen, soprano
Orion Series in Fine Arts presents Terence Dawson & Robyn Klassen performing Frederic Rzewski's De Profundis, At the Statue of Venus by Jake Heggie, and more.
Pianist Terence Dawson (UBC) has earned a reputation as one of Vancouver's most respected musicians. Seen on many Canadian opera stages, soprano Robyn Klassen's roles span from Baroque to contemporary music.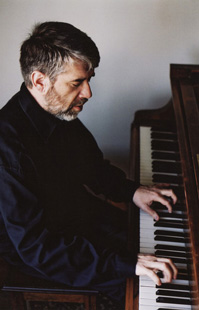 Friday, February 19, 8:00 pm | FACULTY CONCERT:
Bruce Vogt, piano
Internationally celebrated pianist Bruce Vogt performs the late sonatas of Ludwig van Beethoven.

Thursday, February 25, 12:00 pm | FACULTY CONCERT: Beautiful Music by an Unknown Composer
Suzanne Snizek, flute, and Harald Krebs, piano
With guests Sharon Krebs, soprano, and Kathryn Whitney, mezzo-soprano
Featuring chamber music and vocal duets by Richard Rößler (1880–1962).

Saturday, February 27, 8:00 pm | FACULTY CONCERT: Lafayette String Quartet
With Arthur Rowe, piano
Performing Fanfare by Murray Adaskin, Dmitri Shostakovich's String Quartet No. 9, Op. 117, and Antonín Dvorák's Piano Quintet in A Major, Op. 81.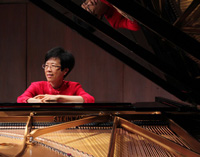 Sunday, February 28, 2:30 pm | FACULTY CONCERT:
May Ling Kwok, piano
Esteemed performer, recording artist and instructor May Ling Kwok performs works by Mozart and Schumann.

Sunday, February 28, 5:00 pm | GUEST MASTERCLASS: Torrey Kaminski, flute
A sought-after flute instructor and performing artist, Torrey Kaminski is also a certified yoga teacher. In this masterclass Kaminski will present ideas on how to incorporate yoga into daily practice as well as give a short performance of solo flute repertoire.


A complete list of School of Music events can be found on our website.
---
Beyond UVic
Upcoming Alumni Events at the School of Music
Please join the School of Music in welcoming several alumni back to the Phillip T. Young Recital Hall stage in these two upcoming concerts: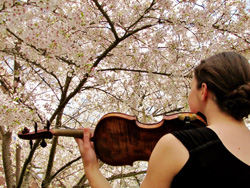 Emerging Artists Alumni Series
Friday, January 8, 8:00 p.m.
LINDSEY HERLE, VIOLIN

Lindsey Herle (B.Mus '14) showcases two famous works for solo violin: J.S. Bach's Sonata No. 1 and Niccolò Paganini's Caprice No. 17. She will also perform Jean Sibelius's Op. 47 Violin Concerto, one of the most illustrious violin concertos ever written, as well as works by W. A. Mozart and Fritz Kreisler. Lindsey with be accompanied by pianists Elfi Gluesteen and Elizabeth Clarke. Admission is by donation.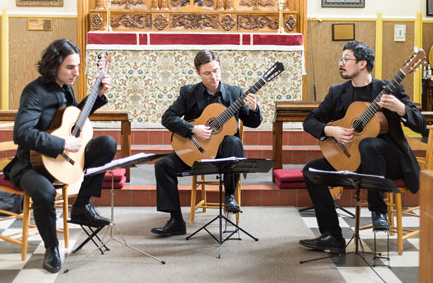 Alumni Concert Series
Monday, January 25, 8:00 p.m.
VICTORIA GUITAR TRIO
Michael Dias (M.Mus '08)
Adrian Verdejo (B.Mus '07)
Bradford Werner (BA '12)

Known for their virtuosic and captivating performances, the Victoria Guitar Trio is one of Canada's premier classical guitar trios. The trio will perform a program of exciting 20th- and 21st-Century works by West-Coast Canadian composers including premieres by Scott Edward Godin, John Mark Sherlock, and Jordan Nobles, plus works by Rodney Sharman (B.Mus '80) and Benton Roark.

This concert is made possible with generous support from the University of Victoria Alumni Association. Tickets are $15 & $10 or free for UVic Alumni with valid ONECard

Alumni News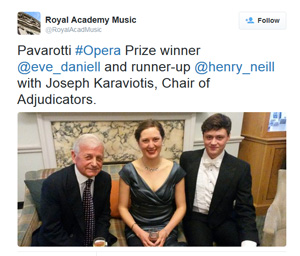 Eve Daniell (B.Mus '10) was recently awarded the Pavarotti Prize from the Royal Academy of Music in London, UK where she is currently a student of the Royal Academy Opera. The opera academy is the highest level of education in practical performance offered by the Royal Academy. Only 11-13 singers are accepted into the program each year from around the world. The Pavarotti Prize, valued at £7,000, is awarded to a student in their final year of studies, in a head-to-head singing competition to a panel of adjudicators comprised of international opera singers, musical and artistic directors.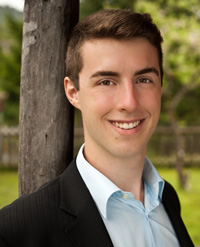 This past November tenor Josh Lovell (B.Mus '15) became a finalist in the Metropolitan Opera Auditions for Michigan and will proceed to the Great Lakes Regional Auditions on January 31 at the Detroit Opera House. Regional finalists will compete with the winners of the Buffalo/Toronto and Pittsburgh Districts. One winner will be chosen from this group of fine singers to proceed to the semi-finals in New York City in March.


Congratulations to clarinetist Shawn Earle (M.Mus '07) who recently won the position of Assistant Professor at the University of Virginia. Shawn taught clarinet at the School of Music this past semester while faculty clarinetist Patricia Kostek was on study leave.
---

Keep in Touch!

Alumni: Have an upcoming performance or CD release? A new job or news to share? Please email concert@uvic.ca with your updates.

If you'd like to fill out our alumni questionnaire, you may do so here.


---
Canadian Anti-spam Legislation
We value every one of our subscribers and hope that you continue to enjoy receiving our newsletter and calendar of events. The School of Music, University of Victoria complies with Canada'santi-spam legislation and our email list requires express consent in order to subscribe. If for any reason you no longer wish to receive updates from the School of Music, please unsubscribe here. For information about the legislation, please visit Canada's Anti-Spam Legislation (CASL) website.


e-Pulse is a regular e-newsletter for those interested in the University of Victoria School of Music events. Do you know someone who would like to know more about us? Please feel free to forward this message to a friend!
Follow us on Facebook (University of Victoria, School of Music) and Twitter (UVicMusic).
For a complete list of School of Music events, visit our online Events Calendar.