January – February 2015
---
On the Pulse

Hold the Phone: Goodbye muzak, hello Beethoven
Getting put on hold at UVic just became a bit more pleasant, thanks to School of Music professor Andrew Schloss and the Lafayette String Quartet. Tired of listening to the muzak that UVic had been using, Schloss "went on a bit of a crusade" to replace it with something that actually features the School of Music.

"It was this absolutely abominable stuff—the kind you hear when you're on hold with an airline," says Schloss. "It put me in a bad mood every time I heard it." His "crusade" to replace the music with UVic Systems took the better part of two years, but callers across campus will now hear a five-minute excerpt from a live performance of Beethoven's Opus 18 No. 3 in D Major performed by the Lafayette String Quartet. "It is Beethoven, but over the phone it actually sounds a bit like the Mexican Hat Dance," chuckles Schloss.


---
On Stage

Favourites From a Life in Music
It isn't always the most well known works of art that make the strongest impression. For School of Music professor and trumpeter, Louis Ranger, some of the music that has inspired him the most throughout his lifetime are pieces that fall a little under the radar. Ranger has thoughtfully assembled some of these works for the Faculty Chamber Music concert, Favourites From a Life in Music, on January 10. According to Ranger, a more accurate theme for the concert would be "music that I find interesting and rewarding that does not get performed frequently enough."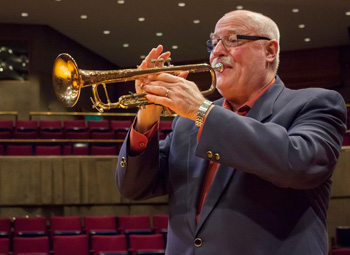 The concert marks a double milestone for Ranger—36 years of teaching at the School of Music as well as his forthcoming retirement—and features many colleagues, alumni, and current students including Benjamin Butterfield, Anne Grimm, the Lafayette String Quartet and the UVic Chamber Singers. "It is has become a bit of a tradition to honor various milestones in our colleagues' lives in our Faculty Chamber concerts," says co-head of performance and cellist Pamela Highbaugh Aloni. "Lou has been a key inspiration and leader in our faculty since I can remember. His insights as a musician, educator and member of the university community at large have so positively impacted all of us and as a faculty. We look forward to sharing an evening of music that he loves."

Works on the program include the Capricorn Concerto—Samuel Barber's homage to Bach—and Serenata by Alfredo Casella, a piece that entered Ranger's repertory in the 1960s while studying with brass players of the Boston Symphony. Ranger gives credit to the music of Igor Stravinsky as one of his primary reasons for becoming a musician, and has dedicated the majority of this program to his works, including In Memoriam Dylan Thomas, The Owl and the Pussycat, and his Mass for Mixed Chorus and Double Wind Quintet.

The concert takes place in at 8 p.m. on Saturday, January 10 in the Phillip T. Young Recital Hall (MacLaurin Building, B-Wing). Tickets are available through the UVic Ticket Centre and at the door.
---

Endowing the Gift of Music
In a concert inaugurating the Eugene Dowling Scholarship for Tuba and Euphonium, beloved brass player Eugene Dowling ties together his friendships, his musical life and his years at the School of Music and the greater Victoria community.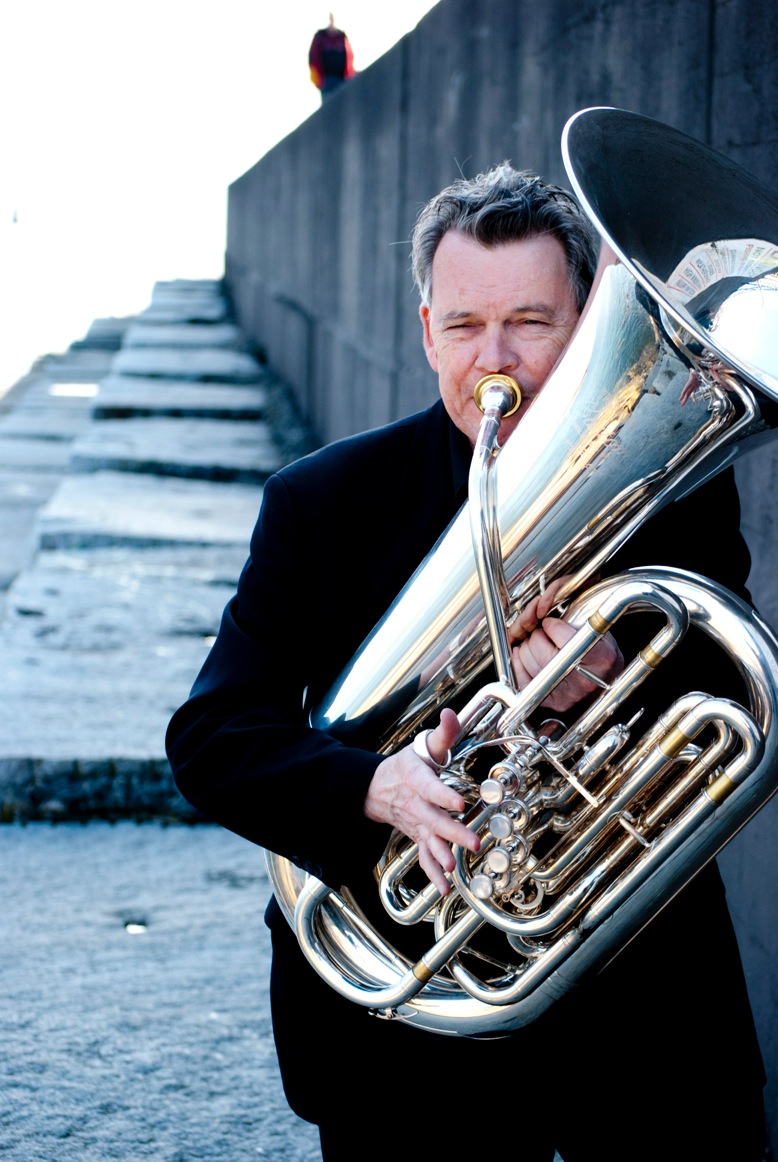 The long-time faculty member officially retired last year but continues to teach at the School at a slightly reduced workload. Dowling is currently undergoing chemotherapy for prostate cancer, a reality that has stirred him to contemplate his own mortality and examine the things that have been most important to him during his time at UVic: his love of teaching, the relationships he's developed with students and colleagues, and sharing the gifts that he had been given as a student so many years ago. "My teachers gave me a deep, beautiful gift: a love of music, an instinct for musical line and the desire to keep growing as a musician and person," says Dowling. "By starting a scholarship fund in my primary teaching area, I wish to share with future students of the instruments that I play, the same things that I have tried to pass on to my students for the past 38 years."

Dowling will be joined on stage by some of his closest colleagues, two local bands that he regularly performs with—The Bastion Jazz Ban and The Pinnacle Brass Quintet—as well as School of Music students and alumni. The program includes Scott MacInnes' Quintet No. 1—a piece he composed for his long time mentor, colleague and friend in honour of his retirement. "The piece is divided into three movements that each visits a wide-ranging spectrum of emotions," explains MacInnes. "Although saturated with sorrow, there is the ever present sense of hope and even joviality that triumphs over all else."

Joined by Ann Elliott-Goldschmid on violin and Charlotte Hall at the piano, Dowling will perform Yukiko Isomura's Spring Suite, a piece which evokes the images of greater warmth, love and hope brought about by the change of seasons. "It seemed a fitting time to play it again with these dear, beautiful friends," remarks Dowling.

The concert takes place in at 2:30 p.m. on Sunday, January 11 in the Phillip T. Young Recital Hall (MacLaurin Building, B-Wing). A reception will follow. Tickets are available through the UVic Ticket Centre and at the door. The concert will also be broadcast live from the School of Music website.

Proceeds from the concert will benefit the Eugene Dowling Scholarship for Tuba and Euphonium. If you're unable to attend this very special event, please consider making a donation to the Scholarship using UVic's secure online donation form.

Read more in this article in the Oak Bay News and on the Arsty Type blog.
---

Concerto Winner Takes Centre Stage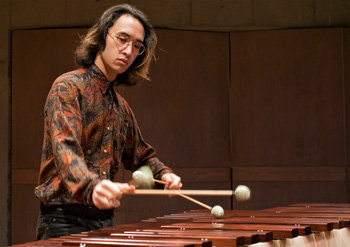 Fourth-year percussion performance major, Keenan Mittag-Degala, is gearing up for his performance of Ney Rosauro's Concerto for Marimba and Strings with the UVic Orchestra on Friday, January 30. A winner of the School of Music's annual Concerto Competition, the Seattle-born musician has a background in a variety of musical styles on multiple instruments, from jazz drums, to folk guitar, and classical piano and percussion. Here's what he had to say about his upcoming performance in an interview with School of Music Concert Manager, Kristy Farkas:


KF: What drew you to this particular concerto?
KMD: I selected Ney Rosauro's Concerto for Marimba and Strings due to its riveting motion and theatrical exploration of mood and colour. And of course, the fact that it is recognized as "the most popular marimba concerto of all time" also helped in it standing out to me.

KF: What aspects of the piece resonate most with you?
KMD: The implicit narrative that leads the piece through emotional careening is what I like most about it. I find that the entire piece evokes a cinematic experience that ceaselessly shifts. Rosauro himself describes the piece as the motions by which a person visits their lover; with each movement representing the proceeding stages of their stay. I find this wonderfully romantic and of course hope to illustrate such a warm-hearted scenario.

KF: How are you feeling about performing as a soloist with the Orchestra?
KMD: I am monumentally ecstatic to be performing this piece with the UVic Orchestra. I have performed with them for a few years now during my studies at UVic, and so the ability to now do so as a soloist is both hugely exciting as well as greatly sentimental for me.

KF: How has your experience at UVic shaped you as a musician?
KMD: My instructor, Bill Linwood, has fostered my growth in music profoundly. He has revealed very much to me about what it means to be a percussionist, performer, but most importantly a musician. Being a part of the UVic School of Music has opened my eyes to the beauty and complexity of classical and new music in a way that I know could not have happened anywhere else.

KF: You'll be finishing up your Bachelor degree this semester. Do you have any plans once you graduate from UVic?
KMD: Whatever I end up doing after graduating, it will surely involve music. Above all I hope that I can explore my desires as an artist, mostly of sound, but with as broad a scope of discipline as possible.

The concert starts at 8 p.m. on Friday, January 30 in the University Centre Farquhar Auditorium. Tickets are available through the UVic Ticket Centre and at the door. The concert will also be broadcast live from the School of Music website.
---
School of Music Thanks Patrons with Concert
The School of Music is delighted to have such on-going support from the community and concert-goers. Our annual Thank-You Concert (formerly titled the Donors Concert) is the School's opportunity to honour our donors, audience members, and guests with music drawn from all instruments of the School to highlight the impact of their support on students in all program areas.

"The School features top faculty, studio lessons, chamber groups, ensembles, and innovative courses that prepare students to be skilled musicians," describes Susan Lewis-Hammond, Director of the School of Music. "The quality of our faculty and programming gives our graduates an edge—this is all made possible by the support of a strong network of people who realize the value of music and understand what it takes for a student to realize the dream of a career in music."

All are welcome to attend this free afternoon of music at 2:30 p.m. on Saturday, February 28 featuring performances by some of the School's scholarship recipients. The concert takes place in the Phillip T. Young Recital Hall (MacLaurin Building, B-Wing).


---

Calendar Quick-fire
More event highlights for January and February:


Tuesday, January 13, 12:30 p.m. | GUEST LECTURE: Compositional Process in John Cage's Sixteen Dances (1951)
David W. Bernstein (Mills College), sheds new light on the evolving complex interplay between compositional choice and chance in Cage's music.

Wednesday, January 14, 12:30 p.m. | LIEDER AT LUNCH
An exploration of the German Lied repertoire with Sharon and Harald Krebs. The annual Unterwegs (On the Road) recital.

Saturday, January 17, 8 p.m. | The Vancouver International Song Institute (VISI) and the UVic School of Music presents ALL AROUND THE CIRCLE: An Evening of Lieder and Song, a VISI fundraiser featuring tenor Benjamin Butterfield, baritone Tyler Duncan, soprano Martha Guth, and pianists Erika Switzer & Laura Loewen.

Saturday, January 24, 8 p.m. | FACULTY CONCERT: Michelle Mares, piano
With Mark Anderson (UBC), piano. Performing Brahms' piano duos Variations on a Theme by Haydn and his Sonata in F minor.

Friday, January 30, 8 p.m. | UNIVERSITY OF VICTORIA ORCHESTRA
Keenan Mittag-Degala, marimba (UVic Concerto Competition winner) performs Ney Rosauro's Concerto for Marimba and Strings.

Monday, February 2, 8 p.m. | GUEST CONCERT: Milton Schlosser, piano
Noted pianist and award-winning music professor, Milton Schlosser, performs works by Beethoven, Debussy, Rzewski, Schlosser, and Skryabin.

Tuesday, February 3, 8 p.m. | LECTURE-RECITAL: Red Cross Nell and Khaki Jim: The WWI Songs of Gordon V. Thompson
Theory instructor Dr. Laurel Parsons shares the hit WWI songs written by her grandfather and successful Canadian publisher, Gordon V. Thompson. With soprano Anna Shill (MMus '13) and others.

Wednesday, February 4, 7 p.m. | ANNUAL SOLO BACH COMPETITION
Featuring the solo suites and sonatas by J.S. Bach performed by UVic string students.

Friday, February 6, 12:30- 4 p.m. | WEST COAST STUDENT COMPOSERS SYMPOSIUM
An annual meeting of student composers from the UBC, SFU, and UVic. Three concerts showcase composers and performers from each institution.

Friday, February 6, 8 p.m. | UNIVERSITY OF VICTORIA WIND SYMPHONY
Performing Johan de Meij's Symphony No. 1: The Lord of the Rings.

Saturday, February 7, 8 p.m. | FACULTY CONCERT: Lafayette String Quartet
Performing works by Mozart, Coulthard, and Beethoven.

Monday, February 16, 4 p.m. | GUEST LECTURE: How We Got Here: some notes on six decades of sound art exploration
Composer David Behrman (New York) discusses changes in the nature and sensibility of works by him and his colleagues as the 20th Century gave way to the 21st.

Saturday, February 21, 8 p.m. | FACULTY CONCERT: 19th-century Women Composers of Song Featuring the UVic Chamber Singers, faculty and alumni of the School of Music, and faculty of the Victoria Conservatory of Music. Part of the Workshop in Celebration of the 200th Birthday of Josephine Lang (Feb 21-22)

February 25 to 27 | BANDFEST 2015
A non-competitive festival for concert bands featuring thirty ensembles from the Pacific Northwest.

Friday, February 27, 8 p.m. | FACULTY CONCERT: Bruce Vogt, piano
Piano virtuoso, Bruce Vogt, performs works by Mozart, Liszt and Schubert.


A complete list of School of Music events can be found on our website.
---
Beyond UVic


News on School of Music Alumni



From UVic and Back Again
The School of Music welcomes several alumni back to the Phillip T. Young Recital Hall stage in two concerts this January.

Our Emerging Artists Alumni Series presents Trio Dolce, featuring clarinetist Shawn Earle (M.Mus '07), cellist Laine Longton (B.Mus '10), and pianist Clare Yuan (B.Mus '06) at 2:30 p.m. on Saturday, January 17. The three musicians connected at the University of British Columbia—where they are currently DMA candidates—and formed Trio Dolce in the spring of 2014.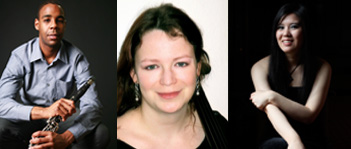 The concert program was inspired by Brahms' Trio in A minor. "Our ensemble wanted to play this monumental piece and worked the other pieces around it," explains Earle. "Rota's Trio for clarinet, cello, and piano is Neo-romantic and compliments the serious tone of the Brahms trio. As well, keeping with the theme of romanticism, Beethoven's Trio in B-flat major Op. 11 seemed to balance the other two works in length, craft, and light-hearted sentiment."

Since graduating from UVic, each of the members of Trio Dolce have gone on to further their education in music and have active schedules performing and teaching. Read more about their accomplishments on our website.

On Thursday, January 29 at 8 p.m., one of BC's finest ensembles, the Emily Carr String Quartet, will perform an adventurous—and somewhat dark—program of music all composed after 1960.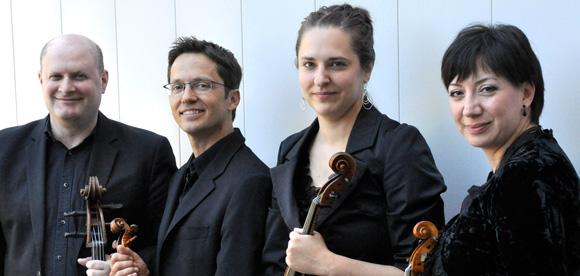 The Quartet features Victoria residents Müge Büyükçelen and Cory Balzer (violins), violist Mieka Michaux (B.Mus '98) and cellist Alasdair Money (M.Mus '03), core performers in many of the region's leading ensembles including the Galiano Ensemble, Victoria Symphony, and the Aventa Ensemble.

On the program is Warblework by School of Music alumna and award-winning composer Cassandra Miller (B.Mus '05). "The first movement is actually an arrangement of a fiddle tune written by Canadian fiddler Zav RT (previously known as Jaime Rokeby-Thomas) who is also a UVic alumna," explains Miller. "The remaining movements are based on birdsongs—thrushes in particular—whose songs whistle up and down the harmonic series, making very human-like melodies when slowed down."

George Crumb's eerie and atmospheric Black Angels is also on the program. Subtitled "Thirteen Images from the Dark Land," and inspired by the Vietnam War, the piece is written for "electric string quartet." The score calls upon the musicians to play their instruments in many unusual ways—including trilling on the strings with thimble-capped fingers—as well as to whisper, chant, shout, and employ percussion instruments such as maracas, tam-tams, and water-tuned crystal goblets.

The ECSQ will also perform Dimitri Shostakovich's String Quartet No. 7 in F sharp minor, written in 1960 as a tribute to his first wife, Nina, who died in 1954, as well as Tenebrae by Osvaldo Golijov, which the composer describes as music "full of pain."

Tickets for this concert are available through the UVic Ticket Centre and at the door. All UVic Alumni (with valid ID) are invited to attend the concert for free.


---

Keep in Touch!

Do you have some news that you'd like to share for our newsletter or website? Need to update your contact information? Please email concert@uvic.ca.

If you have yet to fill out our alumni survey, please do so here.


---
Canadian Anti-spam Legislation
We value every one of our subscribers and hope that you continue to enjoy receiving our newsletter and calendar of events. The School of Music, University of Victoria complies with Canada's new anti-spam legislation and our email list requires express consent in order to subscribe. If for any reason you no longer wish to receive updates from the School of Music, please unsubscribe here. For information about the legislation, please visit Canada's Anti-Spam Legislation (CASL) website.


e-Pulse is a regular e-newsletter for those interested in the University of Victoria School of Music events. Do you know someone who would like to know more about us? Please feel free to forward this message to a friend!
Follow us on Facebook (University of Victoria, School of Music) and Twitter (UVicMusic).
For a complete list of School of Music events, visit our online Events Calendar.