January–February 2014
---
On the Pulse

Vikes Nation Rally Song finalists debut Jan 10
Thanks to 18 submissions from across campus—including entries by students, faculty and administration alike—the School of Music / Vikes Nation fall Rally Song contest can definitely be considered a hit. "I'm delighted with the quality and creativity shown in all of the entries for the Rally Song contest," says School of Music director Susan Lewis Hammond. "The three finalists offer up great lyrics and catchy tunes to cheer on the Vikes."

Entries ran the gamut from rap and rock to cheers and chants, and have been culled down to a top-three list of finalists. It's now up to the judging panel—UVic President Jamie Cassels, Director of Athletics Clint Hamilton, gold medal-winning Vikes athlete Kendra Pomfret and Lewis Hammond herself—to select the winner at the Vikes Days of Thunder men's basketball game on Friday, January 10.

But before the winner is announced, each finalist song will be performed live by top School of Music voice student and rising opera star Josh Lovell, and the UVic Jazz Ensemble, led by Jazz professor Patrick Boyle. Be sure to attend the game to find out who's going to win an iPad for their original song, and to cheer on your personal favourite.

Regardless of who wins, the Rally Song contest proved to be an interdisciplinary success, thanks to a partnership between two UVic faculties—Fine Arts and Athletics—that haven't traditionally done much work together. Here's to more collaboration in the future!

For the full story, visit the Artsy Type blog.
---

Berlin Philharmonic comes to Victoria…digitally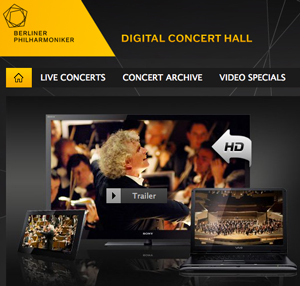 The Berlin Philharmonic, founded in 1882, has a reputation as one of the top orchestras in Europe. In 2009 the orchestra went online with the Digital Concert Hall, a platform that enables subscribers all over the world to enjoy the Philharmonic's concerts both live and on demand. The School of Music is pleased to host a series of broadcasts from their acclaimed venue, the Berliner Philharmonie, this semester. All broadcasts, free to attend, are open to the public and start at 11:00 a.m. in Rm. B037 of the MacLaurin Building B-Wing.

Saturday, January 11 (Live)
Semyon Bychkov conducts Mozart's Piano Concerto in G major K. 453 and Shostakovich's Symphoy No. 11 in G minor "The Year 1905." With Menahem Pressler, piano.
Saturday, January 25 (Live)
Zubin Mehta conducts Webern's Six Pieces for Orchestra Op. 6b, Beethoven's Emperor Concerto, and Ein Heldenleben by Strauss. With Rudolf Buchbinder, piano.
Saturday, March 8 (From the archive)
Sir Simon Rattle conducts Brahms's Symphony No. 3 in F major, Debussy's La Mer, and a new commission by Georg Friedrich Haas.
Saturday, March 29 (From the archive)
Sir Simon Rattle conducts J.S. Bach's St. John Passion. Peter Sellers, staging.
---
On Stage

Song of the Earth: A Week with Gustav Mahler
The School of Music pays tribute to the late-Romantic Austrian composer, Gustav Mahler with a week-long festival from January 6 to 11.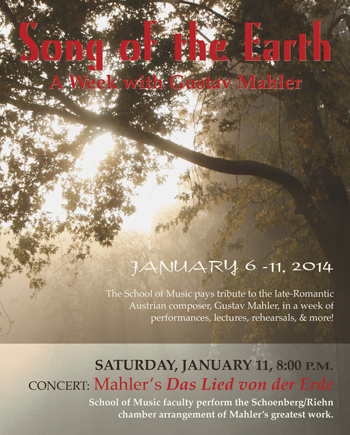 It is often in times of hardship that great works of art are inspired. In 1907, the late-Romantic Austrian composer, Gustav Mahler, lost his daughter to scarlet fever, was diagnosed with a dangerous heart condition, and gave up his longstanding directorship of the Vienna Court Opera. The following year, Mahler composed Das Lied von der Erde (Song of the Earth), considered by many to be his most significant work.

On Saturday, January 11, the School of Music will conclude a special Week with Gustav Mahler with a performance of this profound work. Originally penned as "A Symphony for Tenor and Alto (or Baritone) Voice and Orchestra," an ensemble of School of Music faculty, with a few alumni and guests, will treat the audience to a chamber arrangement—begun by Arnold Schoenberg and completed in the 1980s by the German composer Rainer Riehn—for woodwind quintet, string quintet, keyboards (harmonium, piano and celeste) and percussion. The concert "highlights our performance faculty and most importantly, the School's continuing commitment to chamber music, in performance and in instruction," explains Alexandra Pohran Dawkins, oboist and producer of the event. "This is a significant event in the life of the School of Music," says Pohran Dawkins, one of a strong number of full-time world-class performance faculty—the most at any university in the country—at UVic.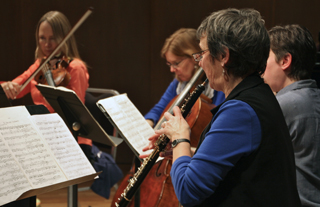 Prominent tenor and UVic Music faculty, Benjamin Butterfield, has been collaborating with Pohran Dawkins on the event. "I never thought I would sing [Das Lied von der Erde] in my life but I feel particularly privileged to have recorded it two summers ago at Yellow Barn Chamber Music Festival in Vermont with my friend Bill Sharp," says Butterfield, "It therefore seemed logical to push for performing it at UVic." Butterfield is delighted to sing alongside friend and colleague, baritone Nathanial Watson (Montreal).

While the concert is the main event, the lead-up to January 11 will include open rehearsals, lectures provided by Associate Professor Dániel Péter Biró and President's Distinguished Scholar Harald Krebs, an orchestral reading of Mahler's Symphony No. 4, conducted by Ajtony Csaba and "Mahler Re-Imagined", an open class of Pohran Dawkins' improvisation course during which students will improvise on fragments of Mahler's work. There will also be a Listening Room featuring archived broadcasts from the Berlin Philharmonic's Digital Concert Hall of performances of Mahler's work, as well as online presentations and interviews by noted Mahler scholars. All of these events are open to the public.

Tickets for the January 11 concert are $17.50 & $13.50 from the UVic Ticket Centre (250-721-8480 or online) and at the door.

A complete schedule of A Week with Mahler events as well as an audio clip from Butterfield's Yellow Barn performance is available on the School of Music website.

Further coverage of the event, including interviews with Sandra Pohran Dawkins and Benjamin Butterfield, can be found in this Times Colonist article.
---
Wind Symphony joins forces with the Naden Band
The Naden Band of the Royal Canadian Navy has been an important part of naval tradition on the West Coast since 1940 and the School of Music has a long-standing relationship with the group. Many of our alumni have served as members of the ensemble and in 1994 the Naden Band of Maritime Forces Pacific Scholarship in Music Performance was established.

The band, currently under the direction of Lieutenant (Navy) Matthew Clark, will join the University of Victoria Wind Symphony on February 7 in a concert supporting this valuable scholarship, awarded annually to second and third year School of Music students who demonstrate excellence in brass, woodwind and percussion performance.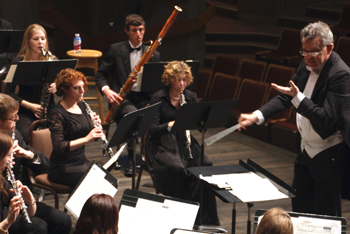 The School of Music's Eugene Dowling will be conducting the concert, which will bring back to the Farquhar Auditorium stage bassoon soloist Petty Officer Second Class Robyn Jutras. "Although musicians in the Naden Band are from all over Canada, alumni from the UVic School of Music make up ten percent of their current membership," says Dowling. "It is wonderful that our featured soloist, Robyn Jutras, was not only trained at UVic, but was a past recipient of the Naden Band Scholarship!" Many members of the Naden Band continue to collaborate with School of Music faculty and students in chamber music and other projects but this is the first joint concert between the two groups. Featured works on the program include David Maslanka's massive Symphony No. 8 and Eric Ewazen's Concerto for Bassoon. Other composers represented include Canadian composer Alan Gilliland, Nebojsa Macura and Nathan Tanouye.

The School of Music is grateful for all of the scholarship money that assists students to complete their education, and Dowling's hope with this concert is to expand the scholarship opportunities for young woodwind, brass and percussion musicians, whose pool of funds is less abundant than the resources available to some of the other instrument groups.

"The wonderful thing about working with young people is their capacity for growth," says Dowling. "Each concert gets better than the last and they are tremendously excited about performing with a professional wind group of the caliber of the Naden Band, one of the finest groups of its kind in Canada."

Local critic, Deryk Barker had nothing but praise for the UVic Wind Symphony's October 4th concert, A Celebration of British Wind Music. He admired the "marvelously crisp percussion," the "gloriously bubbling flute and clarinet passages" and "the sheer quality and exuberance of [the] performance - both conducting and playing." Overall, he rated the concert as "Superb...an excellent performance..."

With both bands taking the stage, "February 7 will be a night to remember," promises Dowling.

Tickets ($14 & $12) are available at the UVic Ticket Centre (250-721-8480 or online) and at the door. Complimentary tickets are available for UVic students with valid ID, if reserved in advance. Tickets are $5 for UVic students at the door. $5 tickets are available for students in grade 12 or under if reserved up to 48 hours in advance and accompanying parents & guardians also qualify for $5 pricing.
---

Calendar Quick-fire
Event highlights for January and February:

January 6-11 | SONG OF THE EARTH: A WEEK WITH GUSTAV MAHLER
The School of Music pays tribute to the celebrated late-Romantic Austrian composer, Gustav Mahler, in a week of special lectures, rehearsals, listening sessions and a performance of his greatest work, Das Lied von der Erde on January 11.

Wednesday, January 8, 8:00 p.m. | GALIANO ENSEMBLE: European Gems
Performing Joseph Suk's Meditation on an old Czech Chorale St. Wenceslas, Serenade Op. 2 by Polish composer Mieczys?aw Kar?owicz, and Arnold Schönberg's haunting early masterpiece Verklärte Nacht.

Sunday, January 12, 2:30 p.m. | FACULTY CONCERT: Eugene Dowling, tuba
With Michelle Mares, piano and the Pinnacle Brass Quintet
A mostly Canadian concert with works by Barbara York, Elizabeth Raum, Oskar Morawetz, David L. MacIntyre, Murray Adaskin, André Previn and Malcolm Arnold.

Wednesday, January 22, 12:30 p.m. | LIEDER AT LUNCH: Hollywood Elegies
An exploration of the German Lied repertoire with Sharon and Harald Krebs. The Hollywood Elegies of Hanns Eisler and Bertolt Brecht. Bring your lunch!

Friday, January 31, 8:00 p.m. | UVIC ORCHESTRA: Don Joy
Performing Mozart's Overture to Don Giovanni, Strauss's Death and Transfiguration, Op. 24 and Ravel's Piano Concerto in G Major, with soloist Barry Tan, piano, UVic Concerto Competition winner. With Ajtony Csaba, conductor.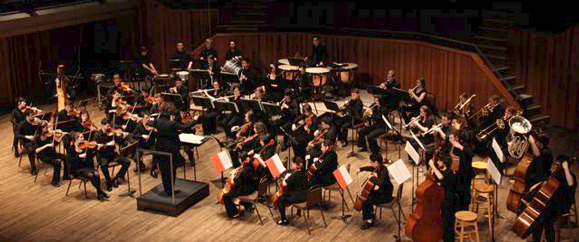 Saturday, February 1, 8:00 p.m. | FACULTY CONCERT: Lafayette String Quartet
With guests Yariv Aloni, viola and Alexander Tselyakov, piano
The School of Music's beloved string quartet perform the Dvo?ák String Quintet in Eb, Op. 97 and Shostakovich Piano Quintet, Op. 57.

Wednesday, February 5, 6:00 p.m. | ANNUAL SOLO BACH COMPETITION
Featuring the solo suites and sonatas by J.S. Bach performed by UVic string students. The jury will elect three prizewinners and the audience has the opportunity to vote for the Audience Prize.

Friday, February 7, 8:00 p.m. | UVIC WIND SYMPHONY
The Naden Band of the Royal Canadian Navy under the direction of Lieutenant (Navy) Matthew Clark joins the UVic Wind Symphony in a concert supporting the Naden Band Scholarship in Music Performance. Featured works include Symphony No. 8 by David Maslanka and Eric Ewazen Concerto for Bassoon with UVic alumna Petty Officer Second Class Robyn Jutras. With Eugene Dowling, conductor.

Thursday, February 20, 8:00 p.m. | AVENTA PRESENTS: Eve Egoyan, piano
UVic School of Music alumna, Eve Egoyan, a concert pianist dedicated to the performance of new works, plays Tenney, Hellawell, Catlin Smith, and Finnissy. Pre-concert talk at 7:15 p.m.


A complete list of School of Music events can be found on our website.
---
Beyond UVic


News on School of Music Alumni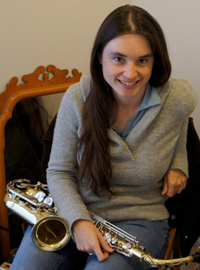 Amy Simon (MMus '06) is scheduled to perform this year with the Shen Yun Performing Arts Orchestra on their tour through the northeastern U.S., Canada, and Europe (14 cities including Prague, Vienna, Berlin, and Paris). The sensational, highly praised production features classical Chinese dance, full orchestra, traditional costumes, and animated backdrops. Simon previously toured Canada and Europe as principal clarinet with the Orchestra in 2007 and 2008. She is currently a Ph.D candidate at York University, researching performance techniques on flute and reed instruments from Asia. Simon has taught privately for several years in Toronto, Charlottetown and Victoria, and has been teaching at the Snider School of Music in Toronto since 2006. She has also been a band camp clinician in Charlottetown and a flute class teaching assistant at York University.


Clarinetist Liam Hockley (BMus '11) and pianist and vocalist Tony Booker (MMus '84) are teaming up with several musicians in an all-Gershwin concert on January 12 at The Old School House Arts Centre in Parkville, BC. Gershwin Galore will showcase a diverse range of numbers, from classical to jazz, by brothers George and Ira Gershwin. Further details are available from this recent preview in the Parkville Qualicum News.


---
e-Pulse is a regular e-newsletter for those interested in the University of Victoria School of Music events. Do you know someone who would like to know more about us? Please feel free to forward this message to a friend!
Follow us on Facebook (University of Victoria, School of Music) and Twitter (UVicMusic).
For a complete list of School of Music events, visit our online Events Calendar.