UVic Music e-Pulse February 2017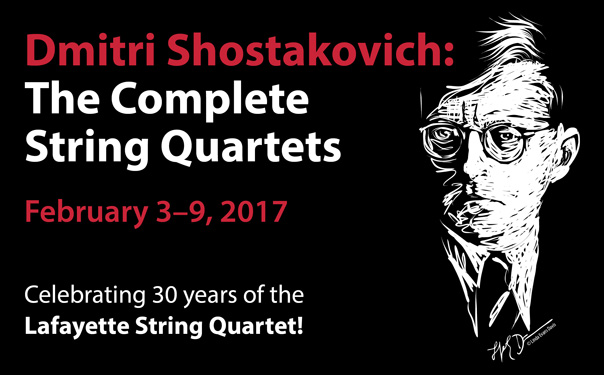 Playing it forward
The Lafayette String Quartet present all 15 Shostakovich String Quartets
in celebration of their 30th anniversary and in honour of their mentor,
Rostislav Dubinsky.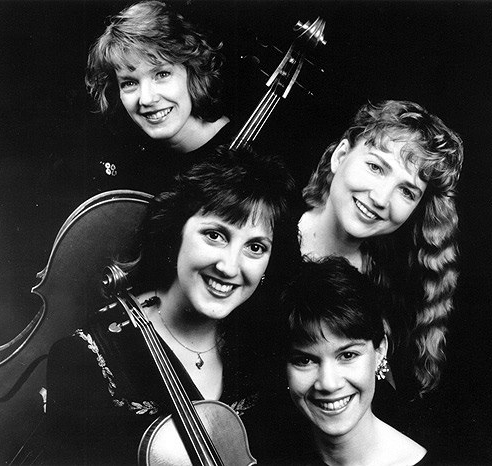 Learning an instrument is largely guided by oral (and aural) tradition. From one generation to the next, teachers pass along the skills and techniques instilled in them by their mentors. In recognition of their 30th anniversary as a quartet, and in honour of their mentor, Russian violinist Rostislav Dubinsky, the Lafayette String Quartet will perform all 15 string quartets by 20th century Soviet composer Dmitri Shostakovich. Over the course of five concerts from February 3–9, UVic's beloved quartet-in-residence, featuring violinists Ann Elliott-Goldschmid and Sharon Stanis, violist Joanna Hood, and cellist Pamela Highbaugh Aloni, will perform the complete cycle in chronological order. Delve deeper into the life and music of Shostakovich with pre-concert talks and a symposium on Feb. 5 presented by some of the most distinguished musicologists on the subject.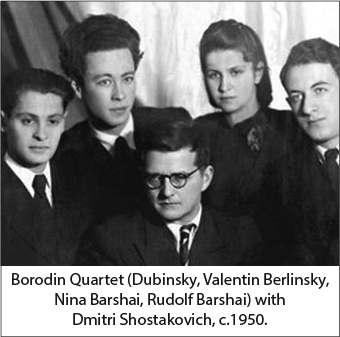 As graduate students at Indiana University, members of the LSQ were coached by Dubinsky, founder of the famed Borodin Quartet. With a reputation as one of the world's most exceptional chamber groups, the Borodin is credited with introducing Western audiences to the quartets of Shostakovich, the composer with whom the ensemble was most closely identified. The Borodin Quartet had the unique opportunity to work directly with Shostakovich. Dubinsky was a member of The Borodin Quartet for over 30 years with whom he performed 13 of the 15 Shostakovich quartets before emigrating to the west in 1976.
The LSQ credits Dubinsky as its "musical father" who continued to support and encourage them until his death in 1997. Dubinsky introduced the LSQ to Shostakovich's 3rd and 8th quartets as well as his Piano Quintet, which they performed with their mentor and his wife, pianist Luba Edlina Dubinsky, in a Russian Music Festival New York. "Studying with Dubinsky transformed the way we play Shostakovich," says LSQ violist Joanna Hood. "His style of teaching — his use of the bow, concept of sound, the way the quartet works together — came from a tradition passed on from his previous generation," recalls Hood. She says the techniques became so ingrained in them that they are now automatic.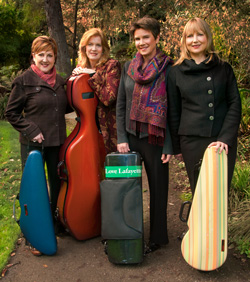 In his honour, the Quartet continues to pass on what they've absorbed through Dubinsky's intense and rigorous coaching. "We have a unique contribution to these quartets," says Hood. "It's important to us that we pass this down to our students and share it with our audiences."
While a massive undertaking for the performers as well as a significant commitment for any listener, "hearing all of the quartets in the order they were composed is a great way to experience Shostakovich's journey," remarks Hood. Shostakovich's cycle of quartets documents the artist's life during an important period of history, and spans his compositional career from the late 1930s until his death in 1975. His creative life was profoundly influenced by Soviet communism and the Cold War, two factors that dictated and regulated intellectual freedom in Russia. Shostakovich was denounced twice before joining the Communist Party in 1960. It is around this time that his health began to deteriorate and a preoccupation with his own mortality began to permeate his work. "There is a noticeable optimism in his earlier quartets but an element of sadness and stoicism throughout the cycle," describes Hood.
For a detailed schedule of concerts and pre-concert talks, visit the Lafayette String Quartet's website. The LSQ will also perform the complete cycle in April at the Music Room in Kitchener-Waterloo and are bringing select quartets to schools on the mainland and in Seattle.

TICKET INFO
Individual Tickets: $25 | 5 Concert Pass: $100
Tickets available from the UVic Ticket Centre (Located in the University Centre)
In Person: 9:30 a.m. to 4:00 p.m. Monday to Friday
Phone: 250-721-8480
Online (individual tickets only)

All concerts will also be broadcast on Listen! Live
To see this newsletter as a web page go to https://finearts.uvic.ca/music/events/e-pulse/epulse_Feb_2017.html
e-Pulse is a regular e-newsletter for those interested in the University of Victoria School of Music. If you no longer wish to receive this newsletter, click here and enter your address and click Un-Subscribe. A confirmation message will be emailed to you. You can also reply to this message to confirm that you want to be removed from this mailing list.
Follow us on Facebook (University of Victoria, School of Music) and Twitter (UVicMusic).
For a complete list of School of Music events, visit our online Events Calendar.