!FACOMMENT "This is the comment that comes from a search engine"> <!FAKEYS "these are words that a search engine looks for">
The University of Victoria Chamber Singers
1998/99 - Season - 18 concerts
(Click for South East Asia Tour page) -------- (Click for video clip of Taipoo, China concert)
(Click for sound clip of "Soir sur la plaine")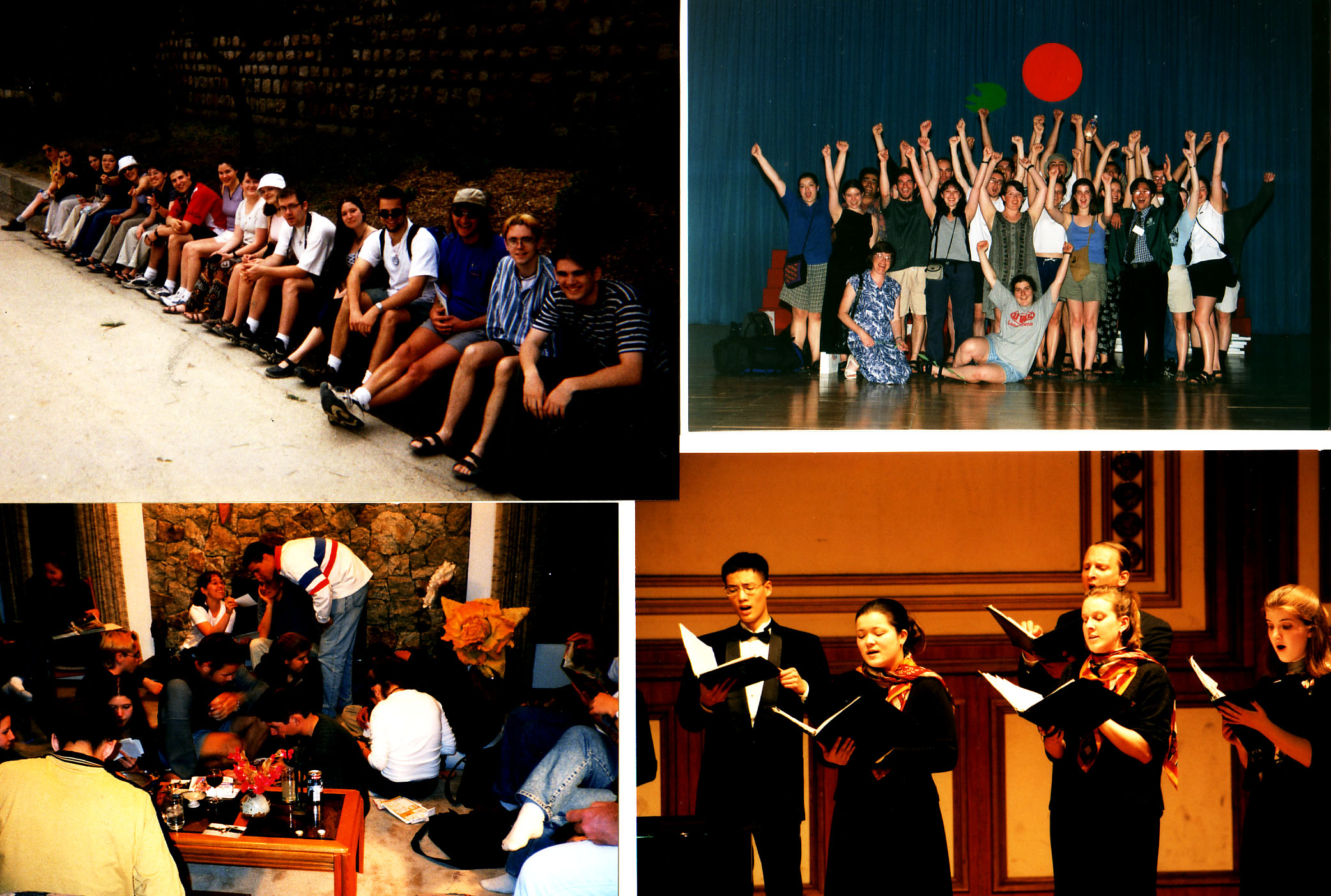 Ewing, Shannon
McVie, Jennifer
More, Alexis
Mueller, Odessa
Quist, Sara
Reckenberg, Marnie
Silsbe, Anne
Tarnow, Haley
Winters, Leah
Yates, Lexa
Bardua, Erin
Black, Roslyn
Clar, Bobbi
Grant, Deborah
Matsumaru, Karen
Nicholson, Maureen
Tennant, Carrie
Truemner, Tricia
Cook, Jesse
Dyck, Mark
Goward, Owen
Hogg, Daniel
Joyce, Michael
Neville, Darryl
Noble, Wade
Sequeira, Felipe
Schill, Jarrett
Bartle, John
Bergen, Dallas
Cormier, André
Knoles, Rick
Kwan, Robert
Peaker, Hugh
Peters, Shawn
Robinson, Graham
Specht, Graham
Yee, Jonathan,
Programmes & Repertoire
98/10/24 - Villa Lobos: Choros #3
98/11/6 - Unicentre w. Prima - Bach: Magnificat, V.Williams: 3 Shakespeare Songs
98/11/8 - Theatre Dept. Shakespeare Festival - V. Williams as + Serenade to Music
98/12/4 - Frinoon - V. Williams as + Britten: Ceremony, Paynter: The Rose, Carols: Caroling, Caroling; Bethelehemu, Venez
98/12/11 - Madrigal Dinner - Faculty Club
99/1/29 - School Gala - Tedesco: Romancero Gitano
99/3/13 - St. Mary's Metchosin: Crucifixus, Il est bel, Zion, Le chant, 3 Shakespeare, Ceremony, Rose, Mtn. Nights, Li Ching , Salish Song, Epitaph for Moonlight, Feller from Fortune
99/4/3 - St. Aidans: as.. except Romancero for Ceremony.
99/4/26 -> 5/18 - Asia Tour: as. plus Cho & Kim songs, Nodle, Minoi, Pastoral song, Schweelo & Lord.
99/04/27 Hanyang University
99/04/29 Duksung University
99/05/02 Yonsei University
99/05/04 Kwangjiu Seminary
99/05/07 Siam City Hotel, Bangkok
99/05/11 Grand Theatre, Shenzen
99/05/12 New Century School, Don Guan City
99/05/13 Municipal Theatre, Dong Guan City
99/05/14 Academy for the Performing Arts, Hong Kong
99/05/16 Cultural Centre, Hong Kong
99/05/17 Hong Kong Institute for Education
99/6/1 - David Willcocks Concert: University Centre Auditorium Stanford: 3 Motets, Gabrielli -Jubilate, Schutz - Psalm 100, Romancero, Epitaph.