!FACOMMENT "This is the comment that comes from a search engine"> <!FAKEYS "these are words that a search engine looks for">
The University of Victoria Chamber Singers
1988/89 - Season - 23 concerts
(click for Australia - New Zealand page) ------------(Click for sound clip of "Lorca Suite")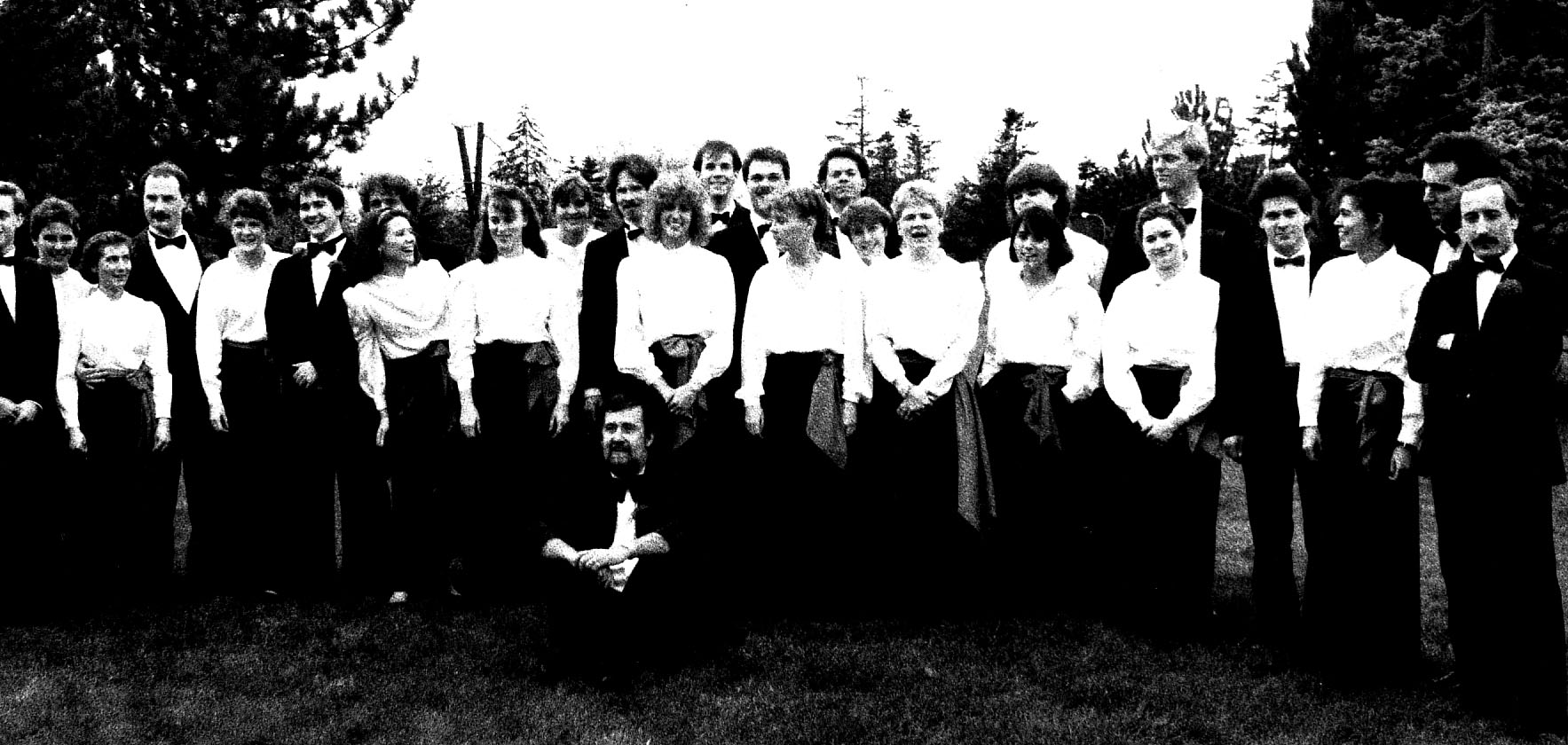 Bertz, Rasma
Girvan, Allison
Mang, Karen
Meyers, Christi
Planje, Elizabeth
Wiltse, Karen
Garry, Maureen
Halbert, Glynis
Shumka (Pattullo), Karen
Selby, Heather
Unger, Anne
Badel, Bryn
Innes, Kevin
MacDonald, Don
Norton, Simon
Plant, Bill
Laudadio, Michael
MacIver, James
Noble, Wade
Oberhoffner, John
Patterson, James
Unger, Ron
Programmes & Repertoire
88/04/06 Recital Hall RCCO - as Lorenzani, Janequin, Archer, Mercure, Boulanger, Bernstein. 88/11/16 . Parklands HS Somers: Gloria, Pachelbel: Magnificat, Wessman: Vesy, Gloria in cielo, Agricola: Weinachtsgesan, Rorem: the Oxen, Paynter: the Rose, Bernstein: French Choruses, Lord - I know I been changed. 88/11/16 Stelly's HS 88/12/02 . Recital Hall Somers: Gloria, Pachelbel: Magnificat, Weelkes: As Vesta, Morley: the Lady Oriana, as Agricola, Rorem, Paynter, Poulenc: Soir de Neige, Dawson: Aina that good news. 88/12/06 U. Centre More: Prologue, as Poulenc, Agricola, Paynter, Lord I Know. - with Victoria Arts Collab. 89/02/12 Chanteclere Elizabethan Dinner 89/03/12 Dunsmuir Lodge President's Club 89/03/27 Dunsmuir Lodge Renaissance Conference. 89/03/31 . Recital Hall Byrd: Gloria, Schein: Zion, Monteverdi: Ardo Avampo, Cornyshe: Ah Robin, Ravenscroft: He that, Gibbons: London Street Cries, Gesualdo: Invan, Dolcissima, Rautavarra: Suite de Lorca, Schafer: Epitaph, Chatman: Due North.
89/04/01 Metro U. as 03/31. - See tape: Mostly Canadian 89/15/12 Steveston HS as 03/31 plus Weelkes, Boulanger: Soir sur la Plaine, Poulenc, Pastoral Song, Lord- I know
89/05/16 Honolulu Kamehameha Schools 89/05/16 Honolulu St. Andrews Cathedral 89/05/19 Melbourne Wesley College - Three concerts on the three campuses 89/05/22 Brisbane 4 - 15 minute shopping mall concerts. Evening concert at Queensland Conservatorium. 89/05/25 Nelson, NZ Cathedral 89/05/26 Wellington Victoria University, Wellington, School of Music. 89/05/27 Lower Hutt St. James Cathedral. 89/05/28 Napier Napier Cathedral 89/05/29 Hastings NZ Woodford House School 89/05/30 Hamilton NZ Noon concert at U. of Waikato. 89/06/01 Auckland St. Matthews Cathedral 89/06/02 Auckland U. of Auckland Chapel - Noon.