!FACOMMENT "This is the comment that comes from a search engine"> <!FAKEYS "these are words that a search engine looks for">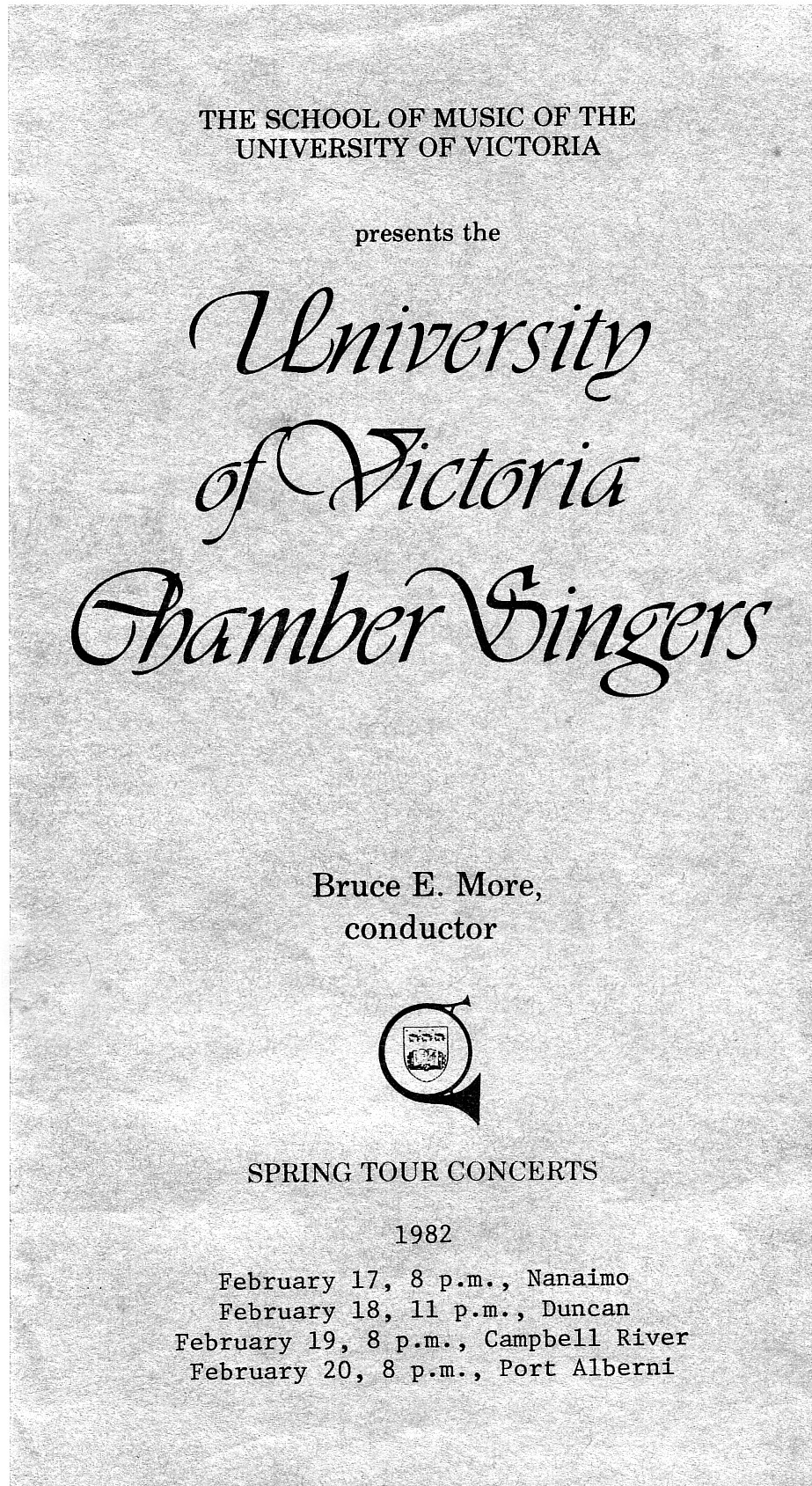 The University of Victoria Chamber Singers
1981/82 - Season - 7 concerts
Curran, Ruth
Graham, Anne
Hak, Brenda
MacIntyre, Catherine
MacIsaac, Elizabeth
Riediger, Carol
Chaplain, Nicole
Houlden, Jane
McLean, Joan
Morris, Anne
Salmon, Lori
Churchley, Joh
Leung, Simon
Millard, David
Reese, Paul
Thompson, Kevin
Langley, Michael
Nickoli, William
Howell, David
Travers-Smith, David
Stevenson, David
Programmes & Repertoire

81/10/23 U. Center Bartok: Ne Hagy itt/ Kamaradi moji/ Ej, posluchatje malo/ Igszag - Igezo/ (Four Slovak Folk Songs) - Zadal Mamka/ No Holi/ Rada pila/ Gajdutje, gajdence.
81/12/04 125 Praetorius: Gott der Vater, Blow: Salvator Mundi, Esterhazy: Ascendit Deus, Beethoven: Elegischer Gesang, Britten (Five Flower Songs) - To Daffodils/ Succession/ Marsh Flowers/ Evening Primrose/ Balad of Green Broom.
82/02/17 Nanaimo Janequin: Mille Regretz/ Le Chant des Oyseaux, Praetorius: as, Blow: as, Esterhazy: as, Bach: Magnificat in D, Beethoven: as, Stravinsky: Cantata/ Mass/ The Dove Descending, Bartok: as, Baker: Chinese Love Lyrics, Britten: as.
82/02/18 Duncan 82/02/19 Campbell R. 82/02/20 Port Alberni 82/04/02 125 Stravinsky: Cantata/ The Dove Descending/ Mass.