Quartet Fest West: Gala Concert
Wednesday, July 5 @ 7:00 pm

-

9:00 pm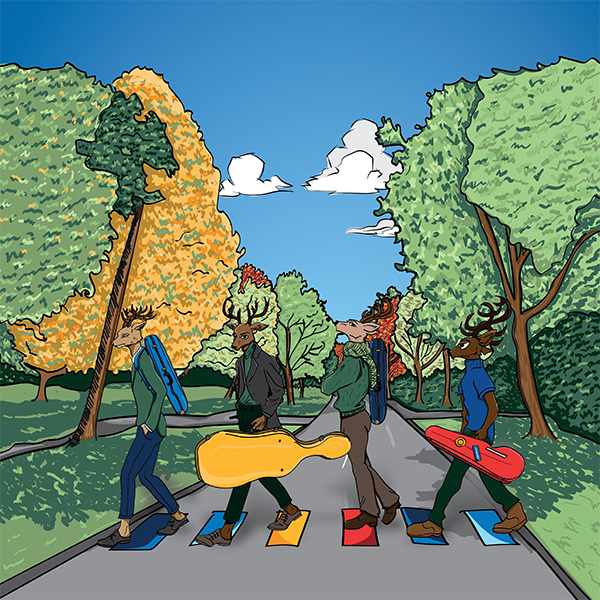 Don't miss this gala concert featuring the Lafayette, Penderecki, and Bellas Artes (formerly Chroma) String Quartets along with Quartet Fest West participants! The program will include octets by Murray Adaskin, Dmitri Shostakovich and Felix Mendelssohn, plus Johannes van Bree's Allegro for FOUR quartets.
Quartet Fest West runs from June 26-July 8 and offers an in-depth study of great chamber music literature with the world-renowned Lafayette String Quartet on the beautiful University of Victoria campus.
---

ABOUT THE ARTISTS
Formed in 1986 in Detroit, the Lafayette String Quartet still comprises its four original female members, a distinct rarity in the classical music world. All members of the LSQ have taught and performed at the UVic School of Music for over 32 years. With more than a dozen albums and a thousand appearances worldwide behind them, the LSQ will retire as an ensemble ­— 2022/23 marks their final season.
The Penderecki String Quartet, approaching the third decade of an extraordinary career, has become one of the most celebrated chamber ensembles of their generation. These four musicians from Poland, Canada, and the USA bring their varied yet collective experience to create performances that demonstrate their "remarkable range of technical excellence and emotional sweep" (Toronto, Globe and Mail). Their recent schedule has included concerts in New York (Weill Hall at Carnegie Hall), Amsterdam (Concertgebouw), Los Angeles (REDCAT at Disney Hall), St. Petersburg, Paris, Prague, Berlin, Rome, Belgrade, Zagreb, Atlanta, as well as appearances at international festivals in Poland, Lithuania, Italy, Venezuela, Brazil, and China. The PSQ champions music of our time, performing a wide range of repertoire from Haydn to Zappa as well as premiering over 100 new works to date. Described by Fanfare Magazine as "an ensemble of formidable power and keen musical sensitivity", the PSQ's diverse discography includes the chamber music of Brahms and Shostakovich (Eclectra and Marquis labels) and their recently released Bartok cycle. They enter their 20th year as Quartet-in-Residence at Wilfrid Laurier University in Waterloo, Ontario.
Cuarteto Bellas Artes is the first alumni quartet from the UVic School of Music's String Quartet graduate program. Formerly Cuarteto Chroma, the quartet was designated in 2022 as a Fine Arts Quartet by Mexico's National Institute of Fine Arts (INBA). The members arose within the Universidad Veracruzana (UV) and since its inception has been made up of the violinists Ilya Ivanov and Carlos Quijano, the viola player Félix Alanís and Manuel Cruz on the cello. All were born in Veracruz, with the exception of Ilya, who is originally from Bulgaria. Carlos, Ilya and Félix are currently members of the Xalapa Symphony Orchestra (OSX), in addition to teaching at the Faculty of Music, while Manuel is a member of the string section at the Popular Music University Orchestra, where he also teaches while pursuing a doctorate.