2023 Concerto Competition winners prepare to take the stage
November 15, 2023 | Students, Awards
The School of Music is thrilled to present our 2023 Concerto Competition winners: pianist Carey Wang and saxophonist Xavier Marican. Carey and Xavier were two of six finalists in the annual Concert Competition that took place back in April. You'll have the opportunity to hear them perform their winning concertos this concert season. Congratulations to Carey and Xavier on their accomplishment!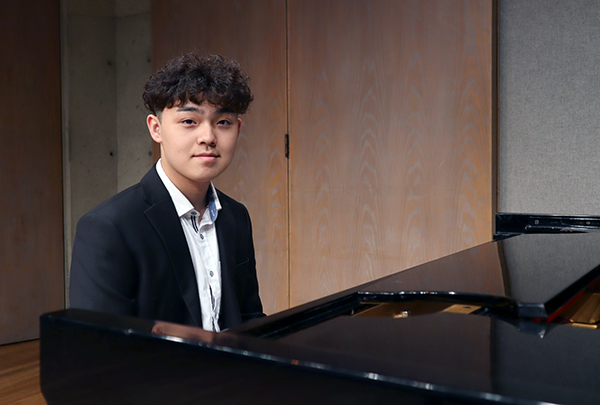 Carey Wang
Pianist Carey Wang is in his second year at the School of Music studying piano performance with May Ling Kwok. Hailing from Vancouver, BC, Carey Wang started playing the piano when he was four years old. He began his studies with Professor Kwok at the Victoria Conservatory of Music in 2015. After completing high school, Carey decided to pursue music at UVic to not only resume his lessons with Professor Kwok, but to "engage and be part of the welcoming and supportive community at the UVic School of Music." Throughout his emerging career, Carey has performed with the Victoria Symphony Orchestra and the Sooke Philharmonic Orchestra multiple times, as well as performing solo recitals at Christ Church Cathedral. Carey is a recipient of many accolades and awards from competitions and festivals such as GVPAF, VCM, OSM, PIYMS, Kiwanis, Madeleine Till, BC Provincials, and Don Chrysler competitions. He also has been selected as a provincial or national representative of Greater Victoria Performing Arts Festival every year since 2016. Carey hopes to pursue a career in performance and pedagogy. Although both careers are different, Carey is dedicated to continuing to develop his music-making abilities to the highest degree possible.
May Ling Kwok describes Carey as an exceptional talent, musically and technically gifted as a  pianist with a flair for performance. "His playing shows innate musical understanding with sensitive and colourful tonal nuances," says Kwok. A conscientious student, Kwok says Carey is also very dedicated and disciplined in his work.
Carey will be performing Frédéric Chopin's Piano Concerto No.1 in E minor with the UVic Symphony Orchestra on November 24. This work is one of the most famous and performed concertos around the world since its lauded premiere in 1830 by Chopin himself. Urged by Professor Kwok to learn the piece, Carey describes the process as "particularly challenging due to the unorthodox and technical passagework and the incredibly laborious melodic lines." However, Carey says he learned to connect with the piece "due to the easily recognizable themes that are infused with the lyricism, musicality, colourful harmonies, and spirited rhythms associated with Chopin and his Polish heritage."
Xavier Marican
Third year saxophone student Xavier Marican is from Kamloops, BC and has been playing the saxophone for nearly a decade. From 2018-20, he studied with the Greater Vancouver Youth Music Academy, where he traveled over 700 kilometres round trip from Kamloops to Vancouver every weekend to play with their Symphonic Wind Ensemble. Xavier also received lessons from Nina Falcos, the artistic director of the GVYMA. In describing her lessons with Xavier, she said "It is our dream as instructors to come across students like Xavier Marican. Not only are they the students who remind us of the joy of music, but they also take music to a true spiritual level." Xavier currently studies with Wendell Clanton at the UVic School of Music.
Xavier has performed with ensembles including the National Youth Band of Canada, Denis Wick Canadian Wind Orchestra, and the UVic Purple Quartet, receiving awards including the Rico by D'Addario Golden Reed Award and the Long & McQuade Outstanding Musicianship Award. Xavier has been a finalist in competitions including the Music International Grand Prix and North American Virtuoso International Competition.
Xavier is motivated by a desire to give performances that impress and inspire others. He aims to "bring to life excellent performances of great music of the classical saxophone and inspire others to do the same." After his undergraduate studies, Xavier intends to pursue a master's degree internationally and earn his living performing and teaching.
You can hear Xavier perform the Concerto Capriccio on Themes of Paganini for Alto Saxophone and Wind Band by Grigorij Markovich Kalinkovich with the UVic Wind Symphony on March 22. Premiered in 1979 by Margarita Shaposhnikova, the piece is "the epitome of simple fun on the saxophone," says Xavier. He describes the concerto as "exquisitely physical, offering opportunities to embody the music in manners ranging from soft to forceful, with leisure to great vigour." The piece begins with a familiar theme which transitions into 7 rather loose variations capped by an explosive coda. It is a dynamic and lively showcase of the classical saxophone.
Xavier's past performances of this piece have earned great praise, including from Laurence Lowe, professor of Horn at Brigham University, who said that he "[has] a beautiful sound. Well-conceived approach musically. Light and whimsical. Lovely classical sax playing, Strong in every way."