2022 Concerto Competition winners
Jul. 7, 2022 | Students, Awards
The School of Music congratulates our 2022 Concerto Competition winners: trombonist Amaya Sydor and saxophonist Cole Davis. Amaya and Cole were two of six finalists in the annual competition that took place in April. You'll have the opportunity to hear them perform their winning concertos during our 2022-23 large ensemble concert season.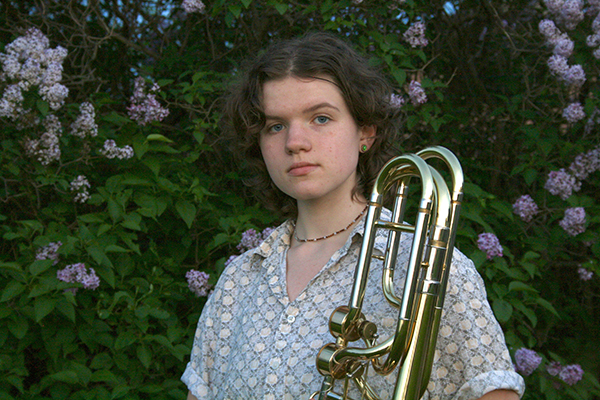 Amaya Sydor
From Brandon, Manitoba, Amaya came to the School of Music to study with trombonist Scott MacInnes and to "take advantage of the lush forestry and scenic mountains of Vancouver Island" throughout her undergraduate degree. Just on her way into second year at UVic, Amaya is already the recipient of numerous awards, most notably the Brandon Festival of the Arts' Beta Sigma Phi brass trophy and the Manitoba Band Association's Marlene Stephenson Leadership Award (2020), and the International Women's Brass Conference's Penny Turner Young Artist Award (2021), which provided some financial assistance to attend and compete in the conference at the University of North Texas in May 2022.
Instructor Scott MacInnes describes Amaya as one of the best music students he has encountered in his 20-plus years in the industry. "Not only does Amaya have the skills and work ethic necessary to be successful in this industry, but she also has the passion," says MacInnes.
Amaya will be performing Elizabeth Raum's Concerto for Bass Trombone with the UVic Wind Symphony. The only other time that this piece has been played at UVic was by MacInnes (a UVic Music alumnus) when he won the same competition as an MMus student in 2011. The 3-movement concerto was commissioned in 2007 by 25 trombonists to honour the now-retired Vancouver Symphony bass trombonist Doug Sparkes. MacInnes was one of the people to commission the piece.
Amaya was enamoured with the idea of performing Raum's concerto. "On top of savouring the depth, excitement, and variation between each of the movements, being a woman in low brass performing a piece by a female composer is empowering," explains Amaya. This encouraged Amaya to work hard by practicing even harder with the hopes that she could give younger women in music the representation they deserve.
Following her undergraduate degree in Music Performance at UVic, Amaya intends to acquire a master's degree in the same field. She wishes to someday play in an orchestra and teach at the collegiate level, with a goal to inspire and uplift young musicians just as her teachers have done for her. You can find Amaya's online practice journal, @amayasbassbone, on Instagram, where she posts short clips of her practice routines as well as repertoire and projects she is working on.
Cole Davis
Cole Davis is entering his fourth year at UVic where he has studied with saxophone instructors Wendell Clanton and Erik Abbink. Cole took up the instrument in high school after spending three years with the trombone. While UVic was close to home, he also chose to come here because of its size and close-knit community of instructors and students. "UVic is a great school for my goals," describes Cole. "Professor Clanton is an excellent player and an even better teacher. You really can't ask for better faculty to work with." Cole aspires to be able to play anything on his instrument, and credits Professor Clanton's versatility as having a major effect on his playing.
And his instructor has many great things to say about Cole as well. "Every lesson with Cole is a joy," says Clanton. He describes his student as "an agile performer with superb recollection, focus and continuous attention to detail." He has a keen interest in both improvisational music and re-creative storytelling, which Clanton says is a testament to his versatility and passion for everything musical.
Cole won his spot in the Concerto Competition with Jacques Ibert's Concertino da Camera — a standard within the saxophone repertoire. The piece is in two movements and written in 1935 for also saxophone and eleven instruments. The concerto is distinct for its vast range, which demands the performer to use the saxophone's highest tones. "Despite it being incredibly technically challenging, it is a very lyrical piece with many strong melodies," describes Cole. It is his love of melodies that drew him to the work. Cole added the piece to his repertoire in late October 2022 and made it his top priority in his practice. It sure paid off! Cole will play the Concertino with the UVic Symphony Orchestra in November 2022.