CD by Suzanne Snizek brings attention to suppressed music
Nov 25, 2021 | Faculty, News, Research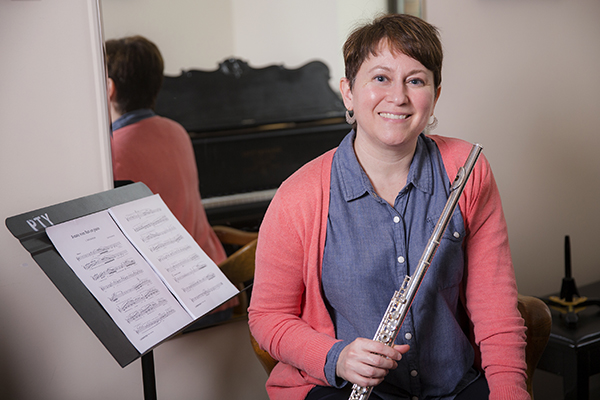 The latest recording by School of Music professor, Suzanne Snizek, entitled Chamber Music (Re)Discoveries, is now available through Centaur Records and can be found on streaming platforms including Spotify and Apple Music. Centaur is one of the oldest and largest independent classical music labels in the U.S. and Centaur recordings are available in major markets throughout the world.
Recorded in the Phillip T. Young Recital Hall at UVic and engineered by School of Music professor, Kirk McNally, Chamber Music (Re)Discoveries features duos & trios by composers suppressed either under Communism or Nazism (composers Petr Eben and Mieczyslaw Weinberg suffered under both regimes). "All are first rate compositions which I truly love playing and introducing to audiences and students," describes Snizek. For example, van Gilse's Trio for flute, violin and viola has scarcely been played since WWII. "So often flutists lack large scale Romantic chamber works, but in the van Gilse trio, we have an outstanding example of the late Romantic style," says Snizek. Collaborators on the recording include School of Music professors Joanna Hood (viola) and Benjamin Butterfield (tenor) among others.
Dr. Snizek is a specialist in suppressed music and has dedicated much of her research and performance practice to bringing attention to these lesser-known works and composers. She has published on suppressed music and performed this repertoire extensively throughout North America, Europe and Asia. An Associate Professor at the University of Victoria, she is the recipient of UVic's 2017 REACH award for Excellence in Creative Expression 
Dr. Snizek's ground breaking research on Music in WWII British internment has been published by Böhlau Verlag-Vienna, Routledge-New York, the Council of Europe, Berghann-New York, Armand Colin-Paris, as well as online at the World ORT website.
McNally and Snizek will team up again in the summer of 2022 to record their next CD for the Centaur label. It will include solo flute works as well as work for flute and piano ­– performed with pianist Yoomi Kim — featuring composers Edison Denisov, Jan Novak, Gunter Raphael, and others.