By: Behrang Nabavi Nejad, PhD, Art History Faculty, Capilano University
With drops of blood, the sweat of anguish dire;
Ah, wash me clean, and o'er my body pour Love's generous wine!
The worshippers of fire
Have bowed them down and
magnified my name,
For in my heart burns a living flame,
Transpiercing Death's impenetrable door.
Hafiz
Professor Anthony Welch, in opening his chapter on the allegorical representations of mystical love in Persian painting, embraces the words of Hafiz, quite appropriately, as any passionate admirer of Persian literature and art would do: his passion was transpiercing. As an undergraduate student of Persian art in Iran, I had read and admired Professor Welch's works of scholarship on Persian painting.
Years later, one snowy afternoon at the University of Toronto, during a Persian mystical poetry class, Professor Maria Subtelny inquired about my unusual inattentiveness, and hearing about my future uncertainties, pointed out "Tony can help." As it happened, Tony was the great scholar whose work was for us, the students of Persian art, our companion. That introduction provided me with the honor of receiving Dr. Welch's inspiring and passionate mentorship and supervision for several years that were spent on examining the illustrated pages of Persian manuscripts, gazing at the vibrant palette of Sultan Muhammad, admiring the calligraphic lines of Reza Abbasi, piecing together the heads of monsters on the rocky formations of the Shah Tahmasp's manuscript of the Shahnama, and debating over whose Simurgh is the most glorious. Dr. Welch's most favorite was the second rendition of the mythical bird by Sadiqi Bek Afshar. At times, this quest appeared as an endless stray, only conciliated by Dr. welch who believed a hermit should wander in the valley of love, should be infatuated with the subject of devotion, with these paintings. To him, this was the beginning of the journey. This was how Professor Welch trained his students: unorthodox and impactful.
Dr. Welch was captivated by these paintings. The shiver of joy in his voice was undeniably recognized at times when he recalled his firsthand examination of a sixteenth century painting of the Simurgh by Mir Seyyed Ali, or the four illuminating Simurghs on the Shamsa of the Shah Jahan's album at the Aga Khan Collection. His hearth burned with a living flame of love for these paintings, and he certainly passed down the flame to us, his pupils. As an educator, I cherish the love entrusted in me and strive to keep the flame burning; to be, within my limits, similarly inspiring to my students, as Dr.
Welch was to his.
When I was approached to write this note as a tribute to Dr. Welch's memory, I knew I could not possibly add any remarks to his scholarly achievements and invaluable contributions to the field of Islamic art, Persian and Mughal painting in particular. His colossal body of work is known and celebrated by his colleagues, contemporaries, and many generations of students of Islamic art. Thus, in my failing to illustrate a true scholar, I invite all the students and practitioner of art history to join me in raising our cups of love's generous wine, bow down, and magnify the memory of a great man, Professor Anthony Welch.
Poems from the Diwan of Hafiz, translated by Gertrude Lowthian Bell (Heinemann, London, 1897), Poem XIII.
Dr. Welch and me after my doctoral oral defence. December 8, 2017. Department of Art History and Visual Studies. University of Victoria.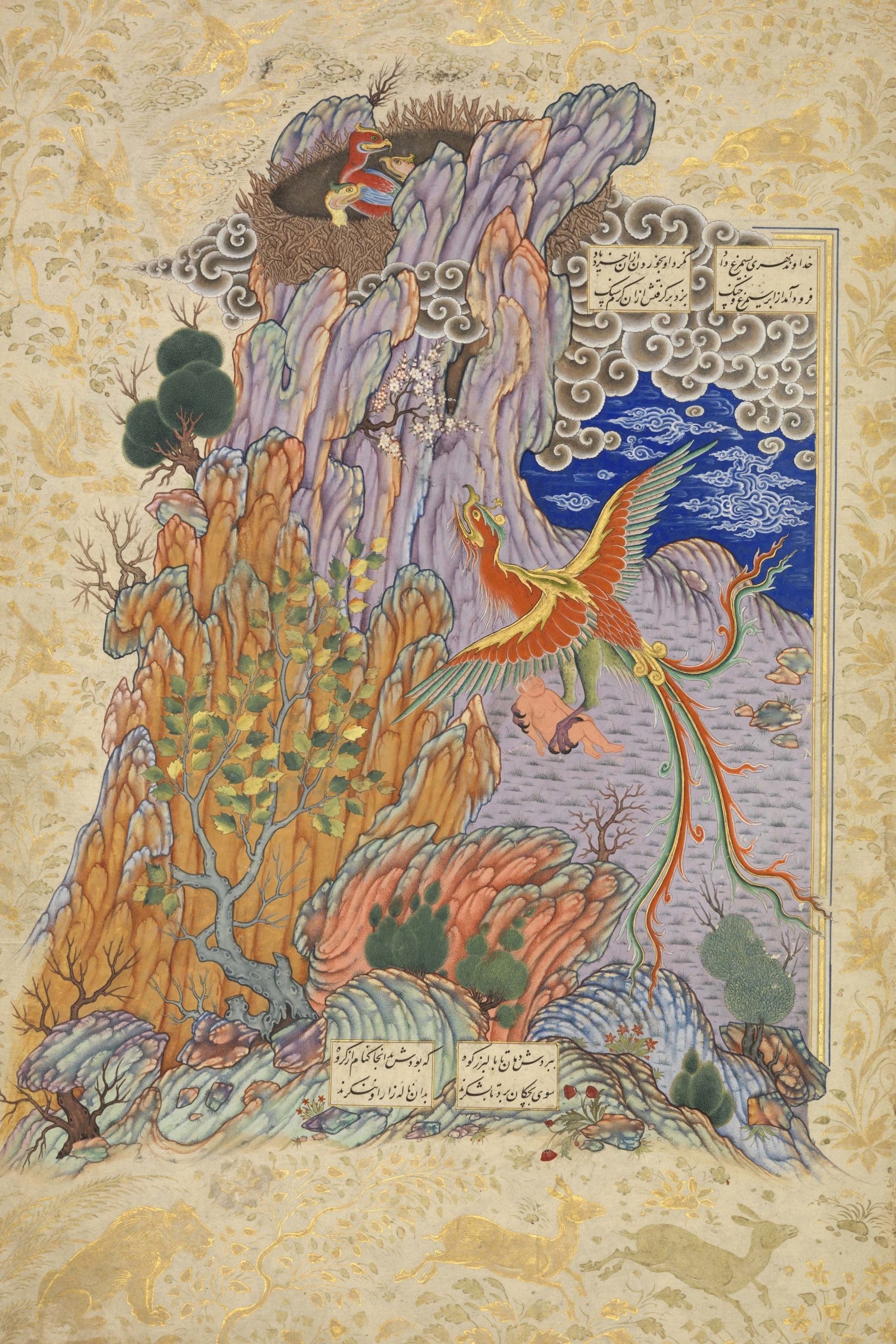 Attributed to Sadiqi Bek, The Simurgh Carries Zal to her Nest, Shāhnāma manuscript of Shah Abbas, Qazvin, 1587-97, 31 x 23.5 cm. Chester Beatty Library, Dublin, Ireland (Per 277.12a).